Heading into Sunday's game at Heinz Field (1 p.m.-Cincinnati's Channel 12), the balance of power in the AFC North rests with the 6-0 Bengals, thanks to quarterback Andy Dalton leading the NFL in passing and a remarkably healthy roster that has lost just two guys for two games. Meanwhile, the 4-3 Steelers are down four starters and wonder if quarterback Ben Roethlisberger can deal them back into the race after missing the last month with a knee injury.
But the balance of power in what is regarded as the NFL's best division always seems to flow through Pittsburgh and the Bengals.com Media Roundtable recognizes the defending champions are wounded, desperate, and dangerous. The board is split and every projection features a game decided by a TD or less.
Media titan Peter King, the relentless engine of "Monday Morning Quarterback,"  who broke into the business at The Cincinnati Enquirer during the Ken Anderson days, says this rampaging Bengals offense reminds him of the '81 AFC champs and gives them a late victory.
Richard Skinner, Cincinnati's Local 12 sports web site guru, won't pick against the Bengals until he finds a defense that can stop them and he doesn't see it in the 24th-ranked Steelers.
But Gerry Dulac of The Pittsburgh Post-Gazette, who has covered the Steelers longer than one of his booming drives at Arnold Palmer's home course in Latrobe, Pa., says the Steelers defense holds up just enough to allow their high-octane offense to survive.
And Jay Morrison, the long distance runner from The Dayton Daily News who has tracked about a dozen games in this series, has seen enough to also favor the Steelers. Pittsburgh's penchant for the big play pitted against a Cincinnati defense vulnerable to the big play in a hostile environment welcoming the Bengals back from a bye is a recipe, he says, for a Steelers' victory at the tape.
Let's go around The Table with the visitors, of course, first:     DULAC
One thing they haven't done with Ben out is throw the ball to running back Le'Veon Bell. Because of the way he's been running the ball and what he did last year against the Bengals, that's going to be key for them. The other thing is you have to pick your poison with wide receivers Antonio Brown or Martavis Bryant. Bryant has 11 TDs in his first 12 career games. He has three TDs of at least 80 yards. He's a big-play guy. He's long, lean, and fast.
 The offensive line is little banged up. They lost Pro Bowl center Maurkice Pouncey for the first part of the year and they just lost Kelvin Beachum for the year and Alejandro Villanueva made his first NFL start at left tackle last week in Kansas City. He gave up two late sacks to Tamba Hali, but one really wasn't his fault. They ran a twist on him. But he gave up the big one late. A sack, strip, fumble.
I think stopping Bell is the big key. If they can run the ball, they can do all the passing they want and that will help negate the Bengals' pass rush. Steelers right tackle Marcus Gilbert went up against Justin Houston and I don't think Houston touched the quarterback. Gilbert hasn't allowed a sack all year. He's been very good. The Steelers feel if Gilbert can handle Bengals left end Carlos Dunlap, then they can help Villanueva on the other side. That's what they did last week and it worked OK for the most part with Landry Jones at quarterback.  I think a little bit of the same here with a little less concern about Dunlap as opposed to Houston.
But it all centers on Bell. If the Steelers are going to run that counter to death again, right guard David DeCastro is going to be pulling from that spot and now they have to handle Bengals defensive tackle Geno Atkins with backup center Cody Wallace and the tackle. Wallace is actually pretty good. He's made 12 NFL starts now and he's a feisty guy.
The Steelers defense gives up a lot of yards and lately an inordinate amount of big plays. Against Arizona they gave up four passes of at least 32 yards. But what they've been doing that they didn't do the last couple of years is taking the ball away.  They've taken it away nine times and only have three turnovers, so that's really worked for them. But in this last game, the loss in Kansas City, they turned it over three times and they didn't take it away at all. They've been scoring points in the fourth quarter. They've started slowly and the defense didn't take it away. That will be a big key Sunday.
And the Steelers have already given up two 100-yard rushing days. The Ravens rushed for 191 yards, but in the prior two games the run defense had allowed just 55- and 52-yard games. It's been inconsistent, but it's a young defense. Defensive end Stephon Tuitt won't play for the second straight week and was playing well before he got hurt.
Their secondary is not what they thought it would be. Three of the four guys they thought would be their starters haven't seen the field and they've been plugging holes since the preseason.
For the second straight year cornerback Cortez Allen has been benched and is on IR. They drafted cornerback Senquez Golson in the second round and he's on IR.  They're playing with William Gay, who has been solid, and Antwon Blake, who turned around the San Diego game with a pick-six.  Blake has given up some plays, but they know that and they're trying to minimize that.
At safety they were counting on Shamarko Thomas to replace Troy Polamalu, but he made three big mental gaffes in the preseason and they benched him. Will Allen is hurt and Robert Golden had to make his first two NFL starts the last two weeks. Their plan back there hasn't come close.
THE EDGE:   Steelers, 27-23. I've been on the fence. The Bengals have so many weapons and are so diverse and they're coming off a bye. They present a lot of problems, especially with tight end Tyler Eifert, and the Steelers give up a lot of yards. And even though the Steelers should get back Roethlisberger, that doesn't mean they'll be all charged up because his record when he comes back from injury is 3-4. But they play the Bengals well and I think the Bengals are due to lose. If Ben were healthy, it'd be a 35-28 game.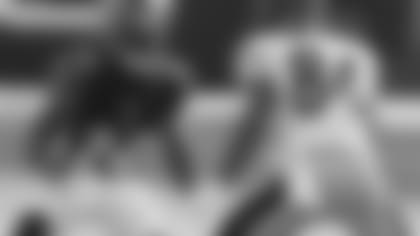 Cornerback Adam Jones on Steelers wide receiver Antonio Brown, a key to the game.
I've been saying this about Dalton all year. Who, right now, has more diverse weapons in all of football? I include Tom Brady in that. Aaron Rodgers in that. Everybody. These are the Bengals of Anderson, Collinsworth, Isaac Curtis. It is the backfield with so many answers in it. These Bengals probably have a few more answers at the receiving position, but everywhere else on the field it's kind of the Bengals of '81. Right now, Dalton is throwing the best deep ball in the league. You think back to the way Marvin Lewis and Hue Jackson and the organization have stood by him when they didn't have to and their patience looks like it's paid off.
I think everyone is assuming Roethlisberger plays. What makes the Steelers dangerous is not only having Roethlisberger back, but having wide receiver Martavis Bryant back. To me, he's as dangerous on third down as a guy like A.J. Green. I think Martavis Bryant is a very big factor in this game.
I was looking at this game the other day and we've really underrated Bengals cornerback Adam Jones because he has become a guy, in my opinion, as important as any defensive player who is going to play in this game. If he didn't have the bumps in his road, he would be right now a 10-year great player for the Tennessee Titans. His career hasn't worked out the way it could, but the Bengals are getting repaid for having the faith in him. And in a game like this, I think he is a vital, vital player.
I'm very bullish on the Bengals in this game if he can make a few plays and if their secondary hangs in there and doesn't get riddled for 370, which is obviously a danger any time you play Roethlisberger.
THE EDGE: Bengals, 30-28. I think it's going to be one of those games where somebody makes a mistake in the fourth quarter or in the last 20 minutes. These two offenses are too good right now. Both can be very explosive, so I think the biggest factor in this game is who plays mistake-free? The team that plays most mistake-free is going to win. If nobody turns it over, I like Cincinnati. But I think it's a two-minute warning game. It will come right down to the end.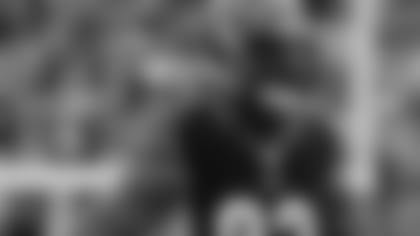 Right end Michael Johnson has been a factor in some big stands vs, the Steelers.
A lot of times with knee injuries it's more about the mental than the physical. Whether they trust it. I'm eager to see how mobile Ben is going to be in the pocket. Is he going be the Ben that everyone knows or is he going to be hobbled back there? If the Bengals get a lot of pressure on him and find that out early, that will change the direction of the Steelers offense.
I don't think the Bengals have psyched themselves out of these games. The Steelers have just outplayed them. I think they have all the confidence in the world that they can go in there and win.
We've seen the Bengals give up some big plays and that's kind of Pittsburgh's hallmark and if they get one or two of those big ones, as good as this Bengals offense has been, I'm not sure they can overcome those things. They need to make Pittsburgh grind it out, go the length of the field, shorten the game a little bit. I think a high-scoring game favors Pittsburgh and low-scoring favors Cincinnati.
I think the Bengals can score on anyone. The Pittsburgh defense has been a little better this year, but I don't think there's any reason to think they'll be completely shut down. They're too healthy, there are too many weapons, they're playing too well right now. The Bengals have only two turnovers on the road. They've been really good hanging on to the ball and that will be a big key at Heinz.
THE EDGE: Steelers, 27-24. I can certainly see the Bengals winning this game, but I think it means more for the Steelers. The Steelers are at home, a little bit of a bye hangover for the Bengals, and I think it's just enough to give the Steelers the edge. And a big play by the Steelers offense or maybe another punt return from Antonio Brown.
The biggest thing has to be Ben's knee. How mobile can he be? Obviously, one of his great strengths is his ability to extend plays and make plays when plays break down. Can he do that with a gimpy knee? Can the Bengals get to him with that gimpy knee and get him on the ground three, four, five times, and maybe make him a little gun shy, too? This is a big step to come back from what he's coming back from so quickly.
The other part is you have (a player making his second NFL start left tackle) for the Steelers, and it's not optimal for them. They've had some real issues up front. They've gotten a little bit better as they've gone along. But when you're down two or three starters in this league up front, that's a tough way to be. They've masked some of that, too.
The Steelers have gotten better on defense. If you looked at them earlier in the year, you could pass on them at will. They've done some good stuff with the blitz packages. It looks like they've brought more defensive backs when they've brought the blitz. They've blitzed a little more and they've gotten better. That makes it tougher. Being on the road makes it tougher.
But I still stand by the whole thing when this Bengals team is healthy, and it is healthy, this roster is as good as any in the NFL. This is an offense that has thrown the ball at times at will on a secondary as good as Seattle's. So what does it mean when you go against a secondary that's been decimated? We saw it in the Buffalo game. Buffalo has good corners. But when Buffalo's corners had to match up man a few times when they pressured, they couldn't cover, either.
THE EDGE: Bengals, 27-21. I'm still trying to find a defense that is going to stop this team. At some point it will stop itself. Let's face facts. They're going to have a day where they put the ball on the ground twice, Andy throws the interception or two. But I haven't seen that day. And with all these guys healthy, it's hard to say that day is this week. This is a high 20-point-per-game offense on almost any given week, maybe into the 30s depending on venue and circumstances and the opponent. Offensively I just can't see Ben making enough plays with that leg to make a difference. Running back Le'Veon Bell might be able to, but not Ben.
I think the Bengals are over any kind of hangup with Pittsburgh. You can argue they got swept by Pittsburgh last year. But you've seen this series. It goes in waves. One team has a three-game swing and the other team has a three-game swing. I think the Bengals go to 7-0.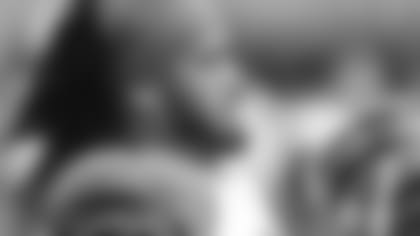 If Bengals middle linebacker Rey Maualuga and his run defense stop Stelers running back Le'Veon Bell, it gives them control of the division.
You have to see only one stat Sunday night to know if the Bengals are 7-0. Steelers running back Le'Veon Bell's  line. The answer to the question if the Bengals can win their second AFC North title in three seasons lies simply in if they can stop Bell.
If Bengals tight end Tyler Eifert controls the middle of the field and not Bell, that allows the Bengals pass rush to tee off on a Steelers offensive line that has been reduced by injury. It's a huge test for a linebacker corps running on fumes when it comes to snaps played while waiting for WILL backer Vontaze Burfict to get back off PUP. But even if he's active Sunday, it's hard to see him playing more than 20 snaps.
If their defense carries the day, so do the Bengals. If there's ever a chance for them to flex their healthy roster and assert themselves in the trenches against a foe that lives there, this is it. If there's a chance for their deep field of corners to show off, this is it.
And, come on now, does anyone believe Big Ben won't play well? How many times has he John Wayne-d it, limping out there with his last breath and then suddenly ambling out of the pocket and extending the play from a 40-yard dash to a 440 to find a receiver wide open?
Oh yeah. Ben will play. And the scary thing is, he has yet to play bombs away with wide receiver Martavis Bryant. Bengals fans knew about the 6-4, 211-pound Bryant before the Elias stat men when he beat cornerback Leon Hall last year on a 95-yard TD during "The Terrible Ten (Minutes)," of the fourth quarter Pittsburgh erased a 21-17 lead with 25 straight points.
That's just one of three plays of at least 80 yards he's made in his 12-game career and before Roethlisberger got hurt this season, he led the NFL with 10 passing plays of at least 25-plus yards. Meanwhile, the Bengals have blown some coverages and are tied for 11th in the league giving up five plays of at least 40 yards, although one was a 69-yard TD run. Still, foes have an uncharacteristic high passer rating of 92.1 against them. The Bengals have yet to allow a 90 rating by the end the season in the Marvin Lewis Era and are coming off seasons of 75.8 and 74.2, respectively.
And the Steelers will chuck it if you let them. On the other side of Bryant is the brilliant Antonio Brown, fourth in the NFL in receiving yards. They may get a look at some new blood if Hall (back) can't go for the second straight week and sophomore Darqueze Dennard gets the call in the slot again after a solid outing in Buffalo.
If they sound almost as diverse as the Bengals, they are. But the Bengals aren't the only ones who are trying to defuse an offensive explosion. The Steelers' shredded secondary faces the torrid Dalton with a 97.4 passer rating against of its own.
This defense may get back to its perennial glory next year, but it's a work in progress. Dick LeBeau is in Tennessee, Troy Polamalu is on the way to Canton, they've allowed seven plays of at least 40 yards, and they have already surrendered two very uncharacteristic 100-yard rushers. Starting cornerbacks William Gay (94) and Antwon Blake (110) have low grades in the profootballfocus.com's rankings of the 111 NFL cornerbacks.
But they still have a formidable front seven, although outside linebacker James Harrison has never tortured Bengals left tackle Andrew Whitworth like he has others. Inside backer Lawrence Timmons is still a beast and sophomore partner Ryan Shazier is a blur. But at 234 and 230 pounds, respectively, you have to wonder if the Bengals could saddle up the running game against them. But the problem is, Bengals offensive coordinator Hue Jackson says, they are as fast if not faster than Seattle's upper echelon defense. Rookie outside backer Bud Dupree is here to stay with three sacks out of the gate, but he's only 270 pounds.
Really, you've got two clubs looking in the mirror. Both of them are offensive monsters and while both defenses give up a lot of yards, they're stingy when it counts. The Bengals are ninth in points allowed, the Steelers are fifth.
When it's this close, it doesn't come down to the turnovers. It comes down to the last turnover. Look at the last two wins by each team in this series.
Last year, a fourth-quarter fumble in each game doomed the Bengals when they had the lead or were about to get it when Dalton lost a handoff and Green fumbled after a 17-yard gain.
When the Bengals won at Paul Brown Stadium in 2013, safety Reggie Nelson sealed a 20-10 victory when he picked off Roethlisberger in the end zone with about five minutes left. When the Bengals won at Heinz in 2012 to make the playoffs, Nelson's mid-field interception with 14 seconds left set up the winning field goal.
So if the Bengals play like they have all season, in which they've had no turnovers in two of their three road games, they should win.
But Bell's stat line is the one to watch. If they go to 7-0, it won't be a Bell-ringing celebration.