From Bob Huggins to spring hockey to summer basketball, John Hamel has seen it all in two decades of pumping pro and college sports in Cincinnati.
Until the morning before Tuesday's news conference introducing the newest team in town and the owner showing up in his office wondering what had to be done.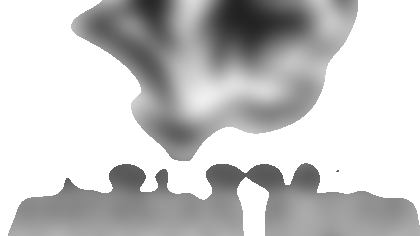 Hamel casually mentioned that he had to finish off one last thing, and the next thing he knew Sam Adams was saying, "I'll do it," and stuffing the media kits with press releases.
"Imagine an owner doing that?" asked Hamel, still intrigued a half hour after the news conference. "That's why I'm excited about it because it's obvious Sam really knows the business."
In one of the more unique arrangements in pro sports, Adams, the Bengals defensive tackle, walked across the street Tuesday on his off day to U.S. Bank Arena and officially took ownership of the newest franchise in the Arena Football2 League.
And unofficially because he told Hamel, the club's public relations director, exactly when he wanted the curtain dropped on the backdrop of the podium revealing the name and logo of Cincinnati Jungle Kats. Hamel suggested it be opened right away, but Adams wanted to build up to it later in the news conference.
"Then I got real worried about Cliff Marshall," said Hamel of one of the speakers. "He said the name before the curtain went down and Sam was within sacking distance."
Marshall is all part of Adams' plan. Not only did Adams make sure each media member received a sparkling still-in-the-bag regulation football with team and league logo, but he made sure Marshall was at the podium talking about the strength and conditioning program.
"Not a lot of indoor teams have a strength coach; it's not a priority," said Marshall, performance director for Ignition, based in Blue Ash, Ohio. "We're going to offer a professional atmosphere for these guys where they can reap the benefits early in the season."
Marshall is one of the Bengals connections that Adams thinks can help his team on and off the field. He works in the weight room with Chip Morton and Ray Oliver, and Adams likes his style. It didn't escape him that Marshall has one season under his belt in AF2 in Louisville in 2003.
"We drew 8,500 there with no professional connections," Marshall said. "I would think being identified with the Bengals is potentially huge for this team."
Adams reminds, "We've got nothing to do with the Bengals." But he is no dummy, is he?
"But we all know how popular they are in Cincinnati," he said. "Best fans in the NFL, but there was something missing in the spring.
The name? Just like Marshall and the footballs - his idea. Adams "When you think of the 'Nati, you think of 'The Jungle,' " said Adams of the nickname of Paul Brown Stadium. "You don't find dogs in The Jungle. And everything that's here is Bengals, Bearcats. This is The Jungle and football in this town is known by The Jungle."
He's not worried about copyright because he figures in Cincinnati, it's all the same thing. The fans own his kind of passion for the game.
Don't misconstrue Adams' passion. He can walk and chew gum at the same time. He's still immersed in his goal of bringing the Bengals a Super Bowl championship. But he's also making sure the Jungle Kats are going to be jumping, and if he gets up a little earlier than most, so be it.
"Three or four times a week I'll get a call," said Tony Missick, his 39-year-old coach who began his career as a University of Kentucky wide receiver. "It's early in the morning and I know he's already been up for at least an hour."
Missick stood in his new office, just down the corridor from Hamel in the arena, and the only thing he had time to put in there was a pair of cowboy boots. Small? After arriving from Everett, Wash, where he was the defensive coordinator for Adams' other AF2 team, Missick is very happy that he's got a door this time.
"Sam would come in after games and watch film," Missick said. "I mean, he'd sit down and help me game plan. The indoor game is a lot different than the NFL strategy-wise, and I asked him how the heck he knew. He studies. He knows the game."
Adams is showing he knows both games. Stuck in the media packet is the Kats brochure with the headline he borrowed from Bengals head coach Marvin Lewis, "Welcome to Our Jungle."
There is already a Big Kats Club, a Jungle Jam Tailgate Party, and a Jungle Buddies Kids Klub in which kids 14 and under get a Jungle Buddies T-shirt, a specialized Kids Klub ID, two issues of the Jungle Noise newsletter, a private autograph session with coaches, players, cheerleaders and owners, and a day at the arena to tour behind the scenes.
And, yes, the Jungle Kittens Dance Team.
"Sam has a very keen eye for the business side of sports," said Jim Foster, another guy at the podium. "It's a lot of fun to work with Sam, and he can really get out and talk about ideas in every aspect of the operation. ... I think (his NFL ties) are a real leg up for this market."
Buy two season tickets, and the owners autograph one of those balls. There will be Adams, a few more Bengals, and a Ken Griffey Jr.
"That's a pretty good start right there," Foster said.
Having Foster at the news conference was a little like having Abner Doubleday appear at the Cincinnati Red Stockings' lidlifter since Foster founded the AFL in the mid 1980s. As far as he knows, there is no other active NFL player involved in ownership, although former Packer Brian Noble is involved with the Green Bay Blizzard, and there is talk of Arizona quarterback Kurt Warner getting in with the Iowa Barnstormers.
"There's no question that this is a unique situation here," Foster said. "I think it's going to help that he's right here in this market and still playing. I think Sam is ahead of the curve on that one."
Adams hasn't picked the brains of his employers over at PBS just yet, but he has sat down with Lewis to assure him he doesn't have too many irons in the fire.
"He's the reason I'm here," said Tim Kremchek, the Reds doctor who is one of his partners. "His excitement is something you can feel."
One of his other partners, Griffey, the Reds centerfielder, couldn't show because he was out of town, and Adams is hoping Bengals teammates Rudi Johnson, Tory James and T.J. Houshmandzadeh sign on at some point.
"Kenny is thinking about what he's going to do after he's playing and Sam is a guy he really admires like that when it comes to business," said Brian Goldberg, Griffey's agent. "He feels like not many guys have been able to make the transition from playing into the business world, and Sam's already done it."
Adams says the Adams Family is already hooked on the city. Everywhere he goes, it's "Who Dey." Instead of saying, "Hi Daddy," when he gets home to Mason, his three kids now simply fire out a "Who Dey." He feels the same passion for the game in the vicinity. He's thinking that there are people out there on a nice spring night that are going to need that football fix like him.
One thing, though. Sunday's 49-41 loss to the Chargers reminded him about the only thing he hates about indoor ball.
"Too much offense," he said.
"We're going to get it right," he said of the Bengals. "While we're doing that, we're going to build this organization."
In his office, Hamel fit his football back in the hole in his desk and smiled.
"After the first month, I hope Tony and our quarterback are going to be the big stories in the league," he said. "But right now, at this point, having the main attraction also being the owner, that's pretty good."
Season tickets (at 513-381-TURF) range from $30 to $10. The club's Web site went online Tuesday at junglekatsfootball.com.