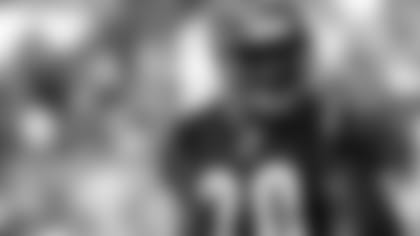 James and the Bengals are poised for a playoff run. (Bengals photo)
Cornerback Tory James has played in one Super Bowl, started in another, and he thinks these Cincinnati Bengals are better than those Denver Broncos and Oakland Raiders.
"This team is better than those other ones I was on right at this point," James said. "More talent. Better coaches. We've got the talent. We've got the players. We've got the coaches. What more could you ask for?"
James is one of 11 players with postseason experience that head coach Marvin Lewis brought to Cincinnati for this very reason. To provide wise and seasoned ballast for a playoff run and to show the rest of the roster that the playoffs aren't fantasy football. Guys like right guard Bobbie Williams believes this team is as mature as the Eagles he accompanied to the NFC title game and fullback Nick Luchey thinks this offense is more explosive than the Brett Favre-led units he played with in Green Bay.
And those vets are gelling with 24 players who were playing college ball when the Bengals went 2-14 in 2002 in a mix Lewis calls "interesting."
"It's a good blend, an interesting blend," Lewis said. "There's no 'woe is me' type of thing. There is no history."
Interesting to say the least. They have five-year veterans like Pro Bowl wide receiver Chad Johnson who have never been there, but who on Monday declared this a Super Bowl run and that the idea this week is to play their first game in Detroit and then play there a second time Feb. 5 in Super Bowl XL.
They also have more silent stalwarts who survived. The Willie Andersons, the Richie Brahams, the Brian Simmons who lead a pack of 14 players who were here when Lewis arrived.
"They've worked hard and they deserve this opportunity. An opportunity to win the division this week, and it's important to them," Lewis said, but he also says there are enough young players with three years or less experience who "aren't historians of the NFL ... all they know is what's gone on here (since 2003)."
James is more than a footnote for history buffs. He played primarily special teams for the Broncos when they beat the Falcons in what is best known as Denver quarterback John Elway's last game, the Super Bowl victory over the Falcons. Then he started for the Raiders on a broken leg when Oakland lost to Tampa Bay two weeks after the Bengals hired Lewis.
He thinks this team can get there.
"We can get it done," James said. "Everybody playing and everybody on this staff think we can get it done."
Oddly Sunday, the Bengals can clinch a playoff berth in Detroit on a day that the three NFL players who have the longest active streak of not appearing in a postseason game are to be on the field at the same time. Lions safety Bracey Walker, who played in Cincinnati from 1994-96, leads with 176 regular-season games without a playoff appearance. Anderson (155) and Braham (141) are second and third. There is only one pre-Lewis Bengal left with playoff experience in backup quarterback Jon Kitna.
CB Tory James, 11 games, three starts with Denver and Oakland, signed with Bengals 2003 DT John Thornton, 7, 2, Tennessee, 2003 S Anthony Mitchell 6, 0, Baltimore, 2004 DE Duane Clemons 5, 2, Minnesota, 2003 LB Nate Webster 5, 0, Tampa Bay 2004 RG Bobbie Williams 4, 2, Philadelphia 2004 FB Nick Luchey 3, 0, Green Bay, 2005 TE Reggie Kelly 2, 1, Atlanta, 2003 QB Jon Kitna 1, 1, Seattle, 2001 DL Carl Powell 1, Chicago, 2003 CB Deltha O'Neal, 1, Denver, 2004 DT Bryan Robinson, 1, Chicago, 2005
"There are only 14 guys who have been here longer than that," Lewis said. "Everybody else came from another team, (where) they've been in the playoffs and understood where we are and what it takes to go forward. There's 24 guys (that) come from programs where they expect to win. They go 10-, 11-win seasons, go to bowl games."
Williams, who started the 2003 NFC championship game for the Eagles as well as played in three other postseason games for Philadelphia, sees striking similarities. Right down to a big-time quarterback in Carson Palmer.
"It's not different at all," Williams said. "In Philly, we had weapons, it was well balanced. It's kind of the same style. The only difference is we're in Cincinnati doing it. You don't want to compare because each team is its own team, but I see a lot of similarities. One of them is maturity, and another one is weapons."
The maturity was displayed postgame Sunday. After being held to two catches for just the third time in 57 games, Chad Johnson was philosophical instead of petulant. He even said he shouldn't have been thrown the ball those two times because he was blanketed all day. Contrast that to last season's win over Dallas when the TV crew lambasted him for showing his frustrations.
"The camera. It's always on me," is how Johnson explained his new-found calm.
These guys play like they've been there before, a form of the old line from Bengals founder Paul Brown when he discouraged end-zone celebrations with, "Act like you've been there before."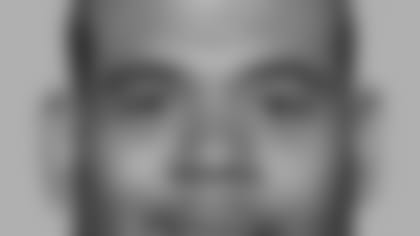 Luchey has been there. He's played in three games in the last two postseasons for the Packers, which is why possibly suiting up Sunday for the first time this season doesn't faze him as the Bengals respond to backup running back Chris Perry's injury.
"It's a different team. Offensively, there are more explosion plays, but still they do whatever is needed to get the job done," Luchey said. "Green Bay was built more on the run. We were going to pound you and control it with Favre and control it with the running game and short passing game. They take more chances here. They're both balanced, it's just in different ways. In Green Bay, we tried to keep our defense off the field as much as we could. Here it's more we're just trying to score as many points as we can. Both are extremely effective."
But the Bengals do have one thing in common with the Broncos, Raiders, Eagles and Packers: The trigger man.
"Two different guys," Luchey said of Palmer and Favre. "Obviously, Carson is having the kind of year Brett wouldn't mind having. You can't compare the two right now. It's Carson's first winning season and Brett's done it for years and years, and the team he has now is pretty depleted. Right now, Brett has already done it and Carson is building his own mode."
James puts Palmer in the company of his Super Bowl QBs.
"He's one of the best I played with and I played with Elway and Rich Gannon and he compares to those guys," he said.
Lewis's team may not have any NFL historians, but there are plenty of witnesses.