Domata Peko: 171 games for second most ever on Bengals defensve line.
They call him "The Big Uso," which is Samoan for "brother," and that exactly describes nose tackle Domata Peko's big brother legacy in the middle of a defense that became the foundation of the most successful run in Bengals' history.
His 6-3, 325-pound frame was the plug of a defense that finished in the NFL's top seven four times, the top 12 six times, and took down a Super Bowl-winning quarterback eight times in a span of 23 Paul Brown Stadium games from 2012-2015. While he did it, only legendary nose tackle Tim Krumrie played more games on the Bengals defensive front than Peko's 171 and now Peko finds himself among the Who Dey cult heroes.  
And his immeasurable heart was big enough to help supply an adrift locker room with leadership good enough for three AFC North titles, whether it was in his huddle, or in his home with the open-door policy for teammates, or at the homeless shelter he helped feed. If he ever had a cross word, he saved it for third-and-one and had a big hand in the brotherhood culture.
"Congrats bro," right end Michael Johnson texted Peko this weekend. "Happy n sad at the same time. I appreciate you n the way you went about business on n off the field. Love ya."
"The numbers weren't right for us,' said Peko Monday from Denver after he greeted the Colorado media. "And I had offers from other teams … It was a very hard and emotional week for my family. We'll always love Cincy. I had hoped to play these two years with my friends and brothers."
The Bengals were looking to bring back Peko, too, even though he had just turned 32. But with three other players on their defensive line with a salary cap hit of at least $5.1 million, 2016 fourth-rounder Andrew Billings projected as the starting nose tackle next to Pro Bowl three technique Geno Atkins, and an off-season directive of getting younger and sleeker after allowing 4.4 yards per rush, they were looking for a smaller number and role than the one new head coach Vance Joseph offered Peko in Mile High.
It was nearly $4 million per year, which is virtually starting money, and the old Bengals secondary coach told him there would be some chances on third down, too, for a defense boasting a No. 4 ranking and the monstrous Von Miller on the edge.
"We prayed about it and we felt it was the best thing," Peko said. "I wanted to go to a team that's a contender and they're a winner and are always in the play-off hunt. Not only the playoffs, but they're winning rings. I want to have a chance to win a ring. I'm getting up there in age. The window is getting smaller to win a Super Bowl."
But it was a tough call for Peko and wife Anna. This is what she said at last season's Hometown Huddle, an event where players and their families volunteer to work for a day on a community project:
"When we came here we had an 18-month-old," Anna Peko said. "Now he's getting ready to turn 12 and we have an eight-year-old and a two-year-old. We love Cincinnati and the kids do. It's our home pretty much. The kids were born and grew up here."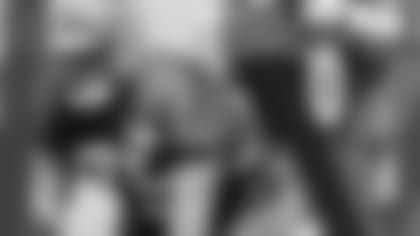 Andrew Billings was drafted in the fourth round ten years after Peko.
But her husband knows this is business. Domata Peko wanted to make sure he thanked Bengals president Mike Brown as well as his wife Nancy. And the wife-husband front office team of Katie and Troy Blackburn. Peko, always a fan favorite, was a favorite of Nancy Brown and her Bengals-crazed luncheon group that loves to host players for charity.
"I'm really going to miss everyone. I love the city. Mr. Brown. Nancy. Troy and Katie, the whole organization. Everyone was great to me," Peko said. "Coach (Marvin) Lewis. I've g got nothing but love.
"I was sad at first. I'm going to miss my guys. But even Peyton Manning had to leave. Everyone has to leave. It hardly ever happens like that where you get to stay with one team. I was hoping I would be an exception, but that's just the way the NFL works."
It's fitting that Peko signed his deal 72 hours after left tackle Andrew Whitworth signed with the Rams. They both arrived in the 2006 draft and they both took over their sides of the ball during the 2011 lockout and their steel-belted leadership became a huge factor in successfully bridging the Chad Johnson-Carson Palmer Epoch to the A.J. Green-Andy Dalton Era.
"I think that's when it turned around with the leadership," Peko said. "The lockout. No one was around, everyone was at home, and Whit and I came through to help get us ready."
They also were married to women that were as committed to the team as they were and Melissa Whitworth and Anna Peko became go-to den mothers for families.
                            BENGALS ALL-TIME GAMES PLAYED
*                               CB Ken Riley 69-83          207*
*                              LB Reggie Williams 76-89    206*
*                              QB Ken Anderson 71-86      192*
*                              NT Tim Krumrie    83-94      188*
*                              LT  Anthony Munoz 80-92     185*
*                              RT  Willie Anderson 96-07     181*
*                              K   Jim Breech        80-92     181*
*                              OL Bruce Kozerski    84-95    172*
*                              NT Domata Peko      06-16    171*
*                              LE Eddie Edwards       77-88    170*
*                               P Lee Johnson         88-98     169*
*                             LT  Andrew Whitworth   06-16    168*
Pro Bowl left end Carlos Dunlap, who is suddenly in his eighth season, knows only Peko in the middle.
"Cincinnati loves him as well as the locker room," Dunlap texted. "Both he and Whitworth were leaders of the team … the (families) were heavily involved with the team family events. So it will be an adjustment, but we have a lot of leaders in the locker room still and have some young competition within that position. Wish him and family the best. They will always be family to me."
Teaming with Billings is 10-year veteran Pat Sims. Plus, the Bengals are expected to draft a tackle and they think they have a good player in 2015 fourth-rounder Marcus Hardison, a tackle who has yet to be healthy.
Besides Johnson and Dunlap, the defense has veteran leaders like linebackers Vontaze Burfict and Vincent Rey, safety George Iloka, and cornerbacks Adam Jones and Dre Kirkpatrick. When Lewis has his weekly meeting of leaders, its standing-room only of about 20 grouped around a couple of tables in the cafeteria.
"We have a lot guys who can step into that role, so we will see who emerges," Dunlap said. "Those were two of many guys on the leadership committee but the good thing is we have a committee."
Peko had a flood or memories Monday. From faces to fourth quarters.
"I remember being with my teammates and coaches and battling against the other teams," Peko said. "Getting big wins, going to the playoffs year in and year out. Having one of the top five defenses in the NFL, a top ten defense for many years. All those are fond memories.
 "For me, it's not only that but the relationships. I have a relationship there were with everyone. The people at security and the guys who clean out the toilets. … I remember all the fans that asked for autographs and the kids that had their picture taken with me."
Here's one final snapshot:
The Big Uso going off into an orange-and-black sunset riding a streak of 118 straight games, fifth most in what is now Bengaldom lore.
A look at the top 10 bench press performers of the 2017 NFL Scouting Combine