Jack Brennan (left) and P.J. Combs with the 2006 Pete Rozelle Award.
Late Friday night, we stumbled on an unreleased press release in the bowels of Paul Brown Stadium.
JACK BRENNAN CAREER FINALE
RETIREMENT KICKOFF: 5 p.m. Eastern
TELEVISION: During his 23 seasons as Bengals public relations director, Brennan coordinated 374 production meetings in the lead-up to that week's network telecast of a regular-season or post-season game. The weekly huddle involved the Bengals head coach, offensive and defensive coordinator, and various players briefing the broadcast crew.
Among those participants were three analysts that Brennan covered as Bengals (Anthony Munoz, Solomon Wilcots, Cris Collinsworth) as well as nine Pro Football Hall-of-Famers (Munoz, Troy Aikman, Dan Dierdorf, Marshall Faulk, Dan Fouts,  Bob Griese, John Madden, Deion Sanders, Steve Young).
RADIO: Former Bengals guard Dave Lapham is the only analyst the Bengals Radio Network has had during Brennan's reign. He has worked with five play-by-play men in Ken Broo, Pete Arbogast, Paul Keels, Brad Johansen, and Dan Hoard.
SETTING THE SCENE: Jack Brennan, who both covered and shepherded the Bengals through 32 remarkable seasons in the media maelstrom in both rows of the press box, retired Friday as the club's long-time public relations director.
Brennan's tenure stretched from Dan "Big Daddy," Wilkinson's rookie year to Andrew "Big Whit," Whitworth's final season and from making The Cincinnati Post's afternoon final edition to synching up his final Bengals press release with Twitter.
When Brennan joined the Bengals in January of 1994, he brought 20 years of newspaper writing to the job and he remained a scribe at heart for the next 23 years. He was a throwback in a league where during his time on the job the relationship between public relations departments and reporters grew increasingly hostile in the 24-hour pressure cooker of social media and instant internet analysis and news coinciding with declining access.
But the scribes always had an empathetic ear and sympathetic shoulder in Brennan, a Bengals beat man for the afternoon Post and later the morning Cincinnati Enquirer for nine years.
"One of the things that made him good at his job was that he was a throwback because he was really just a sportswriter and never really considered himself a PR guy," says Bill Koch, fellow gagster and Brennan's closest friend in the business from their days at The Post in the hyper-competitive-two-newspaper-town of the 1980s.
"He never lost sight of what it was to be a good scribe. And if he was still doing it, he'd still be one of the best, if not the best, in the city. He was a great beat guy. A really good writer. He does it all with a good sense of humor.  And as a PR guy, he knows what writers need because he used to be one. He doesn't try to B.S. them. He tries to help them all within the confines of helping the club."
The Bengals are keeping that in mind with the elevation of Brennan's long-time assistant, P.J. Combs, to media relations director, and the appointment of Emily Parker to the newly-created position of director of communications.
When Combs joined the Bengals in 1995, he arrived from stints at The Post and Bengals Report. Parker, who took the job a year ago, began her career as a television reporter for two years before moving into public relations on the other side of the NFL aisle at Fox Sports.
Brennan's signatures during his NFL days are a bow to his scribe days. An estimated 500 stories, otherwise known as the Bengals weekly release, of which this is a poor parody. Packed with facts and figures to steer the media into the preseason and offseason as well as through every pre-season, regular- game and post-season game, no Bengals scribe could be without it and have any pride.
 "It's a different kind of writing," Brennan says. "You're just trying to put out non-controversial but useful information."
But the grind was the same. Amid the Monday Nighters, Wild Cards, radio requests, on-field achievements, off-field controversies, Labor Day Weekend or just another work day, there was Brennan tapping on his keyboard.
Combs became his steady eyes and ears, deftly executing the layout, supplying the endless stats, tapping a few lines himself, and serving as the eagle eyed editor while Brennan relied on his scribe creed to perpetually pound out the release on his office computer or during a post-game charter flight on his laptop that he also lugged home up the hill to Clifton.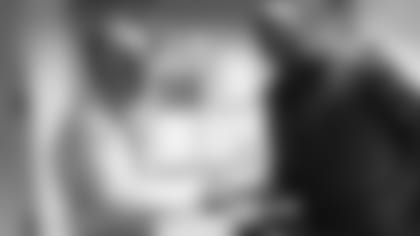 Eric Ball, the club's director of player relations, wishes Brennan well. Ball was one of the players Brennan covered for both The Enquirer and the Post,
"Sunday night after the game. All day Monday. The first part of Tuesday," Brennan says of the release responsibilities that consumed the early part of each week during the season. "And on Monday, if you were fortunate enough to win, you had to set up anywhere between six and 13 interview requests."
 But Brennan always had fun. He got his work done and helped you get yours done, too. But he made it fun. He had the aura of a more innocent age when sports was just plain fun. When it was not only fun to watch, but it was also fun to be around because people just didn't take themselves all that seriously.
Here's a guy who loves sports for sports sake and always has.
A gaggle of bulletin boards in his office were covered with ticket stubs from his boyhood like Leon Hall and Tory James draped on wide receivers. They started with the 1964 SMU vs. Arlington State football game and stretched into his adulthood with a Sept. 30, 1975 press pass to the Ole Miss-Tulane game in the Louisiana Superdome.
He's still a teenager somehow rooting for the Washington Senators in Dallas and a Senators' bobble head nodding on a shelf proved it. The more obscure, the better. Like a 1967-68 Dallas Chaparrals schedule poster.
"First year of the ABA," Brennan says. "I bet not a lot of people know they became the San Antonio Spurs."
And you have to believe a lot of people have no idea that was a picture of old Giants quarterback Y.A. Title next to a picture of granddaughter Mia.
"But that's not why I've got a picture of Y.A. Title up there," Brennan says. "It's because of No. 63 in the picture with him. I was always fascinated with the Washington helmet from that time (late '50, early '60s).. Probably because they were so bad. Go look up how bad those clubs were."
But with the advent of agents and salary caps and sponsors and suites and limited access from corporate coaches, sports became more and more like covering the real stuff. Courts. Police. Stocks and bonds. Too much drama and not enough sports. Suddenly a day at the office really was a day at the office.
But not in the Bengals media room, where work was done yet a gag or two could almost always be had. Most likely at the urging of Brennan. Yes, he handled the tricky injury questions or the measured reactions to dicey quotes by player or coach, or the monstrous Wednesday workload.
But he also did it with "White Book Trivia," pitching pennies, or trashball. It is fitting that the gag bulletin board (which features a magazine model looking a lot like former ESPN.com Bengals beat reporter Coley Harvey) hangs near the 2006 Pete Rozelle Award, given annually by the Pro Football Writers of America to the NFL team public relations staff that consistently strives for excellence in its dealings and relationships with the media.
(Indeed, Brennan poked fun at those he thought "full of themselves," labelling them, "Ego Writers," if they were a scribe.)
"Never have I had more fun around anyone," says Todd Jones, the Columbus Dispatch sports columnist and another Cincinnati Post colleague. "But also never been around anyone more professional."
It turns out that Brennan, a Texan who rolls as easy as his slight Dallas drawl, had just the right typewriter touch of the last century to calm the raging cyberspace of this one. Nearly seven years after his last Bengals news conference, former quarterback Carson Palmer recalls Brennan's cool when everything else was melting.
"His demeanor was very calming," says Marvin Lewis, the last of Brennan's four Bengals head coaches. "It helped to calm me. I am grateful and indebted."
As are all owners, coaches, players, and scribes, near and far, who traversed Bengaldom during Brennan's 23 years.
JACK'S LEXICON: In order to survive on the Bengals beat, you had to have command of Brennan's very own special vocabulary:
Bean _ a meal. As in, "Let's go get a bean."
Sarge, Chief, Chieftain _ friend, buddy, pal. As in, "Bean, Chief?"
Fodder _ quotes.  As in, "Load up at Willie Anderson's  fodder machine."
Man _ a player. As in, "We just got a new man," which is usually said while setting up the conference call for a draft pick.
The Men _ Bengals. As in during or after a tilt, "Our men have won."
Gag _ joke; prank. As in, "Got time for a gag?"
Tome _ newspaper or internet article.
East _ dead or gone. As in, "If you don't get that Man for your tome, you'll be east." Or, as in, "I'm not here, I'm east."
Beans _ dollars. As in, "We just had a man sign for a lot of beans."
Full of themselves  _ a bit too confident in one's abilities and/or role.
Ego Writer _ Print media member who is full of themselves.
She-ee-er Delight _ A Man (or coach or opponent) who is always accessible and delivers plenty of fodder. As in, "Vinny Rey, what a She-ee-er Delight."
CONNECTIONS: Brennan met his wife Valerie when they were attending different high schools in Dallas. They both went to the University of Texas and were married just after he graduated in December of 1973. Their first date was the day of the Richard Nixon Game for No. 1 between Arkansas and Texas in 1969.
The Clifton couple has three children, Sarah, Tim, and Hannah. Sarah and husband Ray Dixon have two children, Keira and Mia. Hannah is engaged to Evan Dolinar and the couple is eying a 2018 wedding.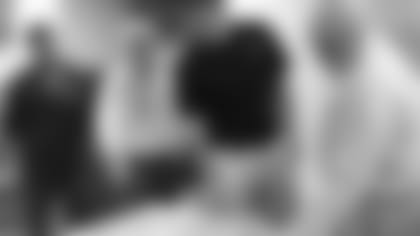 Jack Brennan and some of his staff check out one of his newspaper tomes in the Bengals archives.  From left Pat Martin, Brennan, Pete Schramm and P.J. Combs.
SULLY CALLED IT: Brennan wasn't all that surprised when Bengals president Mike Brown approached him about replacing retiring Al Heim as the Bengals public relations director. After all, Heim was the sports editor of The Cincinnati Enquirer when Bengals founder Paul Brown tapped him as one of his first hires for the club in 1967.
Cincinnati Enquirer sports columnist Tim Sullivan had a feeling.
 "People who followed the team and knew how the team worked had an idea," Brennan says. "Sully said to me several years before it happened, "when Al Heim retires you're going to be the next Bengals PR director.' I told him, 'You may be right.'"
P.B. LIKED JACK (AND SO DID MIKE, SO DID KATIE): Brennan covered the Bengals in the last decade of Bengals founder Paul Brown's life, when Brown was the general manger.
"Always very gracious. Always very accessible. Always returned a call," says Brennan, who remembers Paul Brown joking with the scribes about taking union off days. "Mike obviously got his view of the media from P.B. But they were of the same era. They respected what you did. They didn't mind talking to you and I think they enjoyed it. Mike understood your readers didn't want to have someone who sounded like they worked for the team writing in the newspaper."
In the days he talked to the media, Mike Brown also returned every call. Now he returns every letter. At his good-bye lunch hosted Friday by Brown at the Queen City Club, Brennan thanked Brown and vice president Troy Blackburn, "For treating me with so much respect and dignity for so long."
Brennan then pulled aside Brown and Blackburn after lunch and told them how much he appreciated a handwritten card of appreciation he found on his chair Thursday from executive vice president Katie Blackburn, off to Phoenix for the NFL annual meetings.
"That's how the family does things. Very classy," Brennan says. "You can work almost three straight months on this job. But you look and the coaches are in here every day. The family is in here every day. Mike wants nothing more in life than to come down here first thing every morning and run the team. They want to win and they work at it. You can criticize when it doesn't go well, but I don't think you can criticize the work."
JACK THE SCRIBE: The gag is Brennan killed two papers before he arrived at The Cincinnati Post in 1983, but the fact is he was a highly-regarded beat guy that lived to get the Bengals beat the next year. The Fort Worth and Memphis papers were the victims of the afternoon cycle that would swallow the Post 25 years later, but Brennan helped keep it afloat before The Enquirer lured him away in 1990 to cover the Reds.
"Jack's a very good writer," "Mike Brown says. "I think he's as good as anyone who ever came through town."
He won't get an argument from Peter King, a guy that covered the NFL so well at Sports Illustrated that he got his own web site named The Monday Morning Quarterback.
But once upon a time even the King of (NFL) Clubs feared the Jack of Diamonds (and Gridirons).
King's rookie year covering the NFL is the same as Brennan's. It was 1984 and King lined up at The Cincinnati Enquirer and Brennan at The Post in one of the great Oklahoma Drills of scribedom while they charted every move of head coach Sam Wyche and quarterback Boomer Esiason in their own rookie years as they emerged as the faces of the new-look Bengals.
"We became friends right away," King said. "I would be paranoid about losing stories to him because he was sneaky-attentive to the job and was very good at getting to know players and coaches well in an extremely folksy way. I was a little more intense. We had great competition and I respected him a lot. We'd hang out a lot when the Bengals traveled and we loved going to NBA games or baseball games on the day before the Bengals played."
SHE-EE-ER DELIGHTS: Brennan doesn't like to play favorites. But the lifeblood of an NFL PR man flows from his quarterback and head coach.
"Carson (Palmer) and Andy (Dalton) come to mind immediately," Brennan says. "You depend on your quarterback so much. If your quarterback is hard to work with, it can be a real pain. Carson and Andy were both professional guys, easy guys to get along with. Those two guys never high-hatted people. They were very reasonable to work with and if you told them that something was really important and that they needed to do it, they would do it."
Brennan is also a big admirer of Marvin Lewis.
"For the pressure and scrutiny he's under, Marvin was always so gracious and polite to everybody," Brennan says. "At no time in this building is anybody ducking into a door to avoid Marvin walking down the hall. No one feared they would have to encounter him no matter who it was. We've heard enough stories from around the NFL to know that there are coaches who aren't that way."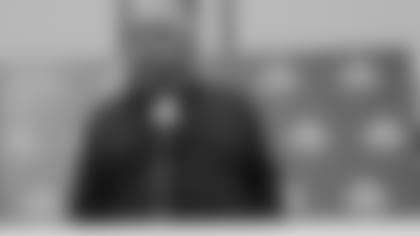 Marvin Lewis is grateful for Brennan's help whenever he went to a podium. This one is at the NFL scouting combine with Brennan lurking nearby.
GAG EXPLOSION: Brennan, otherwise known as, "The Gagmaster," believes one of his all-time favorite gags came early in his tenure and involved the author of this story, then the Cincinnati Enquirer Bengals beat reporter.
Elias has confirmed it was either in the 1994 or '95 season.
"This is back when we went out to lunch," says Brennan of this appointment at a Chinese restaurant with Joe Cunningham of The Dayton Daily News. "Joe figured out how to get the fortune out of the cookie without cracking it. So my mind started working. I know you were always prone to say, 'I suck.' So I took the fortune out and it was something like 'You will have prosperous life.' And I took a pen, crossed out everything but 'You,' wrote in 'suck,' put it back in the cookie and knowing how much you like crackers and cookies came back and gave it you and you were happy to have it."
There were also off-the-cuff games that became popular staples for every generation of beat scribes.
 "White Book Trivia," consisted of Brennan taking that year's NFL Record and Fact Book during a lull in the daily activities or simply to break the monotony or tension or both and coming up with a fairly obscure category. Say the all-time yardage record for punt returns. Anybody in the media room could throw in a buck and make a guess. The closest without going over won. The worst guesser had to pay "a penalty bean."
There always had to be a twist. Todd Archer, another former Post Bengals reporter (there are more of those than locusts) now covering the Cowboys for ESPNDallas.com, remembers playing a game called "trash ball," in Brennan's office with a tennis ball.
"Off the floor, off the wall and in the basket," Archer says.
Pitching pennies, where he would challenge all comers to flip coins at any edifice in a contest to get them as close as possible became his passion in the late '90s at Spinney Field, the Bengals' old practice facility.
He hasn't done it much since, but the sight of his solitary figure practicing against a pole before being interrupted by perplexed Bengals head coach Dave Shula as he was leaving on a jog remains an image seared into the Bengaldom conscience.
X-MAS MARKS THE SPOT: Brennan has a checkered history around the Christmas holiday. On Christmas Eve, 1991, wife Val famously upbraided Mike Brown on the phone for fouling up her Christmas with the departure of head coach Sam Wyche, which sent her husband to Lunken Airport to find Wyche instead of around the hearth. But the families have such a good relationship it didn't even go down as a blip.
Family obligations on another Christmas Eve, the 1989 season finale in Minnesota, forced him to miss his only Bengals game as a scribe.  He also spent part of Christmas Day 2012 crafting a press release announcing the Bengals had been awarded Bears wide receiver Dane Sanzenbacher on waivers.
"You know you're in it for the haul," Brennan says. "The coaches are working every day and the (Brown) family is working every day, so you do take a little pride in that."
JOHN C. BRENNAN:  Newspapers always stayed in his blood. During his Bengals' stint he frequently peppered The Cincinnati Enquirer letters to the editor department with his views on issues that were as varied as a presidential briefing book.
A well thought-out treatise that was admittedly, "tilted to the left side of things," signed "John C.Brennan, Clifton," was a common occurrence. In an effort to keep his Bengals persona separate from his personal one, he went with "John C."
Underscoring their solid relationship, Brown, decidedly a bit more right in his political views, didn't discourage the practice. In fact, he'd look forward to seeing the next one so their friendly banter could continue.
"He's done an excellent job, but more than that he's kept me in line with the different ways he's looked at the world," Brown says. "We look at it from the opposite ends of the telescope. Which makes it more interesting."
Brennan knew he was OK when he didn't realize The Enquirer had run one of his letters with his picture until Brown approached him at the training camp dining hall at Georgetown College.
"Congratulations on your authorship," Brown said in vintage wry fashion.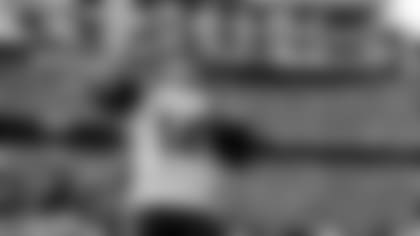 Nice guy Andy Dalton matched well with Brennan, his fellow Texan.
NOT A TOUR GUY: If Brennan likes obscure historic sports nuggets, he's the champion of the out-of-the-way journey. More than likely it's a venture to see a sports event, like the one Post Saturday (it didn't publish on Sundays) when he drove the 180 miles from Kansas City to Lincoln, Neb., to see a Cornhuskers game. Or drove to Hartford, Conn., from Providence, R.I. to see the Hartford Whalers play an NHL game.
"Whenever I can," he says, "I like to add a state and I had never been to Nebraska. It was the perfect game time. It was 5:30 and I turned around and drove back at halftime."
Now he's going to add two countries that don't exactly grace the cover of AAA magazine.
The Bengals give their long-standing retirees a trip to anywhere and Val and Jack have chosen Buenos Aires in Argentina.
"I'm not a tour guy. I like to drive around by myself and explore, so you're looking for it to be safe," Brennan says. "I was looking at a map and noticed the little, laid-back country next door. Uruguay. So we're going to head over to Montevideo, the capital, after we visit Buenos Aires."
"I could see doing that," Brennan says.
BRENNAN BITES: Brennan was in the fifth grade on Nov. 22, 1963 when his classmates got the chance to watch President John F. Kennedy's motorcade drive from Love Field to downtown Dallas.
The students were standing along Turtle Creek Parkway, a park-like setting that was about five minutes away from Dealey Plaza so the cars were going fairly slowly. He thinks he remembers seeing Kennedy. But he knows for sure it's the first time he ate scallops.
"It's funny the things you remember," Brennan says. "It's the things kids would remember. After we saw him we went to lunch. That's where I had the scallops and I guess it's where we heard he'd been shot. The thing I really remember is the reaction of the adults …
Geoff Hobson of Bengals.com replaced Brennan at both Cincinnati papers. When Brennan left The Post to cover the Reds at the Enquirer in 1990, Hobson arrived from writing the sports column for the Portland Press Herald in Maine. When Brennan left the Bengals beat at The Enquirer to join the Bengals, Hobson moved from covering the Reds at The Enquirer to the Bengals …
Brennan wants to keep writing on a part-time basis and doesn't rule out a return to covering the Bengals.
"Remember," Combs tells him, "in order to get a credential it has to be approved by the editor." …
In his one year covering the Reds, they won it all. But it took him 26 years to get a signed poster from "The Nasty Boys."  The trio of relievers that led the wire-to-wire charge were in town last year and were looking to get on the field before a Bengals game.  Brennan hooked up Rob Dibble, Randy Myers, and Norm Charlton, and they responded in kind a few weeks later...
When he was breaking into the business in Fort Worth Brennan was once dispatched to cover a Rangers game. Before the game in the clubhouse his eyes accidently locked on volatile Texas manager Billy Martin while Martin was in the manager's office. Martin glared back and shut the door so no one could peer in.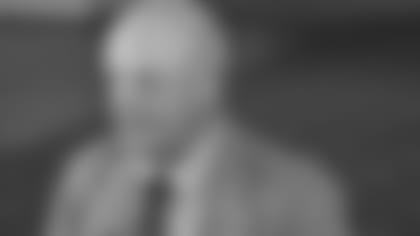 Mike Brown, who admired the sportswriters of an earlier time while growing up in Cleveland around his father's Browns, found an old school scribe in Brennan to help him in the new century.
Bengals president Mike Brown:
"I am sad to see it end here with Jack. He's been great. In all these years he's helped me in so many different ways. He's done an excellent job, but more than that he's kept me in line with the different ways he's looked at the world. We look at it from the opposite ends of the telescope. Which makes it more interesting. I wish him well. We'll miss him."
Bengals head coach Marvin Lewis:
"Jack has been a tremendous asset to me both professionally and personally. He has helped to direct and always edit my comments. To re-direct and focus my thoughts during good times and not so fun times."
Bengals Director of Media Relations P.J. Combs::
"Jack has been with the team for 23 seasons, and I have been here for 22 of them. He was faithful and loyal throughout that entire time, not only to the team, but to all the media who cover it, and he very much deserves our collective respect and appreciation. He was a friend to all of us, and he will be missed very much."
"Jack was great at handling the media from a player's perspective. He didn't overwhelm you with it, but offered what he thought would be good for the team and you personally. I really enjoyed the six years working with him."
Paul Dehner, Jr., current Cincinnati Enquirer Bengals beat reporter:
"All I've known is Jack Brennan being the PR Director for the Bengals. No matter how tough the season or stressful the job, you were always thrilled to come to the stadium every day because you knew Jack would be there with a story or gag. He made you proud to be a scribe."
Peter King of the Monday Morning Quarterback and former Bengals beat reporter for The Cincinnati Enquirer:
"In 1984 I was a rookie football writer covering a rookie head coach, Sam Wyche, and a rookie quarterback, Boomer Esiason, on a very interesting Bengals team … Across the hall from me at Wilmington College (at training camp) was Jack Brennan of The Cincinnati Post.  We became friends right away. We were competitors, but friends as well. Sometimes it doesn't happen that way in our business. But Jack was a person first and a reporter second. I considered myself that way, too …
"In his second life as the Bengals media guy, he was as responsive and respectful as they come in the business. I had great respect for how he handled good stories and bad. The 2017 season will be the 34th year I cover the NFL in some form and the first without Jack. I'll miss him a lot."
Bill Koch, former Cincinnati Post colleague:
"Those guys are invaluable. You don't see that anymore because most PR people are not former writers. They're PR people. He always used to joke about his PR shop. He never took himself too seriously. That's why he was good to work with. Mike couldn't have picked a better guy to take Al Heim's job."
Todd Archer, Cowboys reporter for Dallas ESPN.com and former Post Bengals reporter:
"Nowadays you almost expect to be told 'no,' before you even ask a question. But with Jack you always knew he would actually try to help you. He knew what you needed and how you did your job because he sat in our shoes for so long as a beat guy. It's not like that anymore. It seems like the "relating to the media," part of the job has taken a back seat. Plus, how many PR guys come right from covering the team? I think that spoke to how much Mike respected Jack."
Carson Palmer, Bengals QB from 2003-2010:
"Jack took me under his wing and was a mentor to me. (Dealing with the media) isn't something I was comfortable with and I'm still not.  But he made it as pleasant as it possibly could. Being from Los Angeles, I was in a new market and he took the time to educate me. He'd let me know if I made a mistake and if I said something he liked, he'd pat me on the back. He's got a lot of knowledge because he's been on both sides of it and you knew it. Even in the most crazy, chaotic weeks he was always rock steady. I wish him and his family nothing but the best."
Alex Marvez, Sirius NFL Radio host, senior NFL columnist for The Sporting News, and former Bengals beat reporter for The Dayton Daily News:
"Jack was great at his job because he was a former reporter himself. He never tried to sugarcoat a bad situation even if it was negative about the team and, believe me, there was a lot negative in '95-97. So many team PR Directors are now professional PR people. They've come up only through the PR ranks and have no reporting experience. It's different with Jack. He'd give you the access. As good as any in the league. He'd give you the tools, he'd get you who you needed. But you'd have to use those tools yourself."
 Todd Jones, Columbus Dispatch columnist and former Cincinnati Post Bengals reporter:
"I enjoyed my days working alongside Jack and when he joined the Bengals he made it a treat to come to Cincinnati and be around the team. He'll certainly be missed. I'm sure there are times in the future I'll  think of Jack and just laugh."