In his first three seasons, A.J. Green has grabbed a chunk of NFL history.
A.J. Green, the best skill player the Bengals have ever had, is talking about one of his best moves. As usual, it came in the privacy of his own home. Just about the only thing he does in public is play a Pro Bowl wide receiver.
"Can you imagine?" asks his fiancée Miranda Brooke. "You proposing in the middle of a restaurant?"
Green audibled a year ago July 17. He was going to propose at the A.J. Green Football Camp in suburban Cincinnati, but when he saw a big crowd even at his own event the remarkably downhome superstar waved himself off.
So he took her to the mall, where she continued her lifelong assault on Yankee Candle ("I'm obsessed with candles"), and when they came back home she asked him to pick out one.
But first Green suggested they throw away one of his few vices, a mountain of empty shoeboxes that is a daily monument to his obsession with athletic footwear. But after they collected the boxes, he dumped all of them on her and while they were laughing he dashed into a room and shut the door
"I was mad," Brooke says. "What are you doing? You're playing games. It's a mess. You dumped all this on me. I'm mad at you.' So I'm banging on the door and he's not opening. Finally I get in there, I open up the candle and a ring is in the candle and my first thought is, 'Oh, A.J. , the lady at Yankee Candle dropped her ring in here.' And I turn around and he's on his knee. I totally didn't see it coming….He was just buying time to get the ring in the candle.
"I wouldn't call him the most romantic guy in the world. But it was A.J," she says.
Green may be no romantic, but as he enters his fourth season that begins in Thursday's first practice of training camp (3 p.m., Paul Brown Stadium practice fields), he is the apple of the Bengals' eye.
And not much different than those candles his future wife collects like the shoes he hoards.
Tall and stoic with a searing flame just a match away.
 "It's like I still feel like I haven't hit my peak. I want to be much better," says Green, just a few weeks removed from a players' survey naming him the NFL's ninth best player and second best wider receiver to Detroit's Calvin Johnson, his good friend and offseason training partner.
"I want to be a little closer to Calvin," Green says. "I'm not satisfied with the No. 2 spot. Most guys would three years in, but I want to be mentioned with some of the best."
Then Green's story is his team's story.
 Four years into Marvin Lewis' third re-boot, they have both been brilliant for much of the regular season but strangely quiet in the postseason. While helping the Bengals to three straight playoff berths and an AFC North title Green became the first player in NFL history to have 100 catches, 1,500 yards and 10 touchdowns in his first 20 games, and if he gets 1,563 yards this season he'll pass Randy Moss with the best four-year production of any receiver ever.
But while his team has lost all three post-season games, Green has just 161 yards, a number he's beat twice in one regular-season game. He's just six 100-yard games away from moving past the legendary Isaac Curtis into second on the all-time Bengals' list, but averages 53 yards in the playoffs.
"A lot of regrets, but you can't live in the past," Green has said and the flame burns hot enough that even Brooke leaves him pretty much alone during football season.
He leaves before 8, gets home after 5 and alternates watching Animal Planet and sleeping with eating. And that's usually takeout food.
"He's all for one to be a football player,' she says, "To be one of the greatest at his position."
It dawned on Brooke, an aspiring R and B singer, that she was dating a man and not one of the guys. Green may be one of the most popular players in the NFL, but he's rarity in pop culture. He's famous but reluctant. He's a homebody among the jetsetters. He's 1950s in the 21st century. He still calls his father, "Daddy," and his Daddy still questions the length of his hair even though it is cropped closer than most.
"Look like a grown man," Woodrow Green told him just a few days ago and A.J. didn't think he was kidding all that much. "Get your hair flat all the way around."  
"He never gets too high on himself. He shakes every hand. He signs every autograph. He smiles at everyone," Brooke says.  "I saw you had to act like a superstar. You can't be so approachable. You can't be as open about yourself. You have to keep everything hidden. I just wasn't used to that. To me, football embraces family and honesty, loyalty and all those things that the music industry doesn't. They promote sex sells, be single, be flirtatious. It was just two completely different worlds and it was hard to juggle the two for now."
For now, Brooke is taking a break from music. She came out a year earlier than Green did at Georgia, signing with a label while she was at Georgia State. They met on Facebook ("back when Facebook was hot for people our age," she says with a laugh) and after chatting for six months, they finally met and Brooke had something to compare. She knew nothing about football or the plays or the teams. But she knew this guy was hyped to the hilt and he merely acted like the kid next door. So quiet. So respectful.
"Had I not been around A.J., I would have thought, 'This is what you have to do.  This is part of having money or being famous or whatever the case,' "she says. "After being around A.J., I see that's not the way it works."
This is the way it works: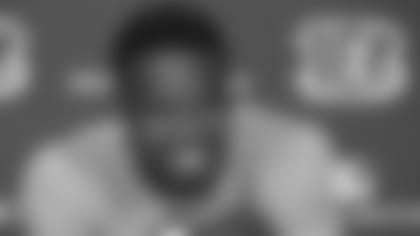 When he gets home from practice, he sleeps for a couple of hours, gets up about 11 and watches TV for a couple of more hours. His favorite show is probably "Treehouse Masters," on Animal Planet, a series that documents the building of luxury homes in trees. Green and his cousins used to build more rudimentary ones in the spacious country of Summerville, S.C., where he grew up and lived before settling in Atlanta. He'll also have something to eat even if it's around midnight because he struggles with keeping on weight during the season. Then it's back to sleep for practice and another Sunday he is more than likely the best player on the field.
"No, it's not glamorous," he agrees. "But I'm not a glamorous person."
Brooke doesn't seem to mind they appear to be total opposites. When she got a look at Summerville after coming from Chattanooga, Tenn., she concluded, "I'm from the south and he's from the south. I thought I was from the country until I met him…The whole southern thing, I'm used to. But his southern thing is different. Its country, in the middle of nowhere, and it's hot there."
They love Atlanta and they love Cincinnati, where he somehow discreetly lives downtown in the middle of it all on The Banks. But this is the way it works.
He'll always be more Summerville than anything else and it will always be because that's where he found out he was the best guy to look up to.
Summerville is home of his strict, old-school parents and it's where you have to  drive 20 minutes for gas and it's where the woods go forever for a 10-year-old kid with a bee bee gun.
It's where the accident was, too. When Green was four, he was riding in a car driven by his aunt with his nine-year-old brother and some cousins. His aunt was paralyzed. His brother, in the front seat, died. A.J., in the back seat, didn't have a scratch.
Yeah. He thinks about it.
"In the sense, 'Damn, I had an older brother.' I could have had someone I looked up to my whole life," Green says. "I taught myself how to do everything. Play football. Play basketball. It was just me. When I went to high school, it was, 'Who is going to protect me? Who's got my back?' Nobody."
But with the help of his parents, he figured it out while he saw a lot of kids go wrong.
"I think that's what made me who I am today. Because I've seen so many go down the wrong path," Green says. "I was saying, 'I'm getting out of this place. There's no reason I'm going to stay here.' "
The worst thing he ever did as a kid? There was the stuff kids do, like sneaking out of the house to go hunting, or staying out too late up in a treehouse, or learning how to swim in the lake when an improvised boat of two-by-fours tied together by some steel rope came apart and sank with bikes on board.
"The worst thing to me was to hear my parents say, 'I'm disappointed in you.' I didn't want to make my Momma cry."
This is the way it works. The worst thing he ever did? He was probably a young teen-ager and he had a knife and like he was always doing, he wanted to throw something into something else. Even if the space where he was throwing whatever was minute and impossible.
"The thing is," says Brooke, who has been apparently walked through the incident, "they told him not to do it. 'A.J., don't you that.' He did, the knife slipped out of his hands, hit a cousin in the face and the cut required stitches.
"I never felt worse in my life,' he says.
He got more than a "I'm disappointed in you.'
Green has his sights set on Randy Moss as the most productive receiver in first four NFL seasons.
If Woodrow wasn't on him about his hair and not allowing him to grow it long and put it in braids, than Dora Green was taking a do-rag off his head when he was heading to the store when he was about 12 or 13.
"You're not going out looking like a thug,' she told him.
Woodrow worked in a steel plant for 20 years and when he got laid off it took him time find another job at a cement company and longer still to recoup a sliver of his retirement. His son just got a $10 million option, but that didn't stop him from working until 5 in morning the other night at the family store. Dora has been at Wall Mart for 25 years and as a supervisor she doesn't appear to be thinking about retirement.
"She talks about staying busy," Miranda Brooke says. "They like to stay simple. 'Hey Mom, you want a new car?' and a lot of parents would say, 'Get me a Benz.' They've got a Toyota Camry and a Ford Truck."
The only thing close to a luxury is the 12-foot Bass boat Green bought for Woodrow, so now he can fish from the middle of the lake instead of off the bank.
They've also got each other.
"I don't know how they got through it," Green says, looking at Brooke. "Losing a kid, it's hard on a lot of parents. They split up after a while. They stuck it out."
They stuck it out for the four-year-old.
"Exactly,' Green says. "My parents were always telling me I was going to go and be something. I don't know why. My granddaddy, when I was six years old, he was telling me, 'You'll be something. I don't know what, but you've got talent I've never seen.' When I was 10 years old I was playing basketball with 15-year-olds. I'd run everywhere, jumping over fences with no hands. Just clearing them."
This is the way it works. The candle is burning to flame as high as the predictions from a dusty country road.
Brooke may go back to music. She's still young and energetic and is thinking about putting her real estate license to work. But right now the wedding is March 21 and they are happy looking at each over the takeout food and the TV and the ring.
"I prefer the way he handles things," she says.
She seems to know plenty about football now.