After Carlos Dunlap called Nick Vigil to the NFL, he got a hug from Principal Mom.
This is what you didn't see ten days ago after Carlos Dunlap flipped his University of Florida cap into the air and then called the name of Nick Vigil as the Bengals' third-round pick at the NFL Draft in Chicago.
"Now you give me your cell phone," said Roger Goodell, who can sense an NFL Films moment with the best of them, "so I can video you walking out on the stage to give him a big hug."
So Dr. Diane Ross, the elementary school principal who didn't wear "Dunlaps Mom,' on her No. 96 jersey because they couldn't deliver the proper apostrophe, did exactly what the NFL commissioner told her to do. And he expertly captured every precious second. Because he knew exactly what it meant.
Instead of a draft pick hugging him in what has become an annual if a bit awkward rite of spring, this was a mom hugging a draft day dream.
"He was like, 'I know you must be very proud of him,' Dr. Ross recalled Tuesday of the start of her whirlwind week. "He said how wonderful and amazing this is. He said, 'You need to be on stage with him.'"
After Dunlap called Vigil to the league, Dr. Ross took the walk across the stage she wished her son could have taken in Gainesville that night to get his B.S. in family and community sciences.
When she heard her son had been chosen to announce the Bengals' third-round pick in Chicago as the team's reigning Walter Payton Man of the Year on April 29, she blanched. That was when he was walking in the Florida graduation, the one he promised her he would make after he decided to leave Florida early for the NFL Draft in 2010
"If I were you, I would go to the graduation," she says she told him. "Maybe another time you can do the pick. But he told me, 'It's an honor.' Then when I heard they were going to let him wear his cap and gown while he made the announcement, I said, 'OK, this is worth it.' I'm glad he did it. Even though you're making millions, education is still important. It was emotional. Just to see him walk out there in his cap and gown and then to see him make the pick . . . We didn't go to the draft (in 2010). Now it's like, 'We're here.' It's amazing how God works."
He even got an easy name to announce. As Dunlap waited in the green room, he texted Bengals vice president Troy Blackburn in the draft room and asked him to please not send a guy with "a tongue twister," of a name. Watching Jacksonville's Maurice Jones-Drew seamlessly announce "Yannick Ngakoue," didn't help.
"That's one moment that kid will never forget, so I didn't want to mess up his moment," Dunlap said. "I wanted to enjoy my moment as well. That was a little nerve wracking."
No problem. He sacked it, complete with cap throw, but the amazing stuff was just starting.
Six days later at the University of Miami Dr. Ross saw him walk for his master's of business. MBA. The kid who procrastinated when it came to the books and had to be woken up every day to go to school had two degrees at the age of 27 the same week. The MBA came courtesy of an NFL-sponsored two-year course he took in the offseasons.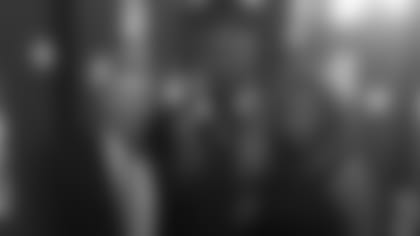 Dunlap, flanked by his mom and NFL commissioner Roger Goodell after finally getting to a draft green room.
"That's what I wanted to get at Florida, but it conflicted with the college athletic schedule," he said. "This one is for me because business is what I want do to after football."
This one also might have been for his dad, Carlos Dunlap Sr. The dream of an MBA was sown while helping his father establish Dunlap Bail Bonding as a burgeoning business in Charleston, S.C. He watched his father do everything and took careful note that Senior let him count the money at a very early age.
"That was part of the reason why I (went to) the ceremony. So she could see me walk," her son said. "I like having my papers. That's something they can't take away from me. So I did the work, just give me the papers. (But) the experience with my family made it all worthwhile going through it. It inspired me some more. It was just like I was more excited for her than when I got drafted. 'Now I finally did the right thing for you.'"
But Dr. Ross says her son got into the moment, waving to them in the crowd and taking a selfie with the Miami president. And it was amazing he was even there on time. His parents' flight was delayed and he was supposed to there at 3 p.m.
"The traffic in Miami is terrible," said Ross, who should know since she got her doctorate at Nova Southeastern University. "When we left his place to get on the highway, there was a police escort right there. I don't know for who, but we just got in it and it went right to our exit. I said, 'No one is going to believe this isn't our police escort.' We took a picture. I told him, 'This is all supposed to be happening. Everything is falling into place.' We got there at 4:04 and it started at 4.
Falling into place. That's the way Ross wanted it. She had her undergrad degree from South Carolina State, her master's from the Citadel, and she earned her doctorate while working full- time. By the time Dunlap was mulling college offers, she was the principal at Goodwin Elementary in North Charleston, S.C., where she still is in her 29th year of education. Her scouting report: not the best student.
"I'd have to wake him up every day to get him to school," she said. "I'd ask him, what are you going to do when you go to Florida? I won't be there to wake you up.
"He was a little like me. I did my best when I had to do everything at the last minute. But, yes, he did get better. I'm so proud of him."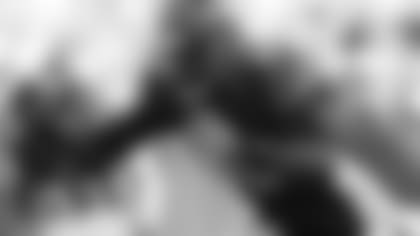 Dunlap's career-high 13.5 sacks and a Pro Bowl berth have also been shoehorned into a busy year.
This is how proud. She beams when he tells her to eat vegetables when he never ate them growing up. Never did Ross mention an MBA. She just wanted him to get the degree at Florida. "You're going to need more than football," she told him when he decided to leave Gainesville early. A few years ago he sent her a curriculum and asked her what she thought.
"About what?" Ross asked.
"I want to get my master's," he said.
"Are you all right?" she asked. But she recovered and said, "Whatever I can do to help."
There were tough days. He would train during the day in a regimen that would take him to his first Pro Bowl, go to school at night, and there were times he'd call her after getting out of class at 9:30 p.m. and say he was hungry, but he was too tired to eat.
"He's amazing to me because he just matures every day," Ross said. "After all you do with your children to try to instill the right things and hope that it was enough and when they do the right thing, you know they were listening. Even though it may not seem like it, it's paying off."
What can No. 96 possibly do for an encore? Nick Vigil signed his contract Tuesday and everything is back to business.
Now Dr. Ross, who decided to put "Momma Dunlap," on the back of her game jersey, goes back to helping run the Carlos Dunlap Foundation.
"We're trying to do in Charleston what we've done in Cincinnati,' she said. "Make student athletes aware of what they have to do to qualify for scholarships. So we're looking at the things we've done to help them taking the ACTs and SATs."
But their greatest lesson may have been taught in a six-day span.
"No matter how much money you make," Dr. Ross said, "you need to have something after the NFL."