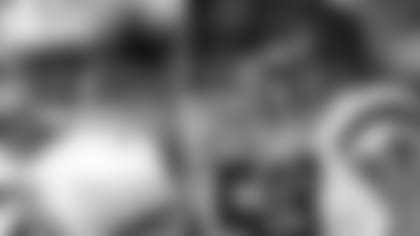 Don Majkowski (left) and Tim Krumrie conspired on a play that changed the fate and future of the Packers.
Don Majkowski, the man who preceded Brett Favre as Green Bay's quarterback and who never dreamed that the kid greener than the Packers tradition would become as big as Lombardi, believes the Bengals' Carson Palmer is the rightful heir to the Cincinnati glory days.
"I'm a huge fan of Carson Palmer and a big believer in the Bengals and what Marvin Lewis has done there," said Majkowski on Thursday, preparing for his role as an analyst this weekend for TV and radio stations throughout Wisconsin and updating his reports on Packers.com. "They compare him to Troy Aikman and I'll tell you, it's scary how alike they are."
For Majkowski, Sunday isn't exactly the classic old gunslinger making a last stand against the young hot top gun at high noon (Green Bay time, of course.). Not exactly John Wayne vs. Orlando Bloom. He sees a tough day for his old, dear friend as Favre plays at his 40th different NFL site when he makes his first and only appearance at Paul Brown Stadium with a depleted offense.
"It's not a fair fight," Majkowski said. "The old guy is putting one bullet in a Derringer and Carson Palmer has a machine gun on his shoulder."
With Javon Walker, Favre's top receiver, out for the year and who knows how long after reconstructive knee surgery, and top running back Ahman Green seemingly near the end now that his thigh problems have come to a head in season-ending fashion, Majkowski just doesn't see Favre coming back next year.
"I don't know anything. It's just my speculation," Majkowski said. "But they're in a rebuilding stage and I don't think he wants to go through that and he'll never play for anybody but the Packers. Yeah, I think this is it."
Changing the course of history
But the beginning was something else, wasn't it, on that last sparkling last day of summer in 1992? The Bengals never-say-die nose tackle named Tim Krumrie and Majkowski's never-say-never green backup from Mississippi named Brett Lorenzo Favre conspired to make history in a Bengals-Packers game at that nostalgia factory called Lambeau Field.
"I'm pretty sure it was the first pass of the game," Majkowski said. "I saw a receiver open downfield and just as I tried to throw it, here came Krumrie on all fours. I guess he had been blocked, but he kept coming and grabbed my left ankle from the side just as all my weight was on it. He clamped on it pretty good, and even more when I was down in the pile. It just snapped.
"I'm not saying it was a cheap shot or anything like that." When asked if he said something to Krumrie at the bottom, Majkowski said, "No. At that point, I was probably still screaming."
Majkowski's tendons in his ankle exploded, and it would be a good eight weeks before he could play again. After Favre lit the Bengals for 289 yards in the first of 34 fourth-quarter comebacks that ended on a 35-yard thunderbolt from Canton to someone named Kittrick Taylor racing down the sideline with 35 seconds left, it would be a lot more than eight weeks for Majkowski.
"That was my last play as a Green Bay Packer," said Majkowski, as if it's still sinking in 13 years later.
The guy they called "The Magic Man," the guy who was the oasis in the desert from Starr to Favre, Majkowski ended up in Indianapolis the next two seasons and two more in Detroit before taking his place in the tight circle of Packers alumni.
"I guess it's important to people in Cincinnati because they still talk about it," Majkowski said. "But it was a much more important game in the history of the Packers. It started everything, and the fact he's still playing, still starting, is hard to believe.
When I think of Cincinnati, I think of Boomer (Esiason) and all the other great players they had like Cris Collinsworth, Ickey Woods and James Brooks. I don't really think about that game."
It was a significant day in the history of the Bengals, too, given that 33-year-old Dave Shula was 13 seconds away from going 3-0 in his first season as head coach. Would an incomplete pass have thwarted the demise of the Shula regime and turned it into a golden age? Or would it have simply meant that Shula's final record would have been 20-51 instead of 19-52?
"All we were thinking about is we lost the game," said Eric Ball, the former running back who is now the Bengals director of player development. "The offense was rolling. I had caught a touchdown pass from Boomer and we were on our way. Then this kid we didn't know kept them in it. He kept throwing and completing passes. Who is this guy? There might have been that trade, but no one knew him then. He wasn't established yet. We know who he is now."
Given that the Bengals had yet to install a deep prevent zone to protect a 17-3 lead, Favre's comeback more likely provided a harbinger than anything because it showed the first cracks of the Shula days.
"If we had been in a Cover Three, there's no way he could have completed those last few passes down the sideline," said Eric Thomas, one of the Bengals cornerbacks that day who is now a Cincinnati sports talk show host. "But we were in a Cover Two, and his arm was strong enough that he could reach all the gaps. Most guys can't do that. We had no idea who the guy was. We all knew Don and I had played with him in the Blue-Gray game. But this kid came out of nowhere, and as the game went along, he got more and more confident. One thing I noticed is that he wasn't tentative. Young quarterbacks usually aren't as decisive, but that showed you right then the confidence he had. He played like a guy who thought this was going to be his last shot."
Thomas says the Bengals were looking to take away the pass down the seam in the middle of the field. So the Packers ran two post routes down each sideline, meaning Favre would have to drop it over a corner, keep it away from a safety and tuck it in before the sideline.
"And, I mean, he threw a frozen rope," Thomas said. "It's the only throw they could have scored on. Most quarterbacks make that throw in a Cover Two, and it hangs enough for the safety to get over there and the receiver takes a hit. But he put it right there. It was a rope.
"I just don't think enough people really know his story. I mean, nobody believed in him. And to keep playing and never missing a start. That's a true football player. Guys like that, if you're going to die, you want to do it the day after a game."
Well, the Packers new general manager that year, Ron Wolf, believed in Favre because he traded a first-round draft pick to Atlanta to get him.
"I knew he was Ron's guy and that it was my job unless I got hurt," Majkowski said. "But no way was he anywhere near ready to take over for me. He was so green and we were all learning the West Coast offense. I helped him as much as I could. He wasn't as serious as he is now. He didn't study as much and he wasn't in shape. He's thinner now than he was that first year, and I was a work-out guy that took care of myself all-year round. I like to think I helped him in some of that stuff. Still, we're the best of friends. The guy has matured so much as a man and a quarterback."
Majkowski doesn't hold out much hope for another Favre miracle against the Bengals, and that's what he thinks it would take. He saw the beginning of the end in free agency, when the Packers lost both starting guards, Mike Wahle and Marco Rivera, and Green's 3.3 yards per average before he got hurt is an obvious side effect.
"He's not as mobile as he was out of the pocket, but he can still throw it. His arm is as good as ever," Majkowski said. "But with all the injuries, they're just so young. He's got no weapons."
On the other hand, Majkowski can't get over the personnel the Bengals have used to surround Palmer.
"Last week was a wake-up call against the Steelers, but the Steelers do that to a lot of teams," Majkowski said. "He's got great receivers, a good running game, he gets protected. And he has done a great job making decisions with four interceptions and 13 touchdowns.
"He's got a different style than Brett," Majkowski said. "Brett does it in an unorthodox way, but Carson is so sound in his mechanics. His technique is so good. You just can't teach that. I've been talking about him ever since he came into the draft. I love him."
On this marquee day for quarterbacks, the first guy in line is a more than interested bystander.
"I hope it's a good game," the Magic Man said. "It's a long shot, but I'd like to see a good one."