Andy Dalton has also scored a couple of TDs this season.
A look back at the first half of the season:
CO-MVPs:  Wide receiver A.J. Green and quarterback Andy Dalton.
They've carried them through a choppy 3-4-1 first half of the season even though they played the first six games without Pro Bowl tight end Tyler Eifert and four new wide receivers while Dalton has been sacked 25 times, second most in the NFL.
Green finished off his half with an NFL-leading 59 catches and 896 yards, both team-record paces by large amounts. Enough said. They needed him to come up big and he's come up bigger. Now he leads in the derby to replace Calvin Johnson as the best receiver in the game.
BEST QUOTE ON GREEN: Patriots head coach Bill Belichick on his weekly conference call with the Cincinnati media:
"He's the quickest among the top receivers who are big, tall guys. He has good stop-and-start quickness; he's a very good intermediate route runner. I'd say there are a number of (taller) players who are really just two-level players — short catch-and-run and deep speed. Green's very good at intermediate routes — comebacks, in-cuts, curls … His catch radius is exceptional. But I'd say the thing that really, to me, puts him at the top of the league in receivers is his ability to affect all three levels, particularly those intermediate routes."
 Dalton has followed up his career year by establishing himself as a top ten quarterback. At the half-way point he leads the AFC in passing yards with a career-high completion percentage of 67 and went a career-best 165 straight passes across five games without an interception. He played what was probably his worst game in the last two years in Wembley last Sunday with an interception and fumble and fell from seventh to 10th in NFL passing. But he's on pace to throw a career-low six picks, he's had a run of a personal-best four straight triple-digit passer rating games, and his 98 passer rating is ahead of his 89.4 career mark.
BEST QUOTE ON DALTON: Bengals cornerback Adam Jones: "If you go back and look at what he was doing before he hurt his hand, if he's not the top, he's at least in the top three. He's stepped up tremendously with his leadership … He's not careless with the ball. That's the biggest thing. If it's not there, throw it away or check it down. He's done a great job."
OFFENSIVE PLAYER OF THE YEAR: Running back Giovani Bernard
This guy just may quietly be the most complete player on the team.
Forget that he's got their second-most scrimmage yards with 565 or his 31 receptions are only four behind the NFL lead for catches by a back. But profootballfocus.com rates him the second best blocking back in the league. He does what is ever asked. For instance, he's had just one catch in the last two games, but that's while he was rushing for 132 yards on 28 carries at 4.7 yards per clip. He's on pace for 62 catches, breaking his own club record.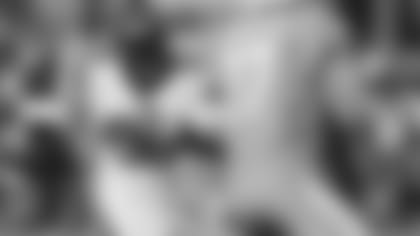 Carlos Dunlap had one of his strip-and-sacks vs. Miami QB Ryan Tannehill.
DEFENSIVE PLAYER OF THE YEAR: Left end Carlos Dunlap.
After a career-high 13.5 sacks last season, Dunlap leads the team with five and while the pass rush has lacked consistency, Dunlap already has two sack-and-strip fumbles and leads the team with 14 QB hits. Plus, he's not only leading the team in seven passes defensed (starting cornerbacks Adam Jones and Dre Kirkpatrick have combined for eight), but he leads all NFL defensive lineman with tipped passes.
SPECIAL TEAMS PLAYER OF THE YEAR:   Running back Rex Burkhead.
The Bengals have been reeling with the loss of Pro Bowl special teamer Cedric Peerman (broken arm), but Burkhead has tried to fill the void. While taking over for Peerman calling the signals as the personal punt protector, he's third on the team with six special teams tackles with a forced fumble and he had a big block on wide receiver Alex Erickson's season-long 65-yard kick return in Wembley.
ROOKIE OF THE YEAR: Wide receiver Tyler Boyd.
After three of his five catches last Sunday in Wembley were on third down, Boyd has the fourth most third-down catches among NFL rookies with eight. Boyd, the second-rounder from Pittsburgh, has 25 catches and is on pace to become just the third rookie wide receiver under head coach Marvin Lewis to have 50 catches to join Green and Jordan Shipley.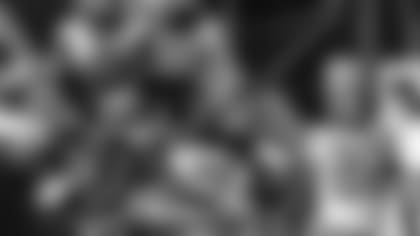 PLAY OF THE YEAR: Making this call is a lot easier than making this play. Green's 48-yard Hail Mary catch on the last play of the first half in last month's win over Cleveland is going to be everyone's Play of the Year before it's over. What was more amazing? The two tips to keep it alive? Or the one-handed catch?
GAME OF THE YEAR: at Jets, Sept 11, 2016: Start and end with the first one in the emotional cauldron of the 15th anniversary of 9/11.  The biggest gut-check of the Lewis Era in a 23-22 road win?
The Bengals won for the first time since 1990 while giving up seven sacks, they gave up 152 yards on the ground, and they trailed, 22-20 with 3:23 left. But Green schooled Jets cornerback Darrelle Revis on an NFL-best 12 catches for 180 yards, Dalton rung up a 114 passer rating in the face of immense pressure, defensive lineman Margus Hunt blocked a 22-yard field goal, and Mike Nugent kicked a 47-yarder with 54 seconds left to win it.  
BEST SURPRISE STAT: Wide receiver Brandon LaFell's line of 28 catches, 378 yards, and four touchdowns, good for 13.5 yards per catch. It didn't begin that way as he took time to adapt to the system in the spring and then during training camp suffered ligament damage in his hand.
But if he's not exactly what they need with the loss of the speedy Marvin Jones, he's given them exactly what they need. While coaches and teammates rave about his professionalism, not to mention his blocking, he's on pace for 56 catches, 756 yards, and eight TDs in the wake of Jones'  65 catches for 816 yards and four TDs on a 12.6-yard average in 2015.
WORST SURPRISE STAT: The combined passer rating of three quarterbacks making their third, fifth, and third NFL starts against the Bengals: 122.3. Trevor Siemian, Dak Prescott, Cody Kessler combined for 50 completions out of  70 attempts for 621 yards, five TDs, and no interceptions.
MOST MYSTIFYING STAT: A total of 103 snaps for fullback Ryan Hewitt, or 13 per game, after playing 378 last season, or 24 per game. After he signed an extension in the spring.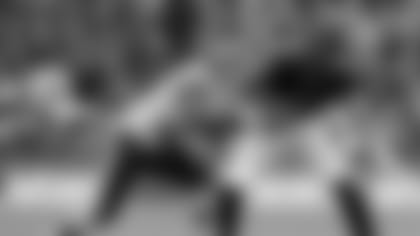 In his first full game back Tyler Eifert found the end zone.
ENCOUARAGING STAT OF THE YEAR: 13 TDs in 25 red-zone possessions, good for 18th in the NFL at 52 percent after being fifth last season. But that is after they went into Wembley last Sunday ranked 28th and went 4-for-4 inside the 20. Eifert had one of the touchdowns in his first full game back since leading all tight ends with 13 TDs last season.
SUM-UP STAT OF THE YEAR: A net total of 2,099 passing yards allowed. On pace for 4,198, second most all-time in franchise history, the second time ever allowing 4,000 yards, and first time in 21 years.
SUM-UP STAT OF THE YEAR II: Last year for the entire season. Bengals quarterbacks were pressured 125 times, according to profootballfocus.com. This year at the halfway point the number is already 103.
 QUOTE OF THE YEAR: "I feel blah. I feel like nothing" _ Green after the 27-27 tie to Washington.
 QUOTE OF THE YEAR II: "What better player would you want to break your record?   Someone like that. The dude is pure class and plays the way the game should be played at receiver." _ Bengals all-time leading receiver Chad Johnson on Green
QUOTE OF THE YEAR III:  "I don't think he did anything wrong. We were not in the wrong here, in my opinion. It's unfortunate. That's what I've told people, stood on, and will continue to stand on … I don't think he meant to do anything. I've been through it back and forth. I see him trying to step through and going to help the teammate who has a hand of another player on his facemask, pushing him in the face. That's what he's trying to get to." _ Bengals head coach Marvin Lewis on linebacker Vontaze Burfict's $75,000 fine for what the NFL called his stomping of Patriots running back LeGarrette Blount.