A healthy James Wright is a boost for the Bengals at wide receiver.
Other than not winning the game, Friday night's pre-season opener against the Vikings went about as well as the Bengals could have hoped.
Both starting units looked crisp. Young players, ranging from red-shirt freshmen (Marcus Hardison), draft picks (fifth-rounder Christian Westerman) and college free agents (Alex Erickson) emerged from all over. And players coming off last year's season-ending injuries (James Wright and Marquis Flowers) looked healthy.
And when you hear Vikings head coach Mike Zimmer say his run defense was "soft," that meant your offensive line had a good night.
Now they just have to do it again when the Bengals go through a short week before playing in Detroit Thursday night (7:30-Cincinnati's Channel 12) in the second pre-season game. Here's a thumbnail look at the roster heading into Monday's 3 p.m. practice on the fields adjacent to Paul Brown Stadium.
(Listed by years in the NFL)
Andy Dalton (6), Andy Dalton (2), Keith Wenning (1), Joe Licata (R)
Dalton (93.3 passer rating) and McCarron (112.8) pumped it out the way you want your QBs to pump it out. You'd have to figure the practice squad spot Wenning had last year is his to lose.  Friday night's 8.3 rating doesn't have them scrambling, but no doubt they'd like to see a better number Thursday.
Brandon LaFell (7), Brandon Tate (7), A.J. Green (6), James Wright (3), Mario Alford (2), Michael Bennett (1), Jake Kumerow (1), Tyler Boyd (R), Cody Core (R), Alex Erickson (R), Antwane Grant (R), Alonzo Russell (R), Rashaun Simonise (R)
Tip your hat to wide receivers coach James Urban for getting the kids ready to play. They really showed up against the Vikings.
 There is still a long way to go, but it's hard to see Core not making it. He showed his strength after the catch Friday night.  And you have to say Erickson has staked a claim to that fifth or sixth spot as a receiver/punt returner, particularly now that it looks like Alford (foot) could be out a few weeks.
But here's the question. Can Erickson and Tate both make it or is it one or the other? Tate's experience is hard to walk away from at both spots. Just look at the 20-yarder he caught on third-and-five on the 22-play drive.
Here's what may be the biggest relief of the night: Wright's knee looks OK. After his first game back in 21 months from micro fracture knee surgery, they're cautiously optimistic. He made a nice third-down conversion and although he didn't line up in his old gunner spot, special teams coordinator Darrin Simmons raved about his efforts in the vise on punt return.
Wright's return is not to be taken lightly.  This is a guy they thought could eventually start before he got hurt late in the 2014 season. Now it looks like he'll be one of the active receivers on Sunday. LaFell will be there when the bell rings. Kumerow's momentum has been slowed with the hamstring injury that took him out of the first week of camp and when he had a chance to make a play on a deep ball Friday night he couldn't find it. But he had such a good spring you figure he's still in the mix.
Pull up your seat for an interesting race for the two practice squad spots. Alonzo Russell's sheer physical skills make him an intriguing prospect.
Cedric Peerman 7, Giovani Bernard (4), Rex Burkhead (4), Jeremy Hill (3), Bronson Hill (1), Tra Carson (1)
Burkhead missed Friday night with a minor injury and should be back soon, possibly for the Lions. There were people at PBS unhappy big back Terrelle Watson moved to Cleveland after he spent all last year on the practice squad. But the hard, no-nonsense running of Carson has eased that somewhat.
Tyler Eifert (4), Tyler Kroft (2), C.J. Uzomah (2), Matt Lengel (1), John Peters (1)
Kroft (knee) should be back for the opener. Eifert (ankle) looks pretty good in rehab, but is there time to get him ready for the opener? Uzomah had a chance to make a play for a big gain Friday night but couldn't hold on. That's OK; he's still the leading contender for Bengals.com's Training Camp Player of the Year. Lengel keeps grinding it out and could be headed to a second practice squad stint. Peters is also gunning for the squad.
Ryan Hewitt (3), Jeff Luc (1), Andrew Bonnet (R)
The Bengals think Hewitt is the best fullback in the NFL, which is why they extended him for three more years. The 6-1, 260-pound Luc is extremely intriguing as a practice squad candidate. Sometimes he plays fullback looking like a college linebacker, which he is and which he did a few times Friday night when he couldn't always find people to block. But he's got tremendous physical attributes and if he can learn the spot, he'll get a long look.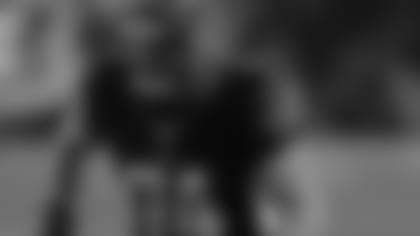 Jake Fisher figures to be the first O-lineman off the bench as a guard or tackle.
LT Andrew Whitworth (11) T Eric Winston (10), LG Clint Boling  (6), RG Kevin Zeitler (5), C Russell Bodine (3), C-G T.J. Johnson (3), RT Cedric Ogbuehi (2), G-T Jake Fisher (2), C-G-T Trey Hopkins (2), G Christian Westerman (R), C-G Alex Redmond (R), C-G Alex Cooper (R),  C-G Trip Thurman (R), T Aaron Epps (R), T John Weidenaar (R).
Looks like a lot of depth there with the first guy off the bench in Fisher. Westerman, the fifth-round pick, is emerging as a good prospect that has a lot of strength. Johnson played well Friday and can play three spots.  In the past they've liked to keep four tackles. There are also some interesting young interior guys like Redmond and Hopkins. Hopkins also played a little tackle Friday.
NT Domata Peko (11), RE Michael Johnson (8), T Pat Sims (8), T Geno Atkins (7), LE Carlos Dunlap (7), T Brandon Thompson (5) E-T Margus Hunt (4), RE Will Clarke (3), E-T Marcus Hardison (1), T DeShawn Williams (1), T Andrew Billings (R), T David Dean (R), E Ryan Brown (R), E Jack Gangwish (R)
Thompson is coming off an ACL and figures to start the season on PUP, making him eligible to return for the Oct. 23 game against Cleveland. It's believed Billings is undergoing knee surgery this week and they're hoping he can return at some point this season but they're not sure.
Hardison fits the versatility bill and he had an active, solid opener. Clarke also showed up. They'd like to get more out of Hunt and Williams in their combined 66 snaps (the game book had them for a total of two tackles) and they're banking on it because Hunt is so physically talented and Williams had such a productive preseason last year. Dean, with two tackles and one for a loss in 21 snaps, looks to be pushing for a spot somewhere.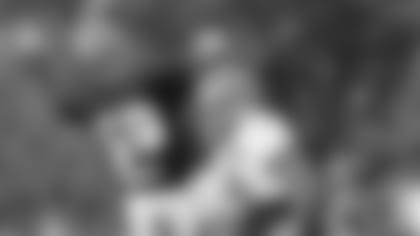 Rookie Nick Vigil (59) could get some significant snaps as a rookie.
Karlos Dansby (13), Rey Maualuga (8), Vincent Rey (6), Vontaze Burfict (5), Jayson DiManche (3), Marquis Flowers (3), P.J. Dawson (2), Trevor Roach (1), Nick Vigil (R),  Darien Harris (R)
Burfict starts the season on the suspended list, so maybe they'll just keep six to start. Or seven? Who knows? They love Vigil and while Dawson helped foul up what should have been a safety early in Friday's game, he's got young legs in a position that has some age and showed some range. They like Roach's reliability and the fact he can play the middle. Every time you look up, Harris, the free agent from Michigan State, does something interesting
CB Adam Jones (10), S-CB Jimmy Wilson (6), S George Iloka (5), CB Dre Kirkpatrick (5), CB Chykie Brown(5), CB Chris Lewis-Harris (4), S Shawn Williams (4), CB Darqueze Dennard (3), CB-S Josh Shaw (2), S Derron Smith (2), S Floyd Raven (1), CB William Jackson (R), S Clayton Fejedelem (R), CB Darius Hillary (R), CB Tony McRae (R), CB Corey Tindal (R)
They're hoping Jackson, their first-round pick who suffered a pectoral injury, can be back late in the year. They think Dennard (ankle) may be back in a week or two.
Until then, the biggest questions seem to be how many DBs they do keep and if they decide to count Shaw as both a safety and corner. One possible scenario? Shaw counts as both and they keep nine. But if a sixth corner is worthy, how do you not keep six?
They'll keep trying to find that guy. Not much seemed to get separated Friday. Wilson, who has played nickel corner in the past, had an interception, but he'll get pushed by the seventh-round pick Fejedelem.  They're hoping Fejedelem gives them a big boost on special teams, but in 12 snaps in the kicking game he didn't have a tackle, according to the game book. But it's early.
K Mike Nugent (12), P Kevin Huber (8), LS Clark Harris (8), K Zach Hocker (2)
Hocker has been injured most of camp, but if he doesn't get his first shot Thursday it will come next week in Jacksonville in the third pre-season game. Nugent barely missed a 48-yarder Friday, but he was nearly perfect in camp.
Cincinnati Bengals face off with the Minnesota Vikings at Paul Brown Stadium in week 1 of the preseason 8/12/2016