The Bengals lost by a foot on Sunday.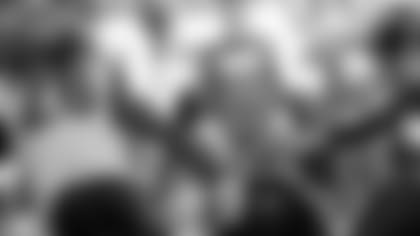 The one attached to the right leg of Justin Tucker.
Baltimore's kicker drilled four field goals, including blasts from 52, 54, and 57 yards in the Ravens' 19-14 win
"He's money every time," said Dre Kirkpatrick. "How the heck do you stop that? How do you even prepare for that?"
Tucker's performance underscored the value of having an elite kicker.
While Mike Nugent's recent woes continued on Sunday with another missed extra point – his third in a row over the past two weeks – Tucker has not missed a kick all season. He's 27-for-27 on field goal attempts and 15-for-15 on extra points.
"He's as much better than other kickers in the league as Tiger Woods was in comparison to other golfers when he was in his prime," said my broadcast partner Dave Lapham. "Nobody can touch the guy."
Tucker has made seven field goals of at least 50 yards this season and his ability to hit from long range was a major factor on Sunday. The Ravens managed to score nine points on drives that ended at the Cincinnati 34, 36, and 39 yard lines.
"I've never seen something like that," said Carlos Dunlap. "We hold them to the 40 (yard line) and they're in field goal range?
"If it was any other kicker it probably would have been a different ballgame."
"You get the ball at the 25 (after a touchback), so if they get a couple of first downs they're just about in field goal range," said Adam Jones.
In contrast, when the Bengals drove to the Baltimore 38 yard line on their opening drive of the second half, they elected to punt.
"He changes the game," said Lapham. "When you're in the two minute drill at the end of the half or the game, you can approach it so much differently."
Recent struggles aside, Mike Nugent has been a good NFL kicker for 12 years. He's made 81% of his career field goal attempts to rank as the 36th most-accurate kicker in history. But Nugent has never made more than four field goals from 50-plus yards in a season. Tucker made three in the first half on Sunday. His range essentially means that the Ravens need one fewer first down on each of their drives to be in field goal range in comparison to most NFL teams.
"That's what he's paid to do and he does an unbelievable job," said Rex Burkhead. "He's a big weapon for them."
"We have the best kicker in the world, hands down," said Ravens cornerback Tavon Young. "We have so much confidence in him when he takes the field no matter where it's from. Nothing more to be said about him, he's the best."
"They've got a blessing over there," said Kirkpatrick. "He's very special."
Following the game, a reporter asked Tucker what he thought his range was under Sunday's field conditions.
"About 70-75 yards," he said.