Mike Nugent's 47-yard field goal in the last minute lifted the Bengals over the Jets in the opener.
Even though Jim Breech, the NFL's Overseer of Overtime, last ended a game suddenly 24 years ago this Election Day in Chicago with an incorruptible 36-yard field goal on Sunday night, he has never stopped living and dying with the men who have succeeded him as the Bengals kicker.
 By the time Mike Nugent kicks again in New York against the Giants on Monday night, Nov. 14, there will have been four presidents elected in seven campaigns since   Breech hit his last OT winner at home, a 34-yarder that beat the Raiders and sent Dave Shula to 2-0 as Bengals head coach in the 1992 Riverfront Stadium opener.
 But even more timeless than Breech's NFL record of 9-for-9 in overtime is the advice he received from the first pure kicker to ever make the Pro Football Hall of Fame. When Breech first met Jan Stenerud, he had one season in the NFL under his belt, Stenerud 13.
 "And he mentioned that everyone will struggle," Breech said. "Every position goes through it, ours is just more noticeable."
 Nugent didn't get a chance last Sunday at Wembley Stadium in overtime to atone for his missed extra point or his missed 51-yard field goal that stuck out like a dislocated thumb, never mind a sore one, in a 27-27 finish.  Those don't come along very often. Since Breech's last dart brought down the Bears four presidents ago, the Bengals have celebrated just six overtime winners and mourned two misses.
 But since Nugent is a stand-up guy he's had plenty of chances to talk about the three field goals he's missed in the last two games to go along with the first 33-yard PAT he's ever missed and his 14-for-19 start to this season because he patiently met the media right after the game and then again Tuesday before the Bengals left on their bye week.
 And he'll probably be asked about it some more when he returns next week because even though the Bengals may be updating the current list of available kickers, he was still here Wednesday night. The Bengals worked out Wednesday four kickers (as well as old friend, defensive end Wallace Gilberry), including training camp casualty Zach Hocker. But there is no one out there with Nugent's track record and while this is a stay-tuned deal, he is still their guy.
 That makes sense. Right now. Nugent, who'll kick in his 94th game as a Bengal in New York, has made more big kicks than he's missed since he started kicking for Cincinnati in 2010.
 He's one of only two kickers who have played at least five games for Bengals head coach Marvin Lewis and the only special teams coach Lewis has had, Darrin Simmons.
       Jim Breech (10) delivers again. Note Bengals radio analyst Dave Lapham (62).
And the last time Nugent was in a slump like this (11 for his first 17 in 2014 with his last kick a 36-yard miss in OT against Carolina) he proceeded to hit his next 15 and that included the one that gave the Bengals the lead for good in the fourth-quarter win over Denver that put them in the playoffs.
"At the end of the day I get paid to make field goals and I haven't done that the last two weeks," Nugent said Tuesday when asked if he thinks about job security. "Whenever the next opportunity arises, I need to need to finish it off for my teammates.
"Darrin and Marvin are two of the most supportive people I've been around," Nugent said. "When you have a bad game like that I don't get beat down. Teammates and coaches are like, 'Alright, we're going to overtime, get out there and win it for us.' The support system is incredible and just the way I'm treated is very much, 'You're our guy and you're going to make the next one.'"
Simmons has a long history of sticking with Nugent that stretches through two season-ending injuries and a free-agent foray with Josh Brown, the man that replaced him for the last month of the 2012 season.
 After the Bengals opted for familiarity in re-signing Nugent, Brown went on to make 91 percent of his kicks over the next four seasons before getting cut by the Giants last month for off-field problems while Nugent has hit 80 percent.
                             ALL-TIME BENGALS LEADING SCORERS
*                 Jim Breech 1980-92 181 games 1,151 points*
*                 Shayne Graham 2003--09 110 games 779 points*
*                  Mike Nugent      2010-        93 games 685 points*
*                  Doug Pelfrey       1993-99    111 games  660 points*
*                   Horst Muhlmann  1969-74       80            549* *points  *                
But Brown was kicking for teams that never won more than seven games and Nugent has had some huge kicks that contributed to two division titles, like last-play winners in back-to-back games in Detroit and Buffalo in 2013 and the ice-cold 44-yarder in Pittsburgh last year that gave them a six-point lead with 1:47 to play. Plus, the last-play kick that tied Seattle and led to his OT winner.
 It all counts when you go 12-4 and Pittsburgh goes 10-6.
 "Darrin knows the mechanics of it. He knows it's not a mental thing," Nugent said. "I just need to hit the ball better and get my technique better. Not only does he know the game, but he's been kicking with me for seven years now. He doesn't have to watch the ball. He can see if I made it not by watching but watching me."
 What Simmons saw Nugent's body do on the hooked extra point no doubt surprised him.
"After watching film, it was just certain little mechanics that if you don't focus on certain things you're going to pay for it, like I did," Nugent said. "It's just certain little mechanics that kind of fell off of it a little bit. My body really tells the truth about how the kick went. Watching that play, if I didn't know how the kick went and just watching my body, I'd be like, 'That was probably not a good hit.' Some of them you're still going to be able to sneak them in, but just watching my form and technique, I brought the ball left. It's not like it just kind of happened on its own or anything like that."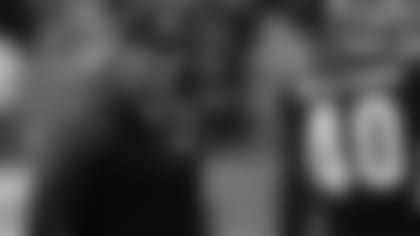 You never know. In 13 seasons, Jim Breech had nine OT kicks. In 14 seasons as Bengals special teams coach, Darrin Simmons has seen five.
Breech, a sales executive who has made Cincinnati home, is a big fan of both Nugent and Simmons, and has been where Nugent is. Haven't they all? Breech has also been watching the pitfalls of the NFL's leading kicker the past few seasons, New England's Stephen Gostkowski.
If asked, he'll dispense advice. If not, he'll enjoy the show.
"I really like Mike and I think he is an outstanding kicker," Breech said. "The toughest thing to do is bounce back from kicks you wish you had back. I had one in college (Cal) that would have beaten No. 1 USC my freshman year. How I would love to have that one back. How do you respond? Mike always responds great and he'll continue to do so. Even Gostkowski is struggling this year."
 This watching stuff is hard for Breech. A few years ago when his son Dan was kicking for the indoor Cincinnati  Marshalls, it got really tough.
 "He had a 43-yard kick to win the game on those nine-foot uprights," Breech said. "He nailed it while I was about to throw up from the anxiety. I can tell you every kicker would much rather being doing the kicking than the watching."
 He knew how Nugent felt watching his teammates play the overtime and his extra point hanging over Wembley like London fog.
 "Sickening. It just makes you sick,' Breech said.
 That's why it didn't really help Nugent that the Bengals were spared the loss when Washington kicker Dustin Hopkins whiffed the OT winner, a 34-yarder one yard shy of Nugent's PAT.
 Hopkins is going to find out those OT chances don't grow on trees. Nugent has only had three chances in his seven seasons here and made two. Doug Pelfrey, who kicked here in 111 games, was 2-for-2, and Shayne Graham just two in 110 games and he missed one.
 Credit Bengals great Reggie Williams for contributing to Breech's OT record. Williams, the Ivy League linebacker, had words of wisdom.
 "Reggie Williams once told me the way for a kicker to gain respect from the team was to make the kicks that mattered," Breech said. "I took it to heart because you never want to let the guys down. It's one way we can really help the team."
                      ALL-TIME LEADING KICKERS IN OT BY PERCENTAGE
*                                                       (Elias)*
*                                                        Att Made Pct*
*                                Breech, Jim      9   9 100.0*
*                               Nedney, Joe      7   7 100.0*
*                               Bryant, Matt     9   8  88.9*
*                             Kasay, John      7   6  85.7*
*                             Dawson, Phil     7   6  85.7*
Breech, who kicked until he was 36, saw his percentage rise with the eras. In his first eight seasons he hit 67 percent of his kicks, a top ten number, he says, from 1979-86. From '87-92 it was 77 percent, still in the top ten.
 But OT was something else.
 Only Joe Nedney, with 7-for-7, is close.
 "I always thought the big game type kicks were fun. Heck, why play the game if you don't want to be in that situation?" Breech asked. "I finally learned I could control only one thing and that was the kick. When I stopped worrying about everything around me good things started to happen. Control what you can control."
 Nugent is headed back to his Arizona home for the bye, where he says he'll continue to work on his kicking during the week. He'll also get a shot to play some golf. Breech has always enjoyed relating golf to kicking, both technically and mentally.
 "Have your routine and do it over and over and when you go in for that game winner you always have your routine to fall back on," Breech said. "Why can a golfer stand over a 10-foot putt for the win at Augusta and knock it in? Because he has a routine he does over and over."
 All he needs is the chance. And when you get them …
"I really wanted it," Nugent said of an overtime kick. "In my opinion I left four points off the board and if those four points are back we shouldn't be in overtime and all these guys shouldn't have to play a fifth quarter. I really wanted it mainly because I need to make up for past mistakes."