Willie O'Bryan, the sound man with whiskers that scream, is trying to shush the room.
He knows there is about to be a thunderclap that is going to shake the TV screen and give the fourth episode of the Hard Knocks Bengals 2013 its signature moment with a Roy Hobbs lightning bolt.
"Hey, there's going to a big boom here," O'Bryan says, shaking his head.
He knows they'll miss the great line he picked up from cornerback Terence Newman as the players scurried from the field "like schoolgirls."
HARD KNOCKS ON HBO
[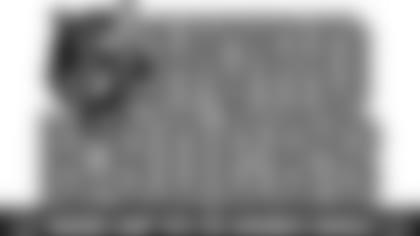 Hard Knocks schedule, video clips, analysis, more](/news/article-1/Hard-Knocks-viewing-schedule-on-HBO/b1ab4727-e486-4591-9008-bcc6f598fd4d)
"I don't do lightning," utters Newman, the guy that calls O'Bryan "Yosemite Sam."
"All the sound guys want to do is get the DVD, take it back to their room and put on headphones and listen to it with nobody around," O'Bryan says. "It looks pretty, but what did they do with my sound?"
We are in a small conference room in three rows of chairs just above the Ohio River on the Kentucky side and most of the crew of about 30 that shot that 50-minute piece for HBO is doing what America is doing: seeing it for the first time.
Well, they're probably the only people in America that don't move until the last credit closes and melts into the screen.
Maybe they had documented every nook and cranny of the Bengals past week. Maybe they had recorded every belch, and cuss and yard. Maybe they had been staring at mountains of monitors that have turned into a blur and listened to wads of wires that have turned into a hum as the series sports the five o'clock shadow of 40 days in the trenches.
They've been together so long this summer that it is something like the third or fourth birthday cake on the table with the soda, beer, chips and chicken wings, in yet another Marriott.
But they haven't seen it streamed together until now.
What was it that Kevin Simkins had said the other day? Simkins, the series director of photography and one of the five cameramen, lives for these Tuesday nights. Even if they are shoved into yet another godforsaken hotel room hundreds of miles from home.
As long as there is a TV. And HBO.  
Simkins, like his audio man O'Bryan, a veteran of most of the Knocks, walks in about three minutes to air, sits front and center, and acknowledges the praise when his lightning bolt puts a glow into the darkened room.
"That's why we do this. We want to see what we do on the big screen," Simkins says. "We're a team, but there's competition. If you don't have the desire to get the best, then you won't be here very long."
"You'll be doing commercials," predicted his production assistant Andrew Brown.
If that sounds a little bit like Bengals head coach Marvin Lewis, why not? They've had two cameras in his office all summer and since he's also been miked every day, they've also heard him talk about how football is the ultimate team game.
Unless, of course, it is this game of Hard Knocks, the annual marriage of NFL Films and HBO that the league and the fans just can't get enough of.  
There are the moving camera operators and the hidden camera operators and the sound folks and production assistants and equipment staff all pouring daily data into "The Pipe," the computer that uploads footage to be pieced together by the editors in Mount Laurel, N.J.
Rob Gehring, the director, is their Marvin Lewis trying to put it together on the ground and on the run. He's 36, has the build and endurance of a marathon runner, and is one of these guys that seemingly appears out of vapor because you can bump into him anywhere anytime in the hill and dales of Paul Brown Stadium.
He may be going into Lewis's office trying to feel him out on the practice schedule. He may be headed out of the office of director of player personnel Duke Tobin trying to get a pulse of the roster. He may be at his desk in the makeshift production office that doubles as the family room on game day, adding cameras for that day's practice because it is a short week and "The Pipe" is always rattling for more fodder.
"Nerves but good nerves," Gehring says about 10 minutes before air. "I think more than anything I'm nervous because I hope all the people who worked on it appreciate what became of their hard work."
Dave Harmon, the show's senior producer, gets it back in New York. The numbers say the ratings are on par with the 2009 Bengals series, and as they say in show biz, that's great news because that is still one of the most popular Hard Knocks ever. It was so good that teams that used to treat the series like a salary cap hit started to sign up.
"We're very thrilled the way the season has gone," Harmon says. "(In the past) it seems there'd be one season where it was about the cuts. Another season it might be about the veterans. Or the coaching staff. But this one seems to have the whole shebang."
The only two guys in the room that have seen anything on a screen are Gehring and assistant director Matt Dissinger. And since it was a very rough cut, offline and right out of the editor's queue ("The most basic form"), Gehring doesn't feel all that great Tuesday morning. But he begins to perk up as the show nears because the music, the sound and the narration give it a much different feel.
So he goes into a mode like Lewis in practice, knowing which crew had which shot and moving through the chairs to offer praise and advice.
"Like a film session," Gehring says. "All our cinematographers are here. If they get a good shot, you want to let them know you saw it. If you've got some advice on making something better you give it. Nothing's perfect."
A pregame shot of defensive coordinator Mike Zimmer sitting on the floor in Dallas with his papers in front of him. A glance at rookie running back Giovani Bernard in the Springboro High locker room disputing the notion he's got it made in some give and take with fellow rookies. The Bengals buses driving into AT&T Stadium in Dallas melding into a quick frame of former great Cowboys on the wall.
"Great shot," Gehring says.
If Reggie Kelly's tears in the wake of his season-ending Achilles injury was the defining scene of Knocks 2009 shot by a hand-held camera, then Zimmer's heart-to-heart talk with tackle Devon Still about his intensity ("I don't want you to be a washout") captured by a hidden robotic camera may be the defining moment of this one.
"It shows you how far the technology advances of NFL Films have come in four years," Harmon says. "With more robo cams it gives you the opportunity for these great moments. You've got two fewer people in the room without a camera and audio."
After Still leaves the room on the screen, Gehring scoots next to one of his robotic cameramen, Drew Matyas, and congratulates him.
Matyas sits in a room all day staring at eight monitors perched in the coaches' offices, two each for Lewis and Zimmer. He's charged with sifting through hundreds of hours each week of meetings, meetings and more meetings looking for the proverbial needle in a viral haystack to record.
Matyas's M.O. is pretty simple. His antenna goes us up when there's a coach and player one-on-one, but you have to pay attention. Someone in robotics has to stay until the last coach leaves.
Dissinger says for the entire show, one minute of air time equals 300 minutes of footage and for the robo cams he estimates it's somewhere around 400-500 minutes for each minute that makes it.
"You toed the line perfectly," Gehring tells Matyas, "between getting the moment and then when you knew you got it, you went and got the supplementary things that needed to be brought out."
Tuesday was a good show for the robo because they also showed the linebackers arm wrestling, capped off by James Harrison's quick, almost frightening takedown of Jordan Campbell.
"The Zimmer moment, that's a hard thing to figure out," Gehring says later. "You want to stay on the moment and you don't want to ruin it by moving. But you know at some point you're thinking like an editor. 'I have to get a close up. Give them something to edit a little bit.' "
Simkins was thinking the day the thunderstorm wiped out practice. With weather rolling in and enough cameras on the field, he figured he'd take O'Bryan and try shooting from the part of the stadium that overlooked the practice field looking for another angle.
"And it worked out," says Simkins, veteran of The Kelly Shot of four years ago.
So did his footage from Saturday's game in Dallas, which had been his real worry because of camera problems. He'd been following Green's wire and had the shot of his heel ever so slightly going out of bounds to negate his touchdown while O'Bryan picked up Green saying, "I've got to work on that."
"It was a shutter issue and there was some blurring and I was stressed about that," Simkins says, "but it there wasn't a problem. I thought it was a good show. A good mix of coaches and players."
While lightning hit Simkins, his fellow cameraman Ferdinand LeGrange was hoping to get hit. When the Bengals traveled to practice at Springboro High School last week, LeGrange was assigned so many various angles revolving around the school, the campus and the backdrop, he looked a State of Ohio surveyor. He shot landscapes. He followed the custodian for a good half-hour. Finally, when only a fleeting shot of the gate to the school unlocking makes it to the screen, LeGrange exults.
"They used one," he says later, even if it is his only shot that makes it out of Springboro.
"That's part of the business," he says. "We were running getting different angles with the sun going down. It was fantastic. And they used one shot. It's one of those things. We're always rolling and we're always recording. But you never know when something memorable is going to happen. I always think about that. I want every single thing I shoot in there. I know the reality of it. But I get excited every time I see it."
Plenty of LeGrange's shots made it, though, especially from Dallas, where he followed the wires of WILL linebacker Vontaze Burfict and quarterback Andy Dalton. LeGrange also rode in Dalton's car to his Dallas house and on the way got a kick out of Dalton directing the crew to take footage of his alma mater Texas Christian: "It's coming up on your right."
"He's a really nice guy," LeGrange says. "(Burfict) is great. He's quietly becoming one of the guys you want to go to."
But as always, more shots didn't make it, and a lot of times the crew remembers those the most. Especially at cuts. It never made the light of day but LeGrange's crew trailed rookie wide receiver Jheranie Boyd as he walked from the hotel to get a daily milkshake at Fountain Square. Every day. He still did it the day he got cut and LeGrange remembers how the camera caught him smiling and waving to the crew.
"He's just a nice, friendly guy," LeGrange says. "Here he is, he doesn't know what he's going to do next. But there he is waving and talking."
On Sunday, when the Bengals had to cut to 75 players, there was a camera crew outside the draft room, in the locker room, and in the parking lot with a robo cam perched at the exit of the last elevator ride.
Those stories are always the toughest for versatile production assistant Matt Montoya. Montoya, son of Max, the greatest guard in Bengals history, is a veteran of TV and movie productions in his hometown and California, and worked the Bengals Knocks of '09. But before he made his way in the industry, he was playing football at Miami of Ohio before he got sat down for The Talk.
"You just hate to see it," says Matty Nice. "One minute they're here and the next they're gone. I remember how I felt. Now we're into the meat of the show with the guys getting cut. Early on when you're meeting guys, setting up the stories, it's a little more light-hearted."
The P.A.s also look for signs of themselves in the show. They are huge and unsung, there to give aid and comfort to the camera and audio, doling out batteries and tapes when they can never run out for fear of missing The Moment.
They are the cameraman's eyes when he's looking through the lens and the audio man's ears when he's wired in elsewhere. They take notes to highlight the footage, which are later transcribed into emails sent through "The Pipe."
You can catch Montoya in the bowels of PBS for his 8 a.m. call and 8:30 hot, which means they're moving and the cameras are rolling, and he's loading up batteries and sunscreen, reading notes and "preparing like the players are preparing for practice."
"I can't take credit for anything because it's such collaboration," Montoya says as he sits down to watch Tuesday night. "It's not up to us. You have to be in the right place at the right time."
Montoya bounces from crew to crew so the moments are streaming together. But he already knows one shot he'll see. In Dallas he was with the crew following rookie defensive end Margus Hunt, the charismatic Estonian with an American sense of humor; a storyline that is playing well.
"You've seen the buildup from Day 1," Montoya says. "He's a second-round draft pick. He's got a lot of pressure on him to perform. Everyone knows that. We're there at practice. We see his improvement. When he got that sack, I'm like, fist pump. And I looked around and put my hand in my pocket."
The vibes must be coming through. Back in New York, Harmon laughs when asked about some of his favorite bits of this season.
"I hate to be like everybody else," Harmon says. "But I can't get enough of Margus Hunt."
The TV is still on, but the room is nearly empty, the cake is half-eaten, and Simkins and O'Bryan are shaking their heads about their Hunt interview as they take off.
"It was early in the morning and the room we were going to use was locked," O'Bryan says. "Couldn't find a key. We were scrambling."
"We improvised and went outside," Simkins says. "We shot him with the bridge in the background."
"It worked out pretty well," O'Bryan says.
It is 11:15 p.m. Gehring has made his call for 6:15 a.m.
"A lot to get in now," he says, one final Tuesday night looming and they won't even be here.
"We may shoot the team picture Monday morning," Simkins says, "and that's the last thing we'll do."
Maybe it will even make it.