Golf suits Adam Jones' lifestyle these days. 
Now you figure you're going to see the Doberman.
A Doberman on Sundays is how Bengals head coach Marvin Lewis so aptly describes Adam Jones' foam-at-the-mouth competitiveness that has marked one of the greatest comebacks in sports in our time.
Jones has just topped his drive and dribbled it far shorter than last year's 97-yard kick return in the dying minutes that should have won the Carolina game.  That's the one where he basically put himself in the game and nearly chewed off the legs of Lewis and special teams coordinator Darrin Simmons when they told him not to risk returning it so deep in the game.
Maybe the drive went 57 yards, the length of Jones' punt return that brought them off the canvas against Jacksonville. Anyway, it is a death sentence on the 595-yard eighth hole at Stillmeadow Country Club tucked in the hills of Cincinnati's east side that Jones has adopted as home.
But when he is golfing, this is not the football Jones. When he trash talks, it is only to himself. "Damn, Adam Jones," he mutters and tees it up again. He and his buddy Rich Morton have a one mulligan agreement and they already gave me my one when I fouled my tee shot into the woods at the par 3 fifth. But even though he whacks his 3 wood more than 200 yards he tells Morton he's playing that first ball.
Three minutes later he is cackling, "See that Rich? See where I'm at?...Lying three up there on the collar." He had muscled that second shot maybe 250 yards and then launched another 3 wood so he's about 50 feet or so from the flag.
When he carefully brings it downhill, he's about eight feet away from a par. But he's on the side, so he's got to hit it firmly slightly uphill. "I probably wouldn't have been able to play it through the break," he says later. His putt hangs on the lip and drops.
"It was looking right at you before it went in," Morton says.
The Doberman had calmly looked back and growled. You have to be in a good place and have good friends to tolerate golf and Adam Jones is in a very good place these days.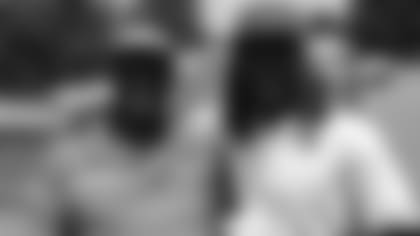 Rich Morton (left) menotored Jones in the game and they still play often.
Here is what you see when you're playing golf with Adam Jones on a tight, 3,100-yard greensward.
He's wearing shorts, a white Bengals polo shirt, and has his Reds ball cap pulled on backwards. As he gets out of his cart at number one, two senior ladies have just pulled up and he waves and says, "If we're too slow for ya, y'all play through." As he walks to the tee he says, "They're good, they're out here all the time."
I have committed the cardinal sin of sports writing. You're never, ever supposed to try and do anything athletic around the people you cover. But Jones has a compassionate side. He is generous with gimmies and tries to keep you upbeat through the bad shots. He is also appalled at my posture and lack of speed on the Paul Brown Stadium ellipticals and has an idea I'm not going to be much of a match. He tells me on the first tee, "Hit 'till your happy, Hob."
It only takes two drives.
But nobody can get away from Jones without a challenge. We are playing for the green fee, which is for only nine holes since this is the first day off in Bengals training camp, where you can hear Jones grumbling happily about his work load.
The day before he had reminded anyone on the sideline who would listen, "I'm on everything but the punt team and starting corner and I'm still running."
As he eases into the cart he says, "They're a little heavy, but this shouldn't be too bad on my legs. I did a cold tub this morning. If anything it will make me looser."
But golf is a mental massage.
"Clear my mind. It's my time. I don't even have my phone with me. It's at the house," Jones says. "The only phone I've got when I golf is for my wife and kids. It's like when I do yoga. I get away."
He admits he has become a fanatic and he has Morton to thank.
The Bengals locker room is a tough place to be without at least trying golf. Cornerback Leon Hall, Jones' good friend and locker mate, is an avid player. About three years ago Jones took his wife Tish and preschool daughter Triniti to Reeves Golf Course at Lunken Airport to get out of the house and maybe see if he could hit it.
They were hooked up with Morton on the course and he introduced himself by needling Jones with some challenges. By the third hole, Jones told Tish to take Triniti home so he and Morton could have at it and they've been golfing together ever since. If anybody taught the 31-year-old Jones the game, it's Morton, a 58-year-old owner of the west side window cleaning company Brightside Services who got hooked himself six years ago and says he shoots in the high 80s and low 90s.
"He started hitting it so much further than the average beginner golfer," Morton says. "All he had to do was straighten it out. Now, he's straight 50 percent of the time, just like anybody. He shoots in the 80s. He won't listen to me anymore."
But they have the easy, unspoken vibe of any long-time golf partners. "I went in and out," says Morton after one swing. "Yep," Jones says. "Follow through."
They trade stories and tips with Morton's Army stores from the mid '70s in the lead. He plays all over Cincinnati and together they've played Kenton County, the Willows, Maketewah, you name it.
"A great human being," Morton says. "We play almost every day in the summer. And there are times when I've got to get home and he gets mad if I don't stay for dinner."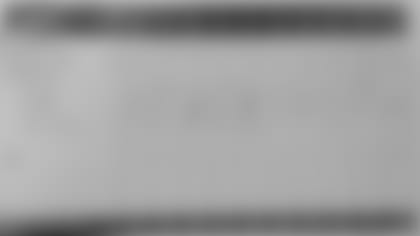 Jones is steaming mad on the 390-yard first hole. He chunks a hybrid, scalds a wedge, and is on his way to a triple bogey seven. With my double bogey (typical four shots from within 60 yards), it is the only hole I beat him.
"Adam Jones, Adam Jones, what are you doing?" he asks himself under fierce breath as he slides the club back in the bag.
But he's not trying to run back on the field to return a kick. If the Bengals lose, you can't get near the fangs. So I figure I'll calm the fire and remind him he hasn't played since before camp started. But there's no need.
"I didn't play that whole week before camp," he says. "Just getting warmed up. We're not even loose. I won't do that again."
He's right. He'll shoot 44 to Morton's 48 and my 52 and it's because on this day he's a rock on the NASCAR greens while Morton and I sideswipe doubles and triples.
"I don't think golf helps me with football," Jones says. "I think it might be the other way around. You do have to be patient when you golf…It's like being a Dad. You have to turn the switch on and off."
As if on cue, Jones comes back on the 339-yard No. 2 and bogeys despite needing to blast out of the sand trap. On the 389-yard third, he's just off the right edge of the fairway about 180 yards away with a tree providing an obstacle. He got there with his trusty 3 wood. He doesn't use a driver because it doesn't listen and he knows you can't beat stubborn.
After swearing at the tree, Jones does what he can and skies a 6-iron.
"There's no way I could have got through this tree,' he says and he'll patiently take a 30-yard wedge over the sand trap.
When he puts the chip three feet away for a par, you can get in a conversation about gimme puts. He generously gives one to Morton on this hole.
"A little curve I make him putt it," Jones says.
Jones shakes his head as he heads to the fourth tee.
"The hard stuff I do pretty well because I'm so used to being in trouble," Jones says.
Insert metaphor here. But Jones is talking about his days learning golf. Not those days he was right where Aldon Smith is now. If there's any advice for Smith, listen to Jones drive the fairways.
"I would say golf has helped me being patient. Slowing things down," says Jones and he's talking about more than jumping a route.
He's talking about going to the par 3 fifth. He takes his viewfinder and calculates 155 yards.
"He wants to be in front of this pin," says Morton of the uphill climb. "He wants to be short."
Jones sweeps his 8-iron so it hits the sweet spot. It drops 10 feet away on the right side pin high, but Jones still grimaces. He knows that's a treacherous down-hill putt. We settle on 10 feet because when I say 12 feet he bites, "No way, eight feet."
Jones graciously ignores the fact I use my driver on the par 3, maybe because I'm short and left just off the green and in pretty good shape. I chip and putt for par. So does Morton while Jones stares at the 10-foot birdie that is dying to race down the hill.
He barely nudges it and somehow steers it right to left. It drops and he sings, "A bird, a bird," and lets out of those third-down deflection struts.
"I told you right to left," Morton says. "But the roll you put on it was perfect."
Before he gets to the ninth hole, he stops and chats with the ladies before they putt out on No. 6 and we tee off on No. 7. They ask him how he's playing and how camp is going. He's clearly a regular. As we stare at our approaches at No. 7, Randy Johnson, Stillmeadow's iconic greenskeeper, suddenly appears in his golf cart a la Bagger Vance and asks Jones, "Shouldn't you be doing sprints or something?"
Jones smiles and says, "They've got to give us a day off."
After he bogeys the par 4 ninth (the rough on the right is tougher than a Republican presidential debate), he tallies the card.
"Where's the 50?" he asks.
Three years ago he was laughing about golf.
Now he's got a set of Pro V Titleist balls stamped with "PAC," and his No. 24. The only shred of the old nickname "Pacman," on this day. But today he used a plain old Pro V Titleist as if he were just an old sports writer.
"I played the same ball," he says. "That's always a good day."