How good does the Bengals' pass protection look now?
A few takes after Peyton Manning Marshal Dillon-ed the Panthers in Sunday night's Super Bowl and rode off into a Carolina sunset.
How good are the Bengals tackles, specifically Pro Bowl left tackle Andrew Whitworth? We spent the last two weeks watching Von Miller and DeMarcus Ware personally win the two biggest games of the year by eviscerating Tom Brady and Cam Newton in getting an offensive line coach fired and an NFL MVP stifled.
But the Broncos barely sniffed Bengals quarterback Andy Dalton in his second career start back at Mile High on Dec. 28.
Against the Patriots in the AFC title game, Denver sacked Brady four times and hit him 17. Then Sunday night Miller won the game and MVP award when he sacked and stripped Newton twice for turnovers that translated into 15 points in the 24-10 win. Miller had 2.5 sacks, two hits and Ware added two sacks and four as the Broncos pummeled Newton for seven sacks and 13 hits.
There was no such parade against the Bengals, even though they were on Miller's turf. The Bengals, anchored by Whitworth and Andre Smith at right tackle, allowed just two sacks and seven hits of McCarron, a virtual rookie playing the NFL's No. 1 defense. Miller had just three hits and Ware a tackle for loss. Imagine if Andy Dalton's quick release had been around?
But this is what the Bengals have to live with miserably in the offseason. McCarron responded brilliantly and took the Bengals into overtime in a game they lost, 20-17, in what turned out to be the seminal game of the AFC play-off race. The win would have given the Bengals a play-off bye and home game and the Broncos would have been on the road and, most assuredly, wouldn't have been in Santa Clara Sunday night. Never mind on the podium. And Manning's only sunset would have been if he wanted to buy an Andrew Wyeth painting.
After spending time with the Broncos last week, they made it clear they thought they would meet the Bengals again in the playoffs. Wide receiver Andre Caldwell, the former Bengal, observed, "It was a fumble away from happening."
And Broncos backup safety and special teamer Shiloh Keo, who spent training camp with the Bengals, said the game was played with the intensity and talent of an AFC championship game.
Keo admitted the game back in December was a very emotional game for him. He thought he had the team made back on Labor Day weekend when the Bengals cut down to their Opening Day 53-man roster. He said two assistant coaches congratulated him on making it, but the Bengals went for youth and kept rookie safety Derron Smith, a sixth-rounder.
You can see why the Bengals had Broncos cornerback Bradley Roby rated so highly in the 2014 draft. He was a possibility since no one thought Michigan State cornerback Darqueze Dennard would be there at No. 24.
But he was there for the Bengals and Ohio State's Roby went to Denver at No. 31 and has filled in nicely as Denver's No. 3 corner behind Pro Bowlers Aqib Talib and Chris Harris Jr.  Roby, who gave up just two touchdowns in the regular season, according to profootballfocus.com, had three passes defensed in the Super Bowl and was all over the place.
Dennard, also playing behind two talented corners in Adam Jones and Dre Kirkpatrick, has been hampered by injuries in his first two seasons but they still believe Dennard is talented enough to be a very good starter.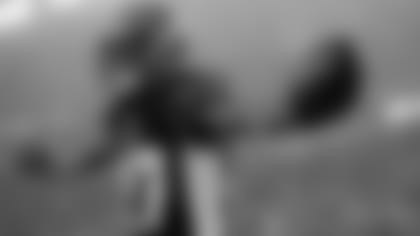 Dre Kirkpatrick's pick-six in the Monday Night snow back in '14 is the Bengals' high-water mark vs. Peyton Manning.
So now it looks like we can close the book on Manning against the Bengals. Until they picked him off four times back on Dec. 22, 2014 at Paul Brown Stadium in his last appearance against them, it had been ugly.
That was their only win against him in nine tries and he still finished with 22 TDs and just nine interceptions against the Bengals for a 100.6 passer rating on 7.7 yards per attempt and a 66 completion percentage. Those 22 TDs are the second most against a team that has never played in his division. He lit Baltimore for 25 TD passes. His 48 TD passes against the Texans are his most against any club.
You can't take anything from the Denver defense, but watching Newton when wide receiver Corey Brown left with an injury made you think of what Andy Dalton faced in the 2014 Wild Card Game in Indy without A.J. Green, Marvin Jones, and Tyler Eifert. When you target Ted Ginn Jr., ten times that shows you're in trouble. And he only caught four. That allowed the Broncos to drape all over tight end Greg Olsen, holding him to just four catches on nine targets.
It's fitting that the oldest quarterback to ever win a Super Bowl, Manning, was born in 1976 because it looked like a Super Bowl from that era since Manning oversaw the fewest yards ever by a Super Bowl winner with 194.
In the Super Bowl game played in 1976, Terry Bradshaw led the Steelers over Roger Staubach's Cowboys, 21-17.  In that one Bradshaw threw just 19 times and completed nine for 209 yards while Staubach was 15 of 24 for 204 yards. On Sunday, Manning threw it just 23 times, completing 13 for 141 yards.
A beautiful rendition of the national anthem by Lady Gaga. No one will ever top Whitney Houston in '91, but there is nothing wrong with second place to that classic.