Paul Brown went out in style in '75 when his Bengals started 6-0 on the way to the franchise's best winning percentage of all-time at 11-3.
When he looks back on that 1975 opener now, yes, maybe Dave Lapham thinks, P.B. had planned to make 1975 his last run all along.
 But back then, it was not particularly surprising to see "The Old Man,' giddy after beating the team that was named for him. He had just watched quarterback Ken Anderson (287 yards when 300-yard games were historic) and wide receiver Isaac Curtis (127 yards) do what they always seemed to do to the Cleveland Browns, which is to say eat them alive in building a 24-3 lead at Riverfront Stadium that got them off to a 1-0 start after the injury-riddled season of 7-7 in '74.
"When I think about it now, he was pretty happy, and it makes me think he already knew," recalls Lapham, the Bengals-long time radio analyst. "But if he did, he sure didn't tell anybody about it. I was shocked."
His son, Bengals assistant general manager Mike Brown, who had no idea, either, knew down deep when he got the call at his home in the Cincinnati suburb of Glendale. P.B. lived nearby and he wanted to go for a walk.
 It was right after they got back from the play-off game in Oakland, where Raiders linebacker Ted Hendricks had sacked Anderson out of field goal range with under four minutes left in the Raiders' 31-28 victory.
At age 67, already in the Hall-of-Fame, and a legend as the man who put the word 'professional,' in football after starting two franchises and his Baby Bengals all grown up, it made perfect sense to Paul Brown for Paul Brown to step down as head coach.
"I thought that's what he might say," Mike Brown says.  "He was in good physical shape. But he had the good sense to know that nothing lasts forever."
On the 40th anniversary of another 6-0 team that had weapons teeming out of those playbooks Paul Brown invented in the shadow of World War II, 1975 is a honking and crowded intersection of sports history where the past and the future dodged each other in a blur of transition.
P.B. and his 11-3 team that laughed at conventional offenses were symbolic of that crossroads. When he announced his retirement on Jan. 1, 1976, we were still deep enough in the old afternoon-newspaper-6-o'clock TV news cycle that Brown thought the terse press release announcing Bill "Tiger,' Johnson as his successor would get lost in the New Year Day's bowl games.
It didn't, of course. Legends don't go to the cutting room floor. But the 24-hour news cycle was coming, thanks to Brown's help.
In October of 1975, rain, the Red Sox, Carlton Fisk's wave-it-fair Game Six Fenway homer, and the world champion Reds, the Bengals co-tenants at Riverfront, had accidently conspired to make sports a prime-time constant.
The next month in the first Monday night game ever in Cincinnati, the Bengals did their part to push the TV execs when Anderson staged his iconic shootout with Bills running back O. J. Simpson. Behind Anderson's career-high 447 passing yards, the Bengals staved off Simpson's 197 rushing yards in a 33-24 victory that not only helped grow ABC's Monday Night Football legend, but also certified the Bengals as a piece of Cincinnati in the eighth year of the franchise.
"NFL fan bases weren't what they are now," Lapham says. "It was almost like a socialite's crowd. It was like going to the ballet or the opera."
But '75 made it OK to go nuts. Like Anderson's center that season, Bob Johnson, says, "The atmosphere of a Monday night game is fabulous . . . Simpson was at his best that night. And then you showcase a quarterback like Anderson in a disciplined, interesting offense . . . a night like that keeps the city going for a month."
The Giffer, Dandy Don and Cosell broadcast an offense for the Star Wars generation, a movie by the way, still two years away. But on that Monday night it could see the 21st century fast approaching. Gale Sayers had become Lando.
As a member of the NFL Competition Committee in the '74 meetings, Brown pushed for this Luke Skywalker kind of game, convincing the other owners to limit what defenses could in order to open up offenses.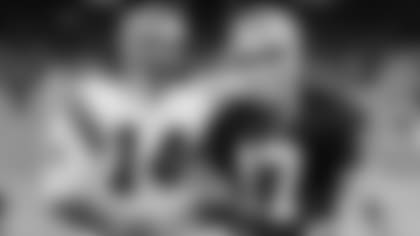 In '75. quarterback Ken Anderson (14) won the second of his four passing titles.
And Brown had Bill Walsh, his bright, innovative coach of the passing game, and Walsh had Anderson, just the right technician to warp speed Brown's Lake Erie Offense into the modern era as the West Coast Offense.
With the cool, efficient Anderson piloting all these weapons, he won his second straight NFL passing title. Curtis, the prototype of the big, fast modern receiver, averaged 21.2 yards per catch in an era the run still ruled. On the other side, Charlie Joiner, who would go the Hall of Fame as a member of the Chargers later in his career, averaged 19.6 more. And then there was Pro Bowler Bob Trumpy, the original pass-catching tight end. He was nearing the end in his eighth season, but his seven TDs and 15.4 yards per catch said he still owned the middle.
 "Trumpy could still get down the seam on you, and he was a sneaky good blocker, too," Curtis says.
Lapham: "We didn't have a Giovani Bernard-type back. A James Brooks-type back. We had power backs like Boobie Clark and Stan Fritts was a tough little sucker."
The defense could get a little lost in all that, but Lapham remembers those 44 turnovers they forced and that marvelous All-Pro secondary of cornerbacks Ken Riley and Lemar Parrish and safety Tommy Casanova.
"All great players," Mike Brown says. "You don't get any better back there.
 "Don't be mistaken," he says. "If that team could go out there today, it would still be one of the best."
In the middle of it all was P.B., 67 years young. While he helped bring in the modern era kicking and screaming, he exited with his playbooks and the other things he gave the NFL that became part of the league's staples. The face mask. The draw play. The 40-yard dash.
And he was coaching right up until Hendricks fought off Boobie Clark's block to get to Anderson. Not like the 38-year-old P.B. of 1946 in the Browns' first year, when, Mike Brown recalls, "He was on top of his game, he had done it all. He called the signals, ran the practices, he was on top of everything. As he got older, he began to delegate more and more."
But he was still coaching.
Riley, whose franchise-best 65 interceptions belong in the Hall of Fame, remembers Brown doing more than that. During the '75 preseason, Riley's grandmother died just before the team left for Miami.
"Paul called me in. He told me I didn't have to go, that I could go home and do what I needed to do," Riley says. "It showed that he thought of us as people. I ended up playing and then going home. And I think he respected that, too."
BOB JOHNSON:  "There was no question whose team it was and who had organized it. But he let his coaches coach. He had Bill Walsh running the passing game and Tiger Johnson coordinating the run game. And that's who presented it to us, although I'm sure he had input."
And there was no question who did the critiquing Tuesday morning. Johnson figures Paul talked to the coaches beforehand, but whether it was 1945 or 1975, nobody could make you bleed with a mere sentence like Paul Brown.
Lapham can regale you with tales of how the room stank with sweat because of the nerves as P.B. sent the projector whirring frontward and backwards. "Maybe it's just too big for you," or "Just look at yourself,' made grown men slink in their chairs.
"He let Bill and Tiger call the plays, but he was right there," Lapham says. "He obviously had veto power."
Walsh was on a headset in the press box and called the plays down to Tiger Johnson's headset. Brown, going out with his porkpie hat, stood right there as Johnson gave the play to the messenger guard.
(Paul Brown took tremendous heat for taking the play calling away from the quarterback, but look at the games today with coaches holding novels and wired like astronauts, speaking into a helmet-phone that Brown first tried out in the '50s like Doc Brown tinkering with his time machine in Back to the Future.)
Lapham, the right guard, stayed on the field while left guards like Howard Fest and John Shinners took turns running the plays in.
"I think for the most part he'd agree," Lapham says. "But there would be times he'd say stuff like, 'Run the draw.' Or the guards would come in to the huddle and say, 'P.B. wants this.'"
ISAAC CURTIS: "Paul Brown was a great coach. A great organizer. That was the one thing that really impressed me. He surrounded himself with good coaches, good people. He was great evaluator of talent and he could put it all together."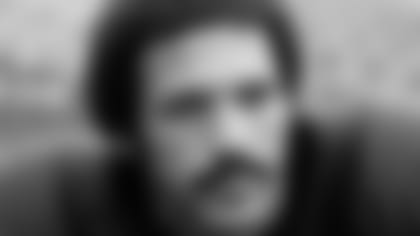 Isaac Curtis, prototype of the modern NFL receiver. In '75 he averaged 21.2 yards on 44 catches.
But it was that ability to delegate that helped lead to the decision to walk away.
"It wasn't that he wasn't on top of things," Mike Brown says, "but he wasn't involved in the same old way. It bothered him to receive credit for what he thought was not necessarily his work, but others. His phrase for that was 'fronting it.' A lot of coaches do that. In the National Football League today its general practice for the head coach to do that. It was not how he wanted to be remembered. He felt it meant for him to step aside."
But before P.B. left he had to deal with one of his former players, Chuck Noll, coach of the defending Super Bowl champion Steelers. They would finish 12-2 and win the AFC Central by a game over the Bengals before winning it all again. In '75, Pittsburgh handed the Bengals two of their three losses.
"Count the Hall-of-Famers on that team," says Anderson of the 10 Steelers in Canton. "That was a great team in their heyday, but we always played them tough. I think I won almost half of my starts against them and the next best was 30 percent. It was a great matchup."
There was a lot mutual respect there, too. After one game in Pittsburgh the Steelers invited Anderson into their locker room for a steam and a beer, the ultimate compliment to a fellow warrior.
But in '75, the Steel Curtain stole P.B.'s final bow in both games. At Riverfront, they met when the Bengals were 6-0, of course, and the Steelers broke a 3-3 tie with 20 straight points on the way to a 30-24 victory. Fourteen of those points came when two of those Hall-of-Famers, quarterback Terry Bradshaw and wide receiver Lynn Swann, hooked up for touchdown passes of 37 and 25 yards.
The Steelers didn't exactly shut down Curtis on three catches for 80 yards, but they kept him out of the end zone with the help of another Hall-of-Famer, 6-3, 205-pound cornerback Mel Blount. Like he did on everyone else, Blount literally used blunt force on the 6-1, 192-pound Curtis, pounding him all the way down field.
When Brown helped push through the '74 legislation that eliminated the roll-blocking and cutting of wide receivers as well as limited the extent of downfield contact by a defender on a receiver, it was dubbed "The Mel Blount Rule." But it was Curtis that Brown had in mind.
ISAAC CURTIS: "It was tough getting up and down the field when I first came in the league. The Steelers played what they called Cover 2 Man. The corner comes up and bumps you. Then he's backed up with safety over the top. If you got deep, the safety would come over and they had some good ones like Donnie Shell. They'd zone you a lot. They didn't play much man with Mel. They were tough, but we were good, too. We just beat each other up in the division."
Anderson and Curtis both laugh when asked if the rule changes stopped the Steelers from mauling Curtis.
"They didn't call it much, I'll say that," Curtis says. "Not like they do today."
Anderson, who called Curtis "Jerry Rice before Jerry Rice," agrees with the assessment that if Curtis played under today's rules he'd ring up 1,600-1,800 yards a year.
"Isaac was one of the best receivers of his time," Anderson says.
But the Bengals handled Oakland at Riverfront during the regular season to go to 5-0 in an unbelievable defensive struggle, 14-10. This is how good that Bengals defense was:
They forced Raiders Hall-of-Fame quarterback Ken Stabler into four picks during an 8-for-24 day and safety Marvin Cobb had two of them with his 52-yard TD return in the third quarter breaking up a 7-7 game.
Anderson also struggled on 4 of 19 with four picks of his own. But at the end of the season, he very well could have been MVP instead of Vikings quarterback Fran Tarkenton.
"When your quarterback wins a passing title," Mike Brown says, "that shows how well everyone is playing around him and how well he's playing."
Ironically, it was the playoff game in Oakland that sent the Bengals back to the drawing board with a page from the future. In the exact opposite scenario of the game in Cincinnati, Stabler (199 yards) shot the Raiders to a 31-14 lead.
But Anderson (201 yards) rallied them in a frantic fourth quarter with TD passes of 25 yards to Joiner and 14 to the ubiquitous Curtis to cut it to 31-28 with about five minutes left.
Then defensive tackle Ron Carpenter almost immediately recovered Raiders running back Pete Banaszak's fumble at the Oakland 38.
But on first down, Hendricks, the 6-7, 235-pound "The Stork," who flew into the Hall-of-Fame from his linebackers perch, wrecked the drive on first down.
"That was not a very good matchup with Boobie Clark," Lapham says.
"It was a 3-4 defense and they had just started to come into the league," Mike Brown says. "If it had been the next year, we would have blocked it differently."
Anderson agrees. It wouldn't have been the 6-2, 245-pound Clark.
"Defenses were changing, bigger guys were at linebacker," Anderson says. "Now, at this point, you have to get a lineman on them."
Mike Brown was disconsolate as he sat on the bus waiting to leave for the airport. He remembers Raiders kicker and backup quarterback George Blanda, another Hall-of-Famer in a story of Hall-of-Famers, telling him as he walked by, "Next year is your year. You've got a good team.'"
But Paul Brown wouldn't be there when they went 10-4 under Tiger Johnson and didn't make the '76 playoffs as the locker room chemistry began to congeal.
Sometimes Bob Johnson wonders if "we could have backed up Coach Brown a few years in age. I know we would have kept getting better. Who knows what would have happened?
"If there's one guy close to Coach Brown nowadays, it's Bill Belichick," Johnson says. "He's going to bring you in and if you don't do it his way, you'll be gone."
Curtis agrees with Johnson. He thinks the thing could have gone through the roof with a tad-younger P.B. and Walsh still assisting.
"It was a much tighter ship when Paul was there. People were not going to test him," Curtis says. "It was very, very disciplined. You knew what was required of you and you stayed within the lines."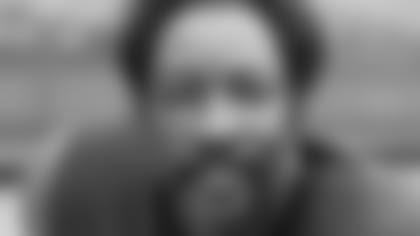 Ken Riley; after a franchise-best 65 interceptions, he lived out the Paul Brown mantra of being a success in his life's work.
That '75 team was P.B.'s kind of team. Mike Brown can see it as he scans the starting lineup.
Lapham is a local icon in the radio booth. Bob Johnson stayed in Cincinnati and is still a successful businessman at age 69, older even when P.B. stepped down." I learned a lot of from him," Johnson says.
Riley served as head coach and athletic director at his alma mater of Florida A&M. Curtis retired earlier this month after 32 years as an executive for a Cincinnati hotel management company. Casanova is a doctor and has served as a state legislator in his native Louisiana.
And Trumpy became one of the best network announcers of his era, taking the next evolutionary step of what the Bengals and Reds started for prime-time TV in the fall of '75.
BOB JOHNSON: "When you think about it, Anderson, and probably Curtis were the only superstars. That was it. We just had a bunch of good guys that worked hard."
ISAAC CURTIS: "He had a profile. He wanted smart players, no question about that."
"Good people," says Mike Brown as he scans the starting. "People we're still proud of today."
THE '75 GUYS ARE WATCHING:
And the boys of '75 are applauding the 2015 6-0 start with Curtis already applying for Super Bowl tickets since the San Francisco site isn't too far from his home in southern California.
They can't help but see the similarities. Quarterback Andy Dalton is chasing a passing title with weapons that include a deep field of wide receivers and a down-the-field tight end.
"The kid (Tyler) Eifert is having a Pro Bowl year at tight end," Curtis says. "He is really opening up the middle. A.J. Green is just great. The kid (Marvin) Jones can really hurt you. The 1-2 punch at running back is really good. They've got as much talent as anyone. A veteran offensive line and a defense that's playing well. They've got all the pieces.
Johnson says, "I watch the heck out of them," and goes as far as to tape the games and break it down so he knows why each play did or didn't work. He's also bullish on the offensive line.
"There's about six to eight guys that can't get hurt,' he says, "and it's going to be interesting to see how far they can go."
And No. 14 is saluting No. 14.
"Andy's been great. He's taking care of the ball and finding everyone," Anderson says. "Not only that, but the comebacks have been tremendous. I mean, against Seattle was unbelievable and look what he did in Baltimore late to win that game. Not only is he playing well, he's been clutch."
The '75 boys know the scenario well. Six and oh. Vs. the Steelers. Lapham, of course, will call it.
"Should be fun," he says.