Mike Brown seeks a reincarnation of the Bengals-Browns rivalry.
Imagine if in the last two Super Bowls won by the Patriots that the Seahawks and the Falcons ran the ball when they should have. Imagine if owner Robert Kraft, crushed by such close losses, fired head coach Bill Belichick back in February despite his ground-breaking innovation and three Super Bowl titles from the previous decade.
And imagine if in about 2022 Belichick formed an expansion team and the NFL put it down the road from Foxboro, Mass., in any pocket of New England where the Patriots are now King. Not to mention the AFC East. And give him until 2025 and the Belichicks beat the Patriots by a game to win the division and …
In the 50th year of the Bengals and the 48th year of the rivalry with the namesakes that stripped his father of everything but his name, Bengals president Mike Brown is still the 13-year-old Cleveland kid when the ball kicks off Sunday (1 p.m.-Cincinnati's Channel 12) hard by The Lake, history, and Terry Francona.
Brown, 82, carries those 1948 Cleveland Browns around in the faded wallet we tuck in memory. The team picture hangs somewhere at Paul Brown Stadium, a building named after the man that gave the NFL two teams and one of the most unique rivalries in sport.
"They were undefeated. My father said they were his best Cleveland team," Brown says in yet another Battle of Ohio week that doesn't have the old rancor but always seems to have new urgency.  "They were a young team. Tremendous talent. And they were ahead of the others in what they were doing, a combination that made them very strong.  They threw the ball like a modern NFL team … Our receivers, believe me, they could start on an NFL team running today. They were fast."
Even then, Brown, not yet the Shaker Heights prep quarterback who would be good enough to start at Dartmouth, already knew that Otto Graham was the leader. But the kid who hung around training camps in the summer was drawn to others. These Cleveland Browns weren't just running ahead on the go route.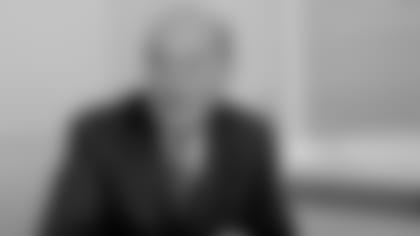 Paul Brown loved beating Cleveland.
"I found my favorites were (Bill) Willis and (Marion) Motley and Horace Gillom," says Brown of three players that helped his father break pro football's color line. "Because they were nice to me. I  was a young kid. They let me come to their room and play Hearts and they made me feel like I was part of the gang. They were great players. Two Hall-of-Famers and I would still argue Horace is the best punter in the National Football League (history)."
The Bengals began playing and beating the Browns in 1970, less than eight years after Browns owner Art Modell fired Paul Brown as head coach. In a move that was legal once Modell wedged into power but unthinkable after Brown built the NFL's first version of America's Team, Mike Brown still almost can't believe it more than 50 years later.
 "When he was let go, Frank Gibbons, a sports writer in Cleveland, said it was like Terminal Tower collapsing," Brown says. "It just didn't seem that could ever happen and he could be pushed aside …  It would be hard to explain today because he was a towering figure in his Cleveland days."
Think about Kraft firing Belichick. And now it is 1970-75 and Paul Brown is playing Art Modell twice a year. Never mind in the same region, but the same state. Imagine Belichick writing a book and getting fined by the NFL commissioner thousands of dollars for his comments about Kraft back when $500 was hefty. (Well, maybe you can imagine that.)
 "What I remember is the intensity of the feeling," Mike Brown says. "We were the underdogs. They were the ones who had done us wrong. That feeling existed for about 10 years. It sort of evolved, but the rivalry got strong … We all felt that way. It permeated Cincinnati … It was fun, exciting … It diminished over time."
Sam Wyche, a Paul Brown quarterback in the expansion days who became his head coach in the heyday of the '80s, never remembers Brown grabbing a microphone and telling his team why Browns week was special. And Wyche was never shy about grabbing a microphone and telling people what he thought about Cleveland.
"But he made the players know what it meant to him," Wyche says. "We knew what it meant. It was in the papers every day."
And Wyche remembers that trip being a little different. Instead of going right to the hotel, the bus would go to Municipal Stadium first. And Brown would point to the end zone and say, "Otto Graham threw a pass there in 19-such-and-such," or "Jimmy Brown ran down this sideline in 1950-something to beat the Giants."  There were new guys every year, so they got their history lesson."  
Dave Lapham, the Bengals radio analyst who played for Brown's last two teams, often shares with his listeners his defining moment of the rivalry this time of the year. How the Bengals team bus pulled into the Cleveland Stadium parking lot and when Paul Brown walked through the door Art Modell was just getting out of his car in the iciest meeting since Kennedy andKhrushchevin Vienna.
  "I don't think they looked at each other. They went the other way," Mike Brown says. "There was never total amity between my father and Modell … Modell tried to reach out late in the term. After my father was done coaching. My father wasn't having any of it."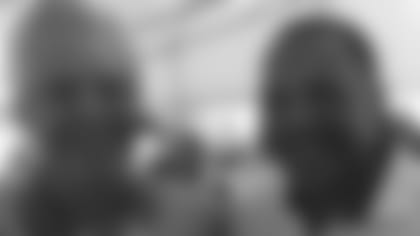 Isaac Curtis (right) wrecked the Browns annually, with the help of quarterback Ken Anderson.
Isaac Curtis, Brown's wondrous wide receiver and the greatest Browns-killer that ever lived (12 TDs, more than 1,300 yards in 23 games), remembers that lift in Paul Brown's step during Cleveland week. P.B. didn't talk  much to the rookie but when he scored three TDs against the Browns in a big win in the next-to-last game of that 1973 season as they neared the playoffs Brown whispered to him, 'That was something special," and they talked ever since.
"He liked to beat Cleveland," Mike Brown says. "It counted twice."
Mike Brown knows those days are gone.
"The old Cleveland Browns play under false colors. The Ravens they call themselves," Brown says. "We supported the return of football to Cleveland. We thought it was harmful to the league and we thought the city deserved better when then Browns moved. When the new team came on, the feeling between Cincinnati and Cleveland lost a lot of steam. It is a rivalry waiting to flower. It will when both of us come to the point we're both good, contending teams and then it will revive."
The Bengals, naturally, played the last game ever at Municipal Stadium in the creeping darkness of a 1 p.m. December game in 1995, their last game before Modell smuggled them to Baltimore. And as Brown saw his boyhood passion and adult rival dismantled by saws and hammers, the Browns' fans crowded around him outside the Bengals' bus.
They shoved game programs at him to sign. They urged him to move his team north. They shook his hand and thanked him for his father.
"It was even emotional for me. Tearing out the seats. It was a very odd day. It made an impression that I remember vividly," Brown says. "I think they understood  how I felt and they reacted to it. I was just a reflection of my father. My father was a hero. I was just someone they could say, 'I appreciate it.' … They were faithful to the tradition. It was not a normal game. It went beyond the game."
That's a lot of water under the bridge. Brown remembers his father's snap-crackle-and-pop intensity of Cleveland week whether he was coach or not. He knows there's a different kind of intensity now. For one thing, one of his favorites is coaching that other side in Hue Jackson, the energetic, versatile former Marvin Lewis assistant that coached four different spots in seven years in Cincinnati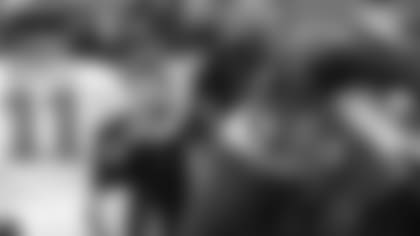 Carlos Dunlap (96) has been listening in the meetings.
"I don't have a grievance against the present Browns," Brown said. "I like the owner. I like the coach. I do want to win the game. It is our in-state rival. I don't have any bitterness. I like Jimmy (Haslam.) Hue's got a little bit of Bengals in him somewhere. We're a part of his history. People down here who knew him when he was here all have a very high regard for him."
Brown might not say anything this week and Lewis might not say anything this week (he after all has worked for both Mike Brown and Art Modell) and maybe there is too much water flowing so fast under the bridge. But the players know. Players always know.
"It's a pretty big deal around here. Every time we play the Browns we try to bring that firepower," says Bengals linebacker Vontaze Burfict. "Every time we play in Cleveland you can feel the urgency.  You can feel the correlation between Mr. Brown and the Browns. This game especially because we have no wins. So let's go and try to get one."
Left end Carlos Dunlap knows the young kids know. Just look at the name of the stadium where they play.
"I know they know because Mr. Brown talks about it in his training camp meeting," says Dunlap of Brown's annual introduction address to the team. "It's where his family started. Just the name. Brown. Browns. It's still the Battle of Ohio."
Mike Brown is looking for a better day in the Battle.
"I want to be around long enough to see us both battling to be the best team in the division," Brown says, and he wouldn't have had it any other way despite the pain and suffering that delivered the Bengals.
"It worked out for the best," Brown says. "What it did is it brought us down here and we've had a good time of it with the Bengals. I'm hard-pressed to say they injured us. They might have tried. But they ended up helping us and my father and it worked out for his family."
Cincinnati Bengals host practice at Paul Brown Stadium Practice Fields 9/28/2017