 The first thing Willie Anderson heard Wednesday morning is offensive coordinator Bob Bratkowski telling him all the Bengals needed from him Sunday was the game of his career.
So after he blanked NFL sack leader Julius Peppers in a Pro Bowl clinic, Anderson could only shake his head.
"I did a lot of praying and I watched a lot of film," said Anderson after one of the finest individual performances in club history. "God is good because he gave that guy a lot of things that other people don't have."
One thing Peppers didn't have is a sack in Sunday's 17-14 Bengals victory even though he got Anderson one-on-one instead of his usual double teams. With Levi Jones holed up with a knee injury and replaced by rookie Andrew Whitworth making his first NFL start at left tackle and Eric Ghiaciuc making his fourth NFL start at center against the NFL's most feared front four, Anderson's charge was easy to be hard.
"He had to have the game of his career," Bratkowski said, "because of all the other things we had going on."
It's a game like this why Anderson makes the big money. It's days like this why the Bengals are going to give him $20 million over the next three years. It's games like this why he can have the locker-room podium.
One-one-one. No help against the best pass rusher in the game. Save an 'X' when you need it against another 'O.'
It wasn't the first time the 6-5, 335-pound Anderson, 31, had dueled the 6-7, 283-pound Peppers, 26. They've met at the Pro Bowl and Sunday's outing should have secured Anderson's fourth straight trip to Hawaii.
But Anderson wanted to talk about the young guys, guys like Ghiaciuc and Whitworth and left guard Eric Steinbach as the much-maligned offensive line trotted out its fifth different starting lineup in six games and responded with its best game of the season.
"I'm happier for those guys getting acquainted with each other so we can get stuff going," Anderson said. "I'm happier with that than my individual performance."
Against a defensive line that has generated more than 140 sacks in the last five seasons, the Bengals allowed just one as well as a sack from blitzing middle linebacker Chris Draft. But none from Pro Bowl ends Peppers and Mike Rucker as the Panthers tried to go through the undersized middle of the 300-pound Ghiaciuc and 290-pound Steinbach with stunts and games.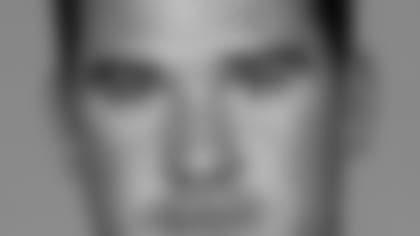 "It looked like they were trying to play tackle to tackle, but I thought we handled it well," Steinbach said. "(Ghiaciuc) had a solid game. We had good communication."
One of those stunts produced Draft's sack of Carson Palmer early in the fourth quarter, a 10-yard dump that backed the Bengals up on their own 4 that, ironically, kicked off their winning touchdown drive.
But the line not only protected Palmer, it gave running back Rudi Johnson his first 100-yard game without Rich Braham at center. Johnson's 101 yards on 26 carries gave him his 15th 100-yard game, one ahead of Pete Johnson for third place on the Bengals all-time list.
"For them to come out and take that challenge head-on in this game and end up getting a win — and being able to run the ball for 100 yards, throw the ball, and protect the ball — it gives them a ton of confidence," Palmer said of his offensive line.
Rudi Johnson thinks this line combination is going to able to get on a roll.
"They got comfortable going against their guys and that's good for me," Johnson said. "Yeah, they were crashing the ends and coming up the middle, but they got it figured out. The offensive line is the foundation of what we do and they're going to be able to grow together and learn together."
The hope is Jones, off arthroscopic knee surgery, is back in a few weeks. But until then, the Bengals think they have five guys that can play well enough to win games against top-flight defenses, as evidenced Sunday. "Fuzzy Thurston is not going to ride over the hill and come in and help us. Jerry Kramer and Anthony (Munoz) are not going to come back. So, this is the way we're going to be," said head coach Marvin Lewis. "Let's settle in and let's play. We decided prior to the bye that we would make that switch afterward, and it didn't work out. So we've had to go back the way we were. And it's good. Obviously, we think Andrew is going to have a hell of a career ahead of him. He just keeps playing. And in a few weeks, we'll get Levi back and we'll be that much better."
While Anderson didn't get help, Whitworth got some aid from backs and tight ends on third down. "It didn't matter because they were playing more games inside on us and it was more all of us working together and passing things off," Whitworth said. "Early in the game it seemed like they were looking outside but didn't have a lot of success."
Anderson has been kicking himself every week for listening to Sirius Radio and hearing how Peppers has wrecked the league.
"I was scaring myself," Anderson said. "That's the worst thing I do is listen to Sirius Radio."
So on Saturday night at the team hotel, Anderson watched tape on Peppers until 1 a.m. from discs that video director Travis Brammer supplied him.
"He's special," Anderson said of Peppers. "Like Jevon Kearse back in the day. A speed guy, but he's better coached than Kearse because he relies on more than just his speed. He bull-rushed a tackle last week and put him on his back."
Anderson didn't want to rave about his matchup with Peppers because "so many guys were part of the win," he said. "When your team is playing well, one guy doesn't beat you."
But Anderson also knew the charge in the 164th and one of the best games of his career.
"I think the Bengals look at me like, 'Take this guy out for us,' " he said.
He must have because the guy from Sirius Radio approached him at his locker an hour after the game.
Anderson laughed. He would, but ...
"We can't get too wrapped up in this win," Anderson said. "They're all going to be like this."