The NFL gave the Bengals a schedule they haven't quite had in their 51 seasons, but when the league released it Thursday the club liked the idea of limited travel, all but two games starting at 1 p.m., and a bye week right smack in the middle of the schedule on Nov. 4.
It's believed for the first time ever Cincinnati not only opens with three of the first four games on the road, it also ends the season with three of their last four on the road that includes AFC North games at Cleveland Dec. 23 and Pittsburgh Dec. 30.
It's also believed to be the first time they close the preseason with the same team they open the regular season. Their annual pre-season finale with the Colts is set for 7 p.m. Thursday, Aug. 30 at Paul Brown Stadium. Then 10 days later they bus to Indianapolis for the Sept. 9 opener at 1 p.m.
With the Reds home against the Padres on Opening Day and Oktoberfest two weeks later, the Bengals were hoping to get three October dates and were pleased to get the Dolphins on Oct. 7, the Steelers on Oct. 14, and the Buccaneers on Oct. 28.
"You think they would have split up the (road) games, but we've been a pretty good road team. It's you against everybody else," said quarterback Andy Dalton, who according to Elias has a .537 winning percentage (29-25) on the road since 2011 that is the eighth highest among quarterbacks that have made at least 30 road starts over that span.
 It sets the stage for the first Thursday night home opener in history when the Ravens come into PBS for an 8:20 p.m. game on NFL Network Sept. 13 and provides some nice symmetry. The Bengals are hoping they pick up where they left off when they left the Baltimore crowd in disbelief in last year's season finale that ended on his fourth-down 49-yard touchdown pass to wide receiver Tyler Boyd that knocked the Ravens out of the postseason.
"It's important that we get off to a fast start," said Bengals head coach Marvin Lewis in a news release. "Having the home opener versus a division team on Thursday night adds to the excitement to start the season."
For the first time since Dalton and seven-time Pro Bowl wide receiver A.J. Green were rookies in 2011 the Bengals don't have a Sunday or Monday night game, perhaps a casualty of the last two seasons of 13 wins. But there are also players and coaches that also don't mind not having inconvenient night travel and like the steady drumbeat of 1 p.m. games.
"I feel like they put the teams on that people want to watch and we're going to have to get that back," Dalton said.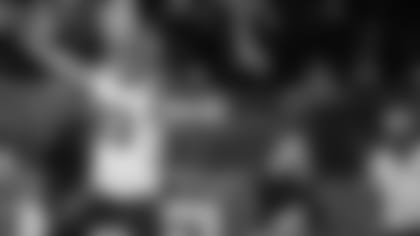 The Ravens don't wait long to see Tyler Boyd again. The PBS opener to be exact.
The only non-1 p.m. games are the Ravens and a 4 p.m. game in Los Angeles on Dec. 9 that makes their only trip beyond the short hops of Kansas City and Carolina. The game against the Chargers also marks their first Los Angeles appearance since the 1990 postseason and the loss to the Raiders.
First-year defensive coordinator Teryl Austin has his hands full early with three Pro Bowl quarterbacks in those opening road games. The battered Andrew Luck hopes to make his return for the Colts in the opener against a team he knocked out of the postseason three years ago with a monster 376-yard game and then Carolina's Cam Newton and Atlanta's Matt Ryan loom back-to-back on the last two Sundays of September in 2014 rematches. The Bengals didn't lose, stifling Ryan in a 24-10 victory at PBS but Newton came to town and accounted for 107 of 391 total yards rushing in a 37-37 tie.
Then the Bengals get three of the next four games at PBS, where Dalton is 10-2-1 in October during his career and hasn't lost there in October in six years. The bye hits them nicely after the eighth game on Nov. 4, but there are probably are going to be chilly thoughts with the AFC race ending in those last two games in Cleveland and Pittsburgh.
If the Bengals ever have to improve the franchise's worst rushing attack ever from last year, now is the time. Lewis has never lost in Cleveland in December in four games and he's 5-6 in Pittsburgh during November and December.
Flexible scheduling involving Sunday Night Football may be used each week during Weeks 11-17. Also, in Weeks five-10, Sunday games are subject to flexible scheduling with SNF, though it is limited to no more than two instances during that six-week span. Flexible scheduling into Saturday time slots in Weeks 15 and 16 also is part of the schedule. In addition, any Sunday game may be moved from 1 p.m. to 4 p.m., or vice versa, according to the Bengals' release.
The club also said the TV broadcast of the NFL Network game is to be simulcast in Cincinnati by a local non-cable station yet to be determined.
The Bengals also firmed up their pre-season schedule Thursday. They open at PBS against the Bears Aug. 9 in a Thursday 7 p.m. kickoff. On Saturday, Aug. 18 they'll be in Dallas for a 7 p.m. game to be followed by the nationally-televised FOX game at Buffalo on 4 p.m. Sunday, Aug. 26. Then there's that pre-season finale against Indianapolis at 7 p.m. Aug. 30 at PBS.
Bengals' single-game tickets for pre-season and regular-season home games are on sale now. This is the first time single-game tickets have been available when the regular-season schedule is released. Anyone who purchases tickets through the Bengals will pay no fees when selecting mobile tickets as the delivery option. Fans interested in all home games can purchase Season Tickets for as low as $400.
Fans can purchase tickets by calling the Bengals Ticket Hotline at (513) 621-8383, online at Bengals.com or by visiting the PBS ticket office. The Bengals Ticket Hotline stays open late Thursday and tickets may be purchased 24/7 through Bengals.com. Regular hours for the Ticket Hotline and ticket office are from 9 a.m.-5 p.m. Monday through Friday. Fans can chat with a ticket representative online if they have any questions.
 Season Tickets are on sale now, with pricing on all three levels of Paul Brown Stadium remaining flat for the 2018 season. Season Tickets start at $400, and flexible payment plan options are available. Fans can call the Bengals Ticket Hotline at (513) 621-8383 to schedule an appointment to view available seats.