When the 2005 Bengals put down the groundwork for the next decade, hard-nosed center Rich Braham led the charge.
If the men of '88 were your parents' Bengals, then the '05 Bengals are yours.
"I would come home and see people wearing Bengals jerseys. I hadn't seen that before," is how T.J. Houshmandzadeh recalls his fifth NFL season. "That was the year that kind of made the Bengals an official household team. Like they were when they had Ickey Woods and stuff like that."
Ten years later and your Bengals are all grown up now. More mature. More business-like. They gather in head coach Marvin Lewis' conference rooms next week to start training camp and another quest for post-season success, a crusade their rollicking and swashbuckling '05 descendants began in characteristic dramatic fashion when they broke a drought of 14 straight winless seasons in a Wild Card Game that unfolded like a miniseries instead of a playoff game.
Team founder Paul Brown would prefer the '15 Bengals, no doubt. They act like they've been there before. And why not? Four straight playoff berths. A fact not lost on one of their 2005 defensive captains, Brian Simmons, who graduated to the front office and now gathers facts on the 2015 NFL as a college scout for the Jacksonville Jaguars.
"I know they haven't won a playoff game, but how many teams in the last four years have been to the playoffs?" asks Simmons and he is not surprised when the answer is a mere four. "That means you're doing something right. (There) was a lot of negativity, just bad vibes around the Cincinnati Bengals before Marvin got there. He deserves all that credit for changing that. I know he's been criticized for not winning a playoff game, but it's nowhere near the talk that it used to be."
These are the Bengals of the girl who grew up on Cincinnati's eastern edge. Born in '88 (six days before Ickey's 100-yard game vs. her hated Steelers), she has spent her fall Sundays from Paul Brown Stadium to Syracuse to New York City to Washington D.C. keeping tabs on her Bengals via bars, laptops, or plain old word of mouth in continuing that red-hot affair that began in her Sweet 16 year of '05. She already has a Christmas vacation planned in Denver to see the '15 Bengals take another shot at Peyton Manning on a Monday night.
"We were finally in it!" she texts of 2005. "The big personalities on the team may have ultimately not been positive over the course of several seasons. But Chad, T.J., Carson were so exciting to root for."
And that's how Chad Johnson hopes Bengals fans remember him in '05.
"He made it OK to be a Bengals fan again," says Johnson, when asked what he hopes they say about him ten years later. "He made it OK to wear your jerseys, wear your hats, and go out of town and wear your Bengals' attire with your head held high. I made the game fun. I breathed life back in the city that needed it at that time. I made it enjoyable. I made sure people got their money's worth."
Ten years since the Bengals broke through at 11-5?
Carson Palmer is amazed over the phone in Arizona, where next week he begins his 12th season as a starting quarterback.
"That was three dogs and three kids ago" says Palmer, who'll be a father for the fourth time later this season.
Simmons sees how long ago it is every day in the person of Tyler Lathan Simmons, his nine-year-old son born the morning the Bengals clinched their first division title in 15 years on Dec. 18, 2005 in Detroit.
"He's already 5-1, 115 pounds," Simmons says. "He's a sports fanatic. He thinks he's going to play in the NBA and the NFL."
Tyler was supposed to arrive on Tuesday, the Bengals' off day. But he apparently wanted to see his father celebrate his first winning season and first division title and first home playoff game in his eight-year career and he arrived suddenly Sunday morning in Cincinnati while Dad was in his hotel room in Detroit.
"I got the first call at 3 in the morning," Simmons says, "and I tried to figure out a way to get back, but by the time I drove back, he would have been born. So I stayed and played. At that point you wish it was a home game. I've got a very understanding wife and she knows how much that game meant to me. We grew up together on football. But I didn't get any sleep. I played that game on fumes."
There was always a twist that year with the Bengals; it seems, no matter what. Simmons' celebration was subdued by the death of his grandfather, news he heard after the game in the locker room. Hence Tyler's middle name of Lathon ending a stunning circle-of-life day.
Simmons wasn't the only guy that was subdued. Another defensive leader, tackle John Thornton, noticed Lewis acting a bit funny. He glared at the AFC North champion hats and T-Shirts being handed out.
"He wanted something bigger," Thornton says. "That was a big moment for us. The group of guys, the franchise. We had hats, T-Shirts. He poured water on it rather than celebrate it and I understood it. He had won a Super Bowl recently (in Baltimore in 2000), but I felt we needed to get that out of our system. Everybody did it on their own. As a team it was a big moment. We had just done it a few weeks before (in Pittsburgh), so I understood. That (Pittsburgh game) was the game that won the division."
"Marvin is hard and mean, but he's really not. When he came here, he had to be how he was to let guys know it couldn't be the way it was. He showed us what the NFL really was. Before he got there, we didn't stay in a hotel the night before a game. Guys would be out until 3 or 4 in the morning. I just thought that's the way it was everywhere."
"Clinching the division in Detroit was huge. We've done those things since then, and it's never been as euphoric as that was. I think people expect it to happen. That was a big deal. It was almost too big of a deal because that wasn't what we were there to do. I didn't quite go off, but people wanted to know what was wrong with me. There was still a lot more to do."
The same can be said for the '15 Bengals and that may be the '05 club's biggest legacy. They made winning real and there was no better example than the 38-31 victory in Pittsburgh Dec. 4 that basically wrapped up the North.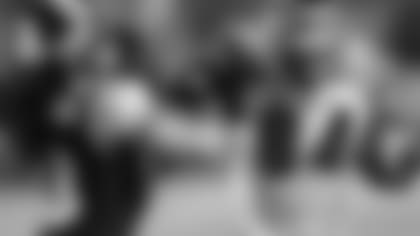 T.J. Houshmandzadeh dished it out to the Steelers in more ways than one.
"That stadium, they thought they had that game wrapped up. There were maybe five Cincinnati fans there. It was all black and yellow and they thought they were on the way to winning the division and we beat them very decisively. That was...wow, we're good. We just went in and beat the best defense in the NFL I've ever seen and we were able to do whatever we wanted. No huddle we scored. In two-minute. We scored backed up. It was one of those games everybody realized we had talked about being good, but we were really good."
It is the game probably best known for Houshmandzadeh shining his shoes with a Terrible Towel after it was done, the perfect image for a team that had been continually stepped on by Bill Cowher's bullies.
"On the way to the game at the hotel there were Steelers fans talking trash in a fun way. I pulled out $100 and bought a "Terrible Towel," and I'm saying, 'They better hope we win today.' Once we won the game, I had to get my money's worth. I brought it out in pregame and Marvin got mad and told me to put it up, so I put it up.
"At halftime I brought it back out. I hid it on the sidelines. Once I realized we would win, I pulled it out. If we lost, I would have left it there. We were walking off the field and I waved it around. I sat down in the tunnel and shined my shoes. That fired them up. But at the end of the day, they were going to be ready no matter what I did."
In the post-game locker room, Simmons, a first-round linebacker of the class of '98 and a consummate pro when there were very few in the Bengals' locker rooms of the '90s, saw the two guys that had been Bengals longer than him. Willie Anderson, class of '96, and Rich Braham, class of '94.
"You couldn't draw it up any better," Simmons says. "I just remember in the locker room how excited everybody was. I remember going up to Willie and Richie and saying they can't say that we're not winners. They can't say that any more. That was a great feeling in that locker room."
It all starts with Chad, T.J., Carson, doesn't it? The passing game was so good that Rudi Johnson quietly set the club rushing record that still stands.
"We were ridiculous," Chad Johnson says. "No one could stop our passing game back then…we were able to do what we wanted….Regardless of what's on the outside, it all starts with the quarterback."
It was before Twitter and Ochocinco so Chad Johnson was not quite yet a mega media star. In '05 he was merely one of the best receivers in the game and the most entertaining with a seemingly endless supply of end-zone celebrations. He came into the season with back-to-back AFC yardage titles. When he repeated the feat in 2005 and 2006, he became the only man in history to lead his conference four straight times.
"Chad is probably the quickest receiver that's ever played in the NFL at his height (6-1) ever," Houshmandzadeh says. "Nobody was quicker at the line of scrimmage. Ever. Ever."
Palmer was in his second year as a prototypical franchise quarterback, a fearless 6-5 pure passer who that season ripped off a NFL-record tying 12 games of 100-plus passer ratings on his way to the Pro Bowl and the best Bengals passing season ever.
"We never had a Carson Palmer,' Simmons says. "From the minute you saw him, you knew he could make every throw. With a guy like that, you had a shot at winning every game. You wouldn't, but he gave you a chance."
If Johnson was his biggest threat and slim, tall rookie wide Chris Henry his biggest surprise with shockingly deceptive deep routes, Houshmandzadeh was his favorite receiver. Before Palmer arrived, Houshmandzadeh was a seventh-round pick with 62 catches in his first two seasons, a guy nearly cut during an injury-plagued third season. But when they were paired in '04, Houshmandzadeh caught 73 balls and 78 more in '05.
"And 60 percent of them had to be on third down," Palmer says. "Extremely quick, really sudden, caught the ball really well, really, really smart and very confident. He was the perfect slot receiver and that offense has to have a good slot receiver."
Thornton says you can't forget little remembered running back Chris Perry, a guy that averaged 4.6 yards for 61 carries while he caught 51 balls and had an 85-yard screen for a TD called back.
"He was our most explosive guy,' Thornton says. "He was bigger and faster than people thought. His attitude didn't help him, but he was up there with Carson and Chad as far as talent."
But all that said, they'll tell you that offense, Lewis' highest ranked at No. 6, ran on the offensive line and the line lived on the one-on-one pass protection of tackles Willie Anderson and Levi Jones.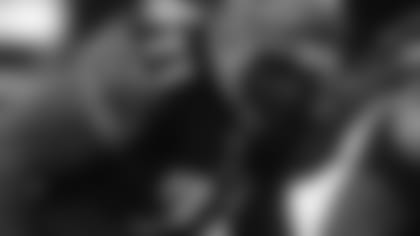 Willie Anderson, the greatest right tackle in Bengals history, anchored what John Thornton calls a top five offensive line in '05.
"God, we were so good on offense. To be honest, it was our offensive line. Levi at left tackle, (Eric) Steinbach the left guard. Richie Braham at center. Bobbie Williams at left guard and Big Willie at right tackle and another offensive lineman in (tight end) Reggie (Kelly). The holes were there, just don't mess it up. And you've got me, Chad and Chris. Teams would obviously double Chad and that's where I started getting a lot of catches. They started to realize that and that's when Chris went deep. We were hard to defend. We had two guys that could get down the field. You had me that could work the middle. You had an offensive line that could open up holes. They would seven-step pass protect like it was nothing. Dude, that's all we did, was seven-step drops. We took for granted how good Levi and Willie and that offensive line had to be."
"My strength was getting in and out of breaks and being open every single time no matter the coverage. If Carson wanted to go against the grain, he let me know coming out of the huddle, 'I'm coming to you anyway.' I would be open every time when we needed to do it. There was no way you could cover me no matter what you did."
As Simmons says, the defense that year was the "stepchild," and it got more heat as the season went on. But it was the greatest turnover machine in club history. Even rookie middle linebacker Odell Thurman had five interceptions as they led the NFL in generating turnovers with league-high 31 interceptions. Brett Favre suffered a career-high five picks when the Packers got beat at Paul Brown Stadium, cornerback Deltha O'Neal went to the Pro Bowl setting a club record with 10 interceptions, and Simmons finished with four forced fumbles and two interceptions.
"I tell people all the time that Odell is the best player to ever play in the NFL for only one season," says Simmons of a player whose off-field issues cut short his career. "We just had a knack for getting to the ball. It was amazing and it would just feed on itself. With our offense, you give them four, five short fields and that was it."
"The thing that hurt us on defense is when Madieu Williams got hurt in the Friday practice (Sept. 30) diving for an interception. We were getting so many turnovers, we were trying to get so many in practice during the week. He tore his shoulder up (and was out of the year). We were hurting at the safety spot after that. We weren't built like they are now…We had good players, but they've drafted so well on defense and they have a dominant defensive front…If they had this kind of defense they have now with that offense, it would have been remarkable."
It was the year of the end-zone celebration. You never knew what Johnson was going to pull out. There was the River Dance in Chicago, giving CPR to the football in Jacksonville, proposing to a Ben-Gal cheerleader against the Colts and putting the ball with the pylon against Baltimore in what Houshmandzadeh called "Tiger Hood."
"I came up with a few of them. Some of them came from his brothers. The Christmas gifts, that was actually 100 percent my idea," Houshmandzadeh says. "The Tiger Hood thing, I was messing around with some friends on the phone that I'd putt the ball with the pylon. We roomed together on the road. I just said, 'That's not me,' but he heard me and he would do it. It was fun. It was funny. As much as the coaches say they didn't like it, they enjoyed it, too. It didn't take away from the team at all."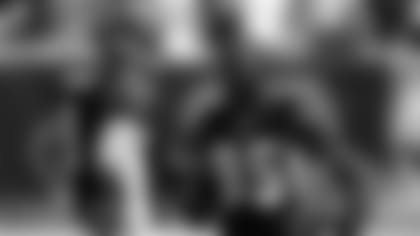 They weren't always on the same page, but Chad Johnson (No. 85) and Carson Palmer wrote a chunk of Bengals history in '05.
"Were the celebrations that year or the year before? It's hard to remember, as a whole. I can barely remember that stuff. I see them all the time on Twitter or somebody brings it up when I'm out. A lot of them were creative and original. It was cool. I enjoyed it."
You're right. Take a poll of Bengaldom or most anyone on that team and they firmly believe if Palmer didn't tear his ACL on the second snap of the Wild Card loss to the Steelers at PBS on Jan. 8, 2006 the Bengals would have beaten the eventual Super Bowl champs.
"They played to our strengths," Houshmandzadeh says. "They could stop the run, but they couldn't defend us passing and that's what we did so well."
And many believe as Johnson: "If Carson doesn't get hurt, we raise the Lombardi that year."
Lewis: "I can't tell the future."
Palmer: "It was meant to be. That wasn't to be for whatever reason…I don't know if we were good enough in all three phases to win the Super Bowl that year, but we would have given it a good run."
"I think Carson would have found a way to beat Indianapolis. That was the one team that gave us trouble. But it was a great game earlier in the season (the Colts won a November PBS shootout, 45-37). We had beaten Denver pretty easily the year before, so I think we could have beaten them and then I think we could have beaten Indy to get to the Super Bowl."
Houshmandzadeh went a step farther, just like Steelers defensive tackle Kimo von Oelhoffen did when he plowed into Palmer's leg as he got done releasing the ball. He calls it a dirty play.
"Oh yeah,' Houshmandzadeh says. "Not a clean hit. C'mon man. No, I don't think he wanted to tear his knee up. It was a hit to let him know. 'I'm going to be here,' but it was unnecessary. You do that to their quarterback, what's going to happen? We're probably going to win, too."
No one else says that, but everyone else is on board about the Bengals winning if fully healthy, especially since Henry hurt his knee on the same play and was also out of the game: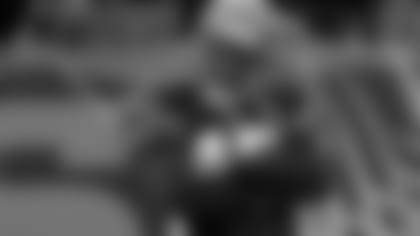 Rookie wide receiver Chris Henry helped make the Bengals' passing game elite in '05.
"At that point (halftime), Kevin Walter was the deep receiver. I had (four catches for 25 yards) at halftime…I had to switch positions. Once Chris got hurt, Kevin Walter didn't know his position, so I was forced to switch positions and Kevin went to play my position because that was the only positon he knew, so he got the majority of balls. I didn't care. We were winning (at halftime). To go into the locker room and see (Palmer) on the table and he and his wife both crying, that was hard to see."
What was even harder to see came moments later, when Johnson famously imploded calling for the ball after ending the first half with two catches for 30 yards.  The training room became quite a scene as an I.V. came ripping out of Johnson's arm and splattered blood all over the place as Lewis and wide receivers coach Hue Jackson tried to calm Johnson down.
"If that had not happened, I think we win the game," Houshmandzadeh says. "I really do… I think the pressure of being the in playoffs and wanting to do so well kind of got the best of him."
Simmons and Thornton disagree. They say the defense had no idea what was going on.
"You know how an NFL locker room is at halftime," Thornton says. "Coaches are yelling, guys are going to the bathroom and trying to eat 12 oranges. I don't think anything in the locker room affected the game. I think we knew when Carson went out it was going to be tough. We weren't as strong as the guys now. They've been through a lot. They're a little more mentally tougher than we were."
Simmons: "The biggest thing that had an impact on the game at halftime is when Carson didn't walk out on the field."
"Dude, I was so hurt. I barely remember what exactly happened. I'm one of those players that I wore my emotions on my sleeve a lot. There were very few situations where I was angry. You can count them on one hand. I was extremely hurt and I believe Pittsburgh's ability to dictate what we wanted to do offensively was bothering me. ..I had (two catches) at halftime. I was devastated…My argument was we can do this. Let's not let them dictate the game. We got to this point by being aggressive. We were aggressive all season long. No holds barred. Don't change what got us here. I might be wrong at the time, but that's how I was feeling."
It was tough all the way around. With their Pro Bowl quarterback on the table, no one had any answers.
The thing is, '05 was supposed to keep rollicking through the rest of the decade. But the Bengals wouldn't win the AFC North or make the playoffs again until 2009, when they were a totally different team. By then, they were defined by the league's No. 4 defense and Palmer was a magician coaxing a punchless offense without Houshmandzadeh, Henry, Kelly, and Perry to five fourth-quarter comebacks or game-winning drives.
They finished 8-8 and a game out of the playoffs in '06 and they were haunted by defensive collapses (they blew a 21-point half-time lead at home to San Diego), colossal mistakes (they should have scored 42 points in Denver but had a TD called back on a penalty along with four turnovers and a blown extra point), bad calls (a roughing the passer in the last minute that negated a game-winning sack in Tampa) and an inordinate amount of injuries.
Braham and 2005 No. 1  pick David Pollack suffered career-ending injuries in the second game of the year, Perry was limited to just six games, and hours after they went to 3-0 in Pittsburgh, Henry and Thurman were involved in an odd off-field incident that cost them Henry the next week and continued Thurman's downwards spiral.  
"That '06 team may have been better. We started off 3-0 and were playing the Patriots at home. They didn't have to suspend Chris, but they did and if we had him against the Patriots that year, I think we beat them. They were struggling in the secondary. That (a 38-13 loss) turned our season around. If we would have beaten the Patriots and gone to 4-0, we would have been fine. That team didn't have the same drive as the '05 team."
Houshmandzadeh says there was no hangover from the end of '05.
"You don't think about that stuff when you go on the field,' he says. "I mean, that was months later. Who thinks about that stuff a year later? If anything, Carson with his injury is something that had to be dealt with as he came back. Richie got hurt and we couldn't find anybody to control center like he could."
Once Johnson's celebrations morphed into a reality show, the Bengals shipped him to the Patriots before the 2011 season for a fifth-round draft pick that turned out to be Cal wide receiver Marvin Jones. Two years after Johnson caught 15 balls in 15 games in New England during his final season, Jones caught 10 touchdown passes.
But Johnson's uncomplicated joy remains the symbol of that '05 team.
He is still all over Twitter and says he hasn't changed a thing down in Miami. He plays soccer Wednesday nights, still smokes cigars, eats McDonald's, hangs at Starbucks, and is in bed at 9:30. He says he spends "24-7 with my kids," and he's enjoying his baby, Kennedy, who turns two months in a few weeks.
"No,' he says when asked if he has any regrets. "I wouldn't change a bleeping thing."     
Palmer's exit has been well documented. He demanded a trade before the 2011 season with four years left on his deal and sat out until they shipped him to Oakland in October and the Bengals haven't missed the playoffs since. Palmer wasn't happy with what he called "a lack of offseason moves,' during his tenure, although the same administration has built a team that has averaged 10 wins since they drafted Andy Dalton to replace him.
"The Bengals have phenomenal fans. Everybody thought I had a problem with the fans," Palmer says. "That was the biggest misconception. I get back to Cincinnati three times a year. I take my kids hunting there. I loved it there. There was only one thing. I had ideas on ways we could improve and ownership didn't agree and that was the end of it."
But Palmer enjoyed that '05 run. If anything, it showed him one thing. Time goes faster than three dogs. He's coming off another ACL in Arizona, which cut him down with a 6-0 record and 11 TDs compared to just three picks. He turns 36 in December, loves Cardinals head coach Bruce Arians' offense, not to mention wide receiver Larry Fitzgerald, and senses a big year from everyone.  
"Time flies,' he says. "You have to make the most of every opportunity. Before you know it, they're gone. You don't know when your last shot was."
In the last 10 years, Lewis has survived three re-boots, going from the Palmer-Chad Bengals to the Defense-Palmer Bengals to the Green-Dalton Bengals. But he had to get them over the hump first.
"The leadership of Willie, Brian, John, and those guys pushed things over the hump. The only bad part of that is a lot of people had less to do with it than they thought they did and forgot how we got there," Lewis says. "Because we never capitalized on it. But we also had a lot of injuries to the young guys we had in '05. We didn't have a bunch of guys to close out some close games that  would have taken us back to the playoffs. We didn't finish them."
But 10 years later, Thornton still sees the '05 flame burning through the prism of an agent who represents players and coaches.
"It was tough getting over the hump, but it was about consistency and being a professional," Thornton says. That's one thing about Marvin. He's never going to change his approach. From day one to what he's doing now…He's still harping the same things from day one. That's one thing I respect about him. He hasn't changed. His formula works, but the players have to step up in the playoffs…They haven't played well. He takes a lot of heat for it and he takes the blame for it. But his formula   works. I really believe that. Just knowing the league a little bit, his formula works."
A decade isn't that long ago. Thornton can still feel a different kind of heat.
"They made going to the playoffs boring," Thornton says. "Who ever thought they would do that here?"