Training Camp - Frequently Asked Questions
Most practices will be held on the practice fields just west of Paul Brown Stadium. The exceptions will be the practice at Welcome Stadium in Dayton on Saturday, July 27 and the annual "Family Dey" practice inside Paul Brown Stadium on Saturday Aug. 3. This practice day will feature enhanced attractions for children.
Seating capacity for the practice fields will include 1,250 bleacher seats, plus additional room for fans to stand along the sidelines. No passes will be required to enter.
Fans will be allowed to bring small soft-sided coolers, unopened bottles of water and food into all practices. Strollers and umbrellas will be permitted as well. Concessions and Bengals merchandise will be available to purchase. No chairs or other temporary seating will be permitted.
​FIFTH THIRD BANK VIP SEATING
The first 53 fans to enter the gates to the practice fields and show a Fifth Third Bank Bengals Checking debit card or credit card will be upgraded to the Fifth Third Reserved Bleacher Seats. This promotion does not apply to the Family Dey practice inside the stadium.
At the conclusion of every practice on the practice fields, groups of players will be available for autographs for 15 minutes post-practice.
For the safety of pedestrians, no autographs will be permitted as players enter or leave the practice fields.
The practice fields are accessible at the public entrance on the northeast corner of the complex via eight steps and then a flat walking path to the public bleachers. Fans using wheelchairs will be directed to the team entrance at the southeast corner of the complex where a ramp allows access to the bleachers. All parking lots around Paul Brown Stadium have marked accessible parking spaces.
Paul Brown Stadium does provide ADA seating. For the post-practice autograph session our guest services staff will coordinate arrangements with fans using wheelchairs to provide access to players for autographs. At the end of practice, please visit the passenger elevators behind Section 112 for access.
​DIRECTIONS TO PAUL BROWN STADIUM & PARKING
Location: The stadium is approximately five blocks west of Great American Ball Park. It is bordered by Pete Rose Way on the north, Mehring Way on the south, Elm Street on the east and Central Avenue on the west. The southern border of the stadium is one block from the Ohio River, and will be connected to the riverfront with a public park.
From I-75 Southbound, use exits at Freeman Avenue and 2nd Street
From I-75 Northbound, use exits at 2nd Street and 5th Street in Ohio
From I-71 Southbound, use exits at 3rd Street or Gilbert Avenue
From I-471 Northbound, use exits at 3rd Street or 6th Street
Paid parking will be available in most lots surrounding downtown and Paul Brown Stadium. Parking rates will vary based on the Reds schedule.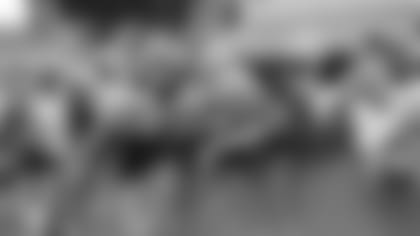 Family Dey - Frequently Asked Questions
Bring the family to Bengals Family Dey at Paul Brown Stadium. There will be activities surrounding the concourses including: Inflatables, Face Painters, Balloon Artists, Photo Booth and Ben-Gal Cheer Zone. Fans in attendance can enter to win one of 10 Bengals Prize Packs by posting their pictures on Twitter using #WhoDey and #FamilyDey.
Tickets for 2019 home games will be available for purchase and ticket representatives will be on hand to show fans available Season Ticket and Ticket Pack seat locations.
At the conclusion of the Family Dey practice inside Paul Brown Stadium, the entire roster of players will be available for a brief autograph session. Following the autograph session, once players and coaches have left the field, fans will be invited to spend 20 minutes on the game field.
Do the activities/attractions for the children conclude when practice is over?
Activities will take place from 3 to 5 p.m.
What can I bring into the stadium?
Strollers - Yes
Food & Beverage - Unopened bottles of water and any food item that can fit in a 12"x12"x6" bag
Umbrellas - No
Will concessions be available during practice?
Yes, concessions will be available with special Family Dey options
Which gate(s) will be open for stadium access?
Gates A, B, C, D, and E will be open
Free Parking in Lots UE, B, D & E- Entry Gates will be open from 1 PM - 4 PM with free exit until 7 PM.
Is there a bag policy in place?
The NFL's clear bag policy will not be in place for entrance to the stadium.