One of the most enjoyable things about training camp is getting our first look at the newcomers.
But it's not only highly-touted draft picks like John Ross, Joe Mixon, Jordan Willis, Carl Lawson and Josh Malone.
One of the most important "new guys" on the 2017 Bengals is linebacker Kevin Minter who signed a one-year deal as a free agent in March.
"He's been great," said head coach Marvin Lewis. "It's what we expected. He's been almost plug-and-play."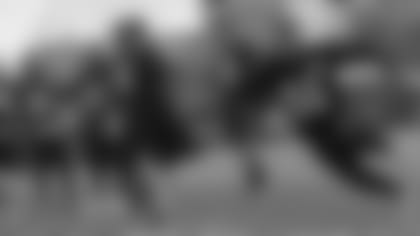 Minter was a second round draft pick by Arizona in 2013 and spent four years with the Cardinals, starting every game over the last two seasons. He's expected to replace Rey Maualuga as the Bengals' starting middle linebacker.
"I'm a young guy with fresh legs coming in," said Minter. "I was one of the main play-callers out there in AZ and I could bring that to the table. They're getting a guy that's going to go hard on every play. Plain and simple."
"He plays hard and with his pads at the right level," said Lewis. "He understands the passing game and where he needs to fit in the run defense, depending on the defense and coverage. I've been very pleased with him. It's been a good fit."
While Maualuga was among the league's hardest-hitters and excelled against the run, Minter is more of a three down linebacker. ProFootballFocus.com ranked Minter 25th among inside linebackers last year (4-3 and 3-4 defenses), while Maualuga finished 55th among the 59 linebackers with enough snaps to qualify.
"He's a little bit more of a versatile guy at Mike linebacker for us," said defensive coordinator Paul Guenther. "He's smart. He's still learning our system a little bit go there's going to be a learning curve for him, but he's a good communicator so we'll wean him in as he goes."
"I'm still learning and we still have a long training camp," said Minter. "I'm getting better every day."
While preparing for the 2013 draft, I remember Bengals officials having a high opinion of Minter. So it was no surprise when they pounced on the opportunity to add the 27-year-old in free agency.
"When I was coming out of college I had an interview with them, but I had an interview with a lot of teams back then and didn't really know how much they wanted me," Minter told me. "Teams have a good way of disguising that throughout the process, but when I became a free agent they were definitely one of the first ones to call me. Being around (linebackers coach Jim Haslett) and Marvin, I could really tell that they would like me to be part of this team."
"Kevin was a very fine, steady player at LSU," said Lewis. "He played within the scheme. He's done a great job since coming here and learning what we are doing. He's fitting right in with the group of guys."
Minter helped the Cardinals to the playoffs in two of the last three seasons and posted his career high for tackles with 12 in a key regular season win over the Bengals in 2015.
"This is a physical team with a lot of athletes," said Minter. "Obviously you have #18 over there. I remember scheming against these guys and Andy can put it in the air. I'm happy to be on this team and not going against them anymore."
"He played a lot of football at Arizona, so he's played in some big games and he's a good guy to have," said Guenther.
Cincinnati Bengals host Training Camp at Paul Brown stadium Practice Fields 7/30/2017