The two things Bengals head coach Marvin Lewis detests are depth charts and breaking news at his news conferences. He had a pretty good day Tuesday before their last practice heading into Thursday's pre-season opener (7 p.m.-Cincinnati's Channel 12) at Paul Brown Stadium against the Bears. 
He did reveal that WILL linebacker Vontaze Burfict won't play but that was a given when he didn't return to practice until Monday after getting cleared for his hamstring issue.
"He's played regular-season games when he's come back to practice for three days, but I don't see the necessity," Lewis said.
Lewis wouldn't be as definitive about the status of tight end Tyler Eifert for the Bears, but he did say the No. 1 offensive line may play beyond the handful of snaps that quarterback Andy Dalton gets as they try to hash out the right side of the line. He also said there is no No. 1 offensive line. According to the despised depth chart, Bobby Hart starts at right tackle with Trey Hopkins at right guard.
Lewis also said he understands the new helmet rule and that the Bengals have been coaching it since the off-season workouts begin in April. He says he's not looking for clarification because there can't be any.
"There is always going to be error. That doesn't change," Lewis said. "You've got a high-speed game and people have to make very quick judgments without the benefit of replay. High definition is slowing it down frame by frame. There are always going to be things that aren't quite right. It happens all the time. This isn't going to change that. So if you're looking for a definitive way, it's not going to happen."
Lewis is wary of the kicking game in the preseason because he says special teams is the phase that has the most injuries. But he also says he's got to get the returners out there to see what they can do.
"That's the scary part of this. You don't want to lose guys at all," Lewis said.  "It's important for them to have live football from the coverage part and the guy returning the ball and the blocking portion."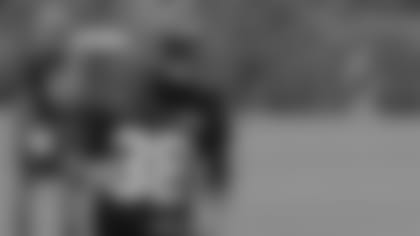 DARRIN'S DEN: Special teams coordinator Darrin Simmons has to see it live. So while it's nice he's been putting his guys through full-speed drills and testing returners' hands with human legs and Sam Staley's outer space jugs machine, Simmons finally gets to give real grades on Thursday and here are some guys to watch.
Fifth-rounder Darius Phillips has been feeling his way around cornerback, but he'll get a shot against the Bears to do what put him in the FBS record books with 12 return TDs at Western Michigan.
"I want to see him handle the ball and his decision-making," said Simmons as he deploys his punt and kick returners.
 If you go by who has been catching the punts and kicks in practice with incumbent Alex Erickson, Simmons will not only put Phillips out there, but wide receivers John Ross and Tyler Boyd could potentially get some work. But with both slated for major duty at receiver they may not be risked. But, still, Simmons said, I want to find the best guy," and for a guy like Ross that played 17 snaps last year without a catch, "We just don't know what he can do with the ball in his hands and we'd like to see him in those positions."
Rookie running back Quenton Flowers isn't there yet. Not after he caught a punt on his 2 in Saturday's Mock Game.
"I don't think he'll do that again. I think he'll learn from that," Simmons said. "But we've got know what we're doing when we go out there."
If you want to know how the roster shakes out, these are the battles you're watching. Can rookie wide receiver Auden Tate outdo veteran wide receiver Cody Core as a gunner covering punts? Can rookie corner Davontae Harris compete against safety-corner Josh Shaw at corner? How do running backs Brian Hill, Tra Carson and rookie Mark Walton stack up covering kicks and blocking for them? Simmons needs rookie linebacker Malik Jefferson to be a core player for him in all four phases and while he knows he can run like the wind, he also needs him to be decisive.
"I could care less what they do from scrimmage," Simmons says.