Training camp postcard: three-fifths of Bengals All-50th O-line: Willie Anderson, Anthony Munoz, Dave Lapham.
With Bengals head coach Marvin Lewis attending to a minor health issue that could take him out of a day or two of practice, special teams coordinator Darrin Simmons did what core special teamers do on Tuesday and filled in where needed when Lewis missed his first practice in what is believed to be ten years.
"Darrin is qualified," said safety Shawn Williams, one of those core guys. "Taking charge. He's smart. He knows everything. I don't expect anything less out of Darrin. Everybody knows Darrin. He has been there, done that. He was the right person for it."
The Bengals released the following statement as practice ended:
"Coach Marvin Lewis will be taking time away from the team to focus on a minor health issue. He will be back as soon as possible, which could be today or later this week. Special teams coordinator Darrin Simmons will lead the team during Coach Lewis' absence."
Indications are Lewis has a knee problem stemming from swelling.
Lewis, 58, doesn't figure to be away long if you look at his history. When he had surgery to repair torn tendons in his left ankle on the morning of Aug. 22, 2007, he was back at practice the next day in a golf cart and made the trip to Atlanta to coach an Aug. 27 pre-season game from the press box.
It sounds like trying to convince Lewis to take it easy and stay away from the practice wasn't easy. He has been a bit hobbled the last couple of days, but he still came out in a golf cart as players straggled on to the field for practice before he headed in.  
"He came out here on the cart like he was going to carry on as normal," Simmons said. "When you are dealing with things with your health and your body this is a long season, we got to get him for the long haul.
"He may have missed one day, but he's a tough guy, he's a resilient guy. He'll be back when it's safe and he can be back. But most importantly he needs to take care of himself right now. "
Lewis and Bengals president Mike Brown are channeling their old defensive coordinator. When Vikings head coach Mike Zimmer had to take time off for eye surgery the past two seasons, his special teams coordinator Mike Priefer filled in with the thinking it causes the least disruption. Simmons, 44, has been Lewis' special teams guy for all 15 of his seasons in Cincinnati. With Brayden Coombs entrenched as Simmons' assistant and offensive coordinator Ken Zampese (all 15 seasons) and defensive coordinator Paul Guenther (all but one) ensconced in Lewis' program, there looked to be no disruption.
"I'm just a fill in. I'm just the fill in for the day. It's obviously an honor that the Brown family thinks of me in this situation, but obviously the biggest one is Coach Lewis. Hopefully he can get healthy as fast as he can. Obviously our first thought is with him," Simmons said.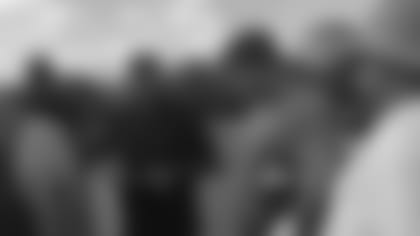 Darrin Simmons opened practice talking for Marvin Lewis and Anthony Munoz ended it for the O-line with a motivational speech.
"I think that's the obvious thing," Simmons said of the continuity. "We've got a good guy in place, Brayden, if it comes to that, that he can handle it and it will cause the least disruption on offense and defense. Paulie can still control the defense; Kenny can still control the offense. Least disruption. No waves."
Simmons, who will do what Paul Brown started 50 seasons ago and lead an evening team meeting Tuesday in training camp, where he'll take one element from his own playbook and ask the players to write down a goal for Friday night's exhibition opener (7:30 p.m.-Cincinnati's Channel 12) at Paul Brown Stadium against Tampa Bay, as well as a weakness to work on.
SLANTS AND SCREENS: The crowd of 1,000 saw a significant practice in more ways than one Tuesday. Active participants were the two best tackles in franchise history as voted by the fans and media. Hall of Fame left tackle Anthony Munoz; the analyst for the Channel 12 broadcast, huddled with the offensive line at the end of practice for what incumbent left tackle Cedric Ogbuehi called "a motivational speech." Right tackle Willie Anderson, a four-time Pro Bowler who runs an offensive line academy, worked during individuals with the tackles, primarily the starters, Ogbuehi and right tackle Jake Fisher.
"It's great to have those guys back and help us out physically and mentally," Fisher said. "(Anderson) knows a lot. He's talking about connecting your brain to your feet. He played that way for a long time."
Munoz spoke about going above and beyond to be the best, on or off the field.
"He's only a Hall of Famer, so whatever he says you better listen" Ogbuehi says. "If not, you'd be dumb not to. He got there for a reason." ….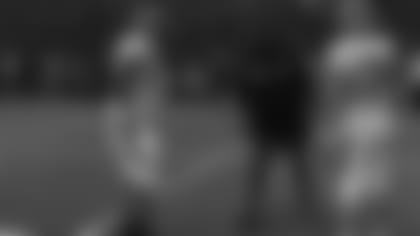 Willie Anderson (middle) giving tips for the kid tackles, Cedric Ogbuehi (left) and Jake Fisher.
In what figured to be the final fully padded session before Friday's game, the tight ends tore it up in the red zone.  With C.J., Uzomah (foot) looking like he could miss up to a month, Tyler Eifert (three TDs) and Tyler Kroft (two TDs) stepped up ….
The offense had the upper hand much of the day, but cornerback KeiVarae Russell had what is seemingly a daily pick for the secondary when he leaped to grab a Jeff Driskel pass …
Lewis' practice is not to tell the media about injuries and the scribes goaded Simmons to relent, but he wouldn't.
"That's even better. So you don't have to ask me," Simmons said.
Right guard Andre Smith (elbow) sat out, but it's doubtful it will keep him out of the Friday game ...
In honor of Simmons taking command, kickers Randy Bullock and Jake Elliott hit all four field goals each. The gag was Simmons put in more kicks and took out plays. "The right way to structure a practice,"he joked