KeiVarae Russell has a pick in his only NFL scrimmage snap after making the play in last year's finale.
There is Bengals rookie wide receiver John Ross, a No. pick secure enough in his job to play Marvin Lewis in the rookie show. And then there is cornerback KeiVarae Russell, a waiver wire claim who is a real-life actor growing into his role as an NFL cornerback after this summer stock edition.
His credits include "Intimate Apparel," at Notre Dame and an appearance in a skit called "The Odd Couple," at Mariner High School just outside Seattle in Everett, Wash. But the Bengals have cast him as a solid backup cornerback after he arrived last year in a cattle call following the preseason.
"He's got a great attitude," said secondary coach Kevin Coyle this week. "He's a very determined guy. For him it's a matter of consistency and I think training camp has shown that he worked on that during the offseason. He had a good game the other night and he's done well in practice. Some good signs."
"My mother just made it up. She's an interesting individual," said Russell, who must take after her.
Keith is his father's name, which is where the "Kei," comes from.
"She came up with the "Varae," Russell said.
Maybe that's why Russell also writes poetry, counting Langston Hughes and Maya Angelou among his favorites, so he knows all about images and there's no greater one than Saturday's second pre-season game against Kansas City Saturday (7 p.m.-Cincinnati's Channel 12) at Paul Brown Stadium. Russell missed the first two days of practice this week in concussion protocol, but was back Wednesday when the Bengals worked in shoulder pads and shorts.
A poet wouldn't miss this one.  
 After they took Russell in the third round in last year's draft, the Chiefs abruptly cut him after the opener and the Bengals just as quickly claimed him off waivers and liked him well enough to stash him for all of one scrimmage snap in 2016 and didn't play him on special teams until the 11th game. That's two backups they now have on defense that they tried to get in a trade last preseason and have ended up with in one way or another in Russell and former Jaguars pass rusher Chris Smith. Both have made bold claims for the roster.
"He's done a great job of being very attentive of everything you want, and with detail," said Lewis this week of Russell. "He's a smart guy, and he's just got a good way about his personality. He's worked at it, and he's changed how he has been coached in some ways to play within the techniques we're coaching all the time. He's embraced that. You can talk to him about a play, and he knows what you want to see done differently."
But Russell is playing the straight man for the Chiefs.
"It's mostly just to show the Bengals what they got. What they picked up on. It's not really showing the Chiefs what they missed out on," Russell said. "I don't have anything malicious against the Chiefs."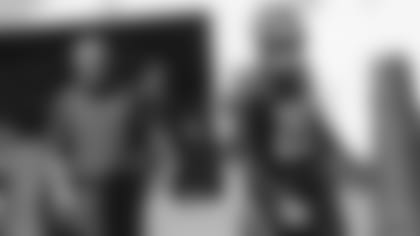 KeiVarae Russell followed up his interception with a solid spring and summer.
For a guy who is so well-rounded, Russell isn't into history even though he's got an interception in his only NFL regular-season snap, a fleecing of Ryan Mallett in last year's finale against Baltimore. He's also got a couple of nice picks in team drills this camp, but he doesn't want to talk about it.
"Can't think about those," Russell said. "I keep hoping they don't think I'm a one-time wonder. You know. An interception on my only play. I want to show them I can create turnovers. I want to show them I'm a playmaker in many aspects."
There isn't a lot of room on his stage in what is a very compelling roster joust. You would think the first five corner spots are taken with the first-round quartet of Adam Jones, Dre Kirkpatrick, William Jackson and Darqueze Dennard. Then there is swingman Josh Shaw. Now you've got Russell dueling with an NFL vet who has impressed in Bene Benwikere, as well as an intriguing slot corner in Tony McRae.
The 5-11, 196-pound Russell is an example of how the Bengals are banking on their depth cultivated in the 2016 and 2017 drafts and developed in the last 18 months. They are impressed with a slew of second-year players this camp that include Russell, an honorary member of the 2016 draft class.
Some think that the first-round pick, Jackson, has been the most impressive corner in camp. Sixth-rounder Cody Core has been their most improved player. Second-rounder Tyler Boyd and third-rounder Nick Vigil, have advanced enough that they've either secured Opening Day starts (if they start with three wide receivers) or are on that path. Seventh-rounder Clayton Fejedelem has not only become a staple four-phase player on special teams, he's also emerged as a productive back-up safety. They think once fourth-rounder Andrew Billings knocks off the rust of missing his rookie season at nose tackle with a knee injury he'll harness some consistency. But he looks good when he's good.
 "Nick Vigil, being the starter now, went out there and did his thing," Lewis said of last Friday's pre-season game. "There were also Willie Jackson and Andrew Billings. We've got to keep extending Andrew some, and that will be big this week. It will be a good thing for them to continue to take steps forward, just like the players we saw the year before, like Josh Shaw, C.J. (Uzomah) and Tyler Kroft."
Russell needed time to adjust, but when he did he embraced the Bengals' style of defense.
"I love it," Russell said. "There's a lot of variety. A lot of cover two, a lot of cover three, a lot of man. You never know what you're going to get with fire zones. I want to show them I can do all the stuff that's asked of me.
"It slows down each year. Each year you're going to be more confident, each year you're going to be more experienced. You just put good days on top of good days."
Cincinnati Bengals host Training Camp at Paul Brown Stadium Practice Fields 8/15/2017