Joe Mixon greets mother Alisa (center) and sister Shalonda after Friday's NFL debut.
It wasn't exactly a cold opening for Bengals rookie running back Joe Mixon when he took the Paul Brown Stadium Stage Friday night for his NFL debut in the pre-season opener against the Bucs and delivered as advertised with 31 yards on six carries and a 'wow,' 11-yard catch-and-run.
It began when he ran out of the tunnel in pregame and he heard a familiar voice stand out in the crowd.
"Hey," it said. "Baby boy."
He didn't think it could be, but when he looked up he saw his mother Alisa, surprising him with a flight all the way from Oakley, Calif.
"His first game as an NFL player. I had to be here. I wasn't going to miss it," said Alisa Mixon, decked out in a Mixon jersey as she and daughter Shalonda waited for him after the game. "I wasn't going to miss it even though its preseason."
And it ended with Bucs perennial Pro Bowl defensive tackle Gerald McCoy asking Mixon on the field for that actual No. 28 jersey that is becoming more and more popular in these parts. Mixon, who is the latest of the Sooners from Oklahoma, was absolutely floored that McCoy wanted his jersey. It was Mixon who would have gladly given McCoy the shirt off his back in trade.
"That's my dog. He's an O.U. legend," said Mixon, proudly pointing to McCoy's 93 folded next to his chair. "He's the one who asked me for my jersey. I said, 'What? Are you serious?' He was just showing me love. It means a lot. That's Gerald McCoy, one of the greatest defensive lineman in the game right there."
UNLUCKY 13th: Quarterback Andy Dalton led a crisp opening drive. Just the way Bengals head coach Marvin Lewis drew it up. One drive. A lot of plays. Good mix of pass and run and get the touchdown and …. It was all good until the 13th play, the sixth pass of a very balanced series that started at their own 25 and looking like it would … But at the Tampa 5 Dalton tried to sneak an out route to wide receiver Brandon LaFell running just behind the goal line and cornerback Vernon Hargreaves III stretched out in front of LaFell and plucked it for an interception.
"I shouldn't have (thrown) it on my back foot, and I held on to it a little longer than I should have," Dalton said. "I tried to lift it far enough outside, and the guy made a great play. I shouldn't have held on to it. I'll get the next one."
But, still, he did hit his first four throws and had plenty of time to throw.
"I thought we moved the ball well.," Dalton said. "I thought we ran the ball effectively. We picked up a few third downs. I thought it was a great drive — we just didn't come away with a touchdown. It was my fault. I can't make that throw."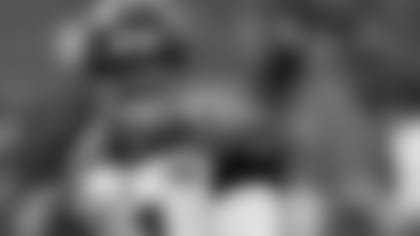 Andy Dalton had a great drive until the last snap.
 SLANTS AND SCREENS: The right guard mystery intensified Friday when Andre Smith didn't surface with the first team and Trey Hopkins did in his first start since he went at left guard in the 2014 pre-season opener.  Smith has been in and out during training camp with elbow tightness, but he said after the game that wasn't why. "Coach's decision," said Smith, who didn't appear upset. "It's OK. Nothing is going on." …
Backup wide receiver Cody Core, who had one catch for 17 yards, had his ankle wrapped and crutches by his locker after it was over. "I'm OK, I'll be back,' he said …
The Bengals gave up only one pass longer than 13 yards to a wide receiver and it was the 29-yarder Mike Evans caught from Jameis Winston on cornerback Darqueze Dennard during the game's first series. But Dennard thought Evans got away with a push-off.  'I was in good position but he pushed me off at the top," Dennard said. "For the most part I thought I did a pretty good job." Dennard, hounded by injuries in his three seasons, went down early but got right back up. "Knocked the wind out of myself. First time tackling, you've got to get used to it."   …
With punter Kevin Huber nursing some soreness, the newest Bengal, Will Monday, got the call and he dropped a 54-yarder inside the 5 …
Huber did the holding and he's literally in the middle of quite a kicking competition. The ball is now in rookie Jake Elliott's court after veteran Randy Bullock nailed field goals of 54 and 49 yards, the last one sealing the game with 2:48 left when he snuck it through after hitting the left upright. He also had two touchbacks. It's not like Elliott pulled a Roberto Aguayo (two more misses Friday for Tampa, a PAT and a 47-yarder). Elliott made his only field goal, a 45-yarder and added a touchback.
Cincinnati Bengals host Tampa Bay Buccaneers at Paul Brown Stadium in week 1 of the preseason 8/11/2017