CO-PLAYERS OF THE DAY: Quarterback Andy Dalton and cornerback Dre Kirkpatrick.
Both players excelled in Wednesday's red zone work with Dalton hitting a variety of receivers for touchdowns (wide receivers A.J. Green and Tyler Boyd and tight end Tyler Eifert, among others) and Kirkpatrick knocking away slants intended for Green and wide receiver Brandon LaFell. Kirkpatrick also arrived at the same time over the middle on a play outside the red zone as Eifert got ready to catch it, but Kirkpatrick knocked it away at the last instant as he twisted away to avoid hitting Eifert. 
On most days Kirkpatrick would get the nod by himself, but what Dalton did Wednesday is indicative of how new offensive coordinator Bill Lazor has made this offense more Dalton-friendly. For one thing, whether its Lazor or new offensive line coach Frank Pollack, the idea is to change up the specs of the front in order for the interior not to get pushed back into Dalton like the last two seasons and firm up what had been a leaky pocket.
"We want to be firm up the middle, like any team," said new left tackle Cordy Glenn. "That's been the emphasis like any team, along with playing hard and finishing our blocks and getting movement in the run game."
Maybe that's a reason Dalton has had a very accurate first six practices of camp. And that is the consensus.
"He continues to stack good practices on top of each other. That's what we're looking for is consistency and he's been accurate every day of camp so far," said quarterbacks coach Alex Van Pelt.
Reasons? He has more receivers than he did in last year's camp, when, it will be recalled, there were plenty of clues the offense would be punch-less in the first two games of the season. He's also got an experienced, solid left tackle in Glenn that hasn't missed a snap. Something else he didn't have last year. (And that was obvious late in practice when Glenn gamely fought off a game by the rampaging Geno Atkins and steered him past Dalton.)
Plus, Pollack/Lazor have built a pocket from which Dalton can view down field with far less drama than last season. Dalton agrees his pocket has been a factor in his early accuracy.
"Absolutely. Any time you have the ability to step into your throw, you're able to put it where you want it. It all plays a part," Dalton said. "I think our guys have done a great job up front. What you need as a quarterback is just a little bit of space in front of you and I feel like our guys have been playing really well."
Dalton also asserted his play in an awkward situation. Head coach Marvin Lewis sent them out for a team drill straight from stretching to open practice and they failed miserably. They didn't get the snap off on Play 1. A ball was dropped on Play 2. And on the last play of the brief period there was guy lined up wrong. Lewis made them do it all over.
"That's not the way we wanted to come out and start it. It's tough sometimes coming right off the stretch and guys haven't got into it yet. But I think we had a good day after that," Dalton said. "Yeah, we needed to (do it again). To not have a snap on the first one, to not make a play on the next one, I think that's how it all started for every group. I thought it was good. We needed to start over. I think it helped us get into the flow of practice."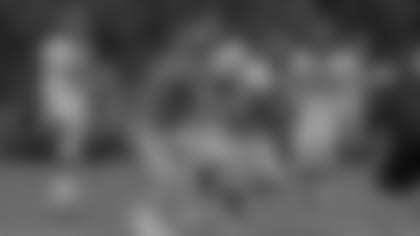 Lewis didn't disappoint the NFL Network cameras on their visit to Paul Brown Stadium when he lashed out at his team after that poor period that started the full-padded practice.
"We just didn't start the way we need to start practice," Lewis said. "We have to come back fast after time off. Let's do it again. They know what to do."
Wide receiver Tyler Boyd said they were a bit surprised at Lewis making them re-do it, but it got everyone's attention.
"Oh yeah. We noticed," Boyd said of Lewis' unhappiness. "Bleep, let's get it right. And we did."
That overshadowed what Dalton is doing with various receivers day in and day out.
"We executed well. Guys are getting in and out of the huddle. I thought we looked sharp," Dalton said. "I feel really good. I think our guys are on the same page. I feel really comfortable with the way I'm playing right now and the way our guys are making plays. A lot of it has to do with what Bill is doing and our quarterback room with Al and Pitch. (Dan Pitcher). Just have to keep it going.
Maybe the biggest thing Wednesday is how Dalton steered the offense from abject anarchy to smooth sailing. All in 30 minutes.
"It's tough to come back and from an off day, that gets guys going," Van Pelt said. "But that's our job as quarterbacks and leaders of the team. Regroup 'em and get 'em going."
PLAY OF THE DAY: Another beauty by wide receiver Tyler Boyd. If you took a poll of the scribes at camp, he'd be the Player of Camp. Working in the red zone, slot corner Darqueze Dennard was plastered to Boyd on an out and up where Dennard didn't bite on the out as they headed to the end zone. Dalton, showing confidence in his line and receivers, threw it up top despite little separation.
"It was a 50-50 ball and I had to go and get it," Boyd said. "(Dennard) saw the ball late and it was perfect defense. I just made a great play when I saw the ball in the air. I could still see him looking at me and then at the last second I saw him try to time it, but by that time I was already tracking it."
The vibe between Dalton and Boy has been growing ever since their winning combo on the last play of last season.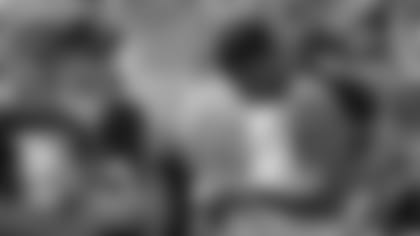 "I think this is the best he's looked since he's been here. I'm excited about that," Dalton said. "I think he feels really comfortable with what we're doing and what we're asking him to do. I think it's showing out here. The play he made today going up and making it. It's stuff he's done all camp. It was a one -on-one matchup and he went and made the play."
"By me doing my job and doing what I have to do to create the separation to look his eyes in on me, I think I'm doing a pretty good job at," Boyd said. "I think he's starting to feel comfortable at that. He's starting to see that I'm starting to win a lot. It's not just that he's trying to throw it to me every time. He just sees me working out there, and that's what I'm going to continue to do to show him he can count on me."
Boyd loves being the guy like he was in Baltimore and he was again Wednesday when he helped take everybody out of the doldrums.
"Those type of plays right there get the whole practice, the whole team, coaches and everybody pumped. That's just a spark. Somebody has to set the tone, and today it was me," Boyd said.
QUOTE OF THE DAY: "'Whereas the Cincinnati Bengals intend to contribute to Cincinnati's bicentennial year of 1988 by continuing their season well into 1989.' That is a prediction by a politician that you'd never see today. Truthful prediction." _ Former Bengals linebacker Reggie Williams quoting from the Sept. 2, 1988 Cincinnati Bengals Day proclamation he introduced as a Cincinnati City Councilman while still starting for the team, that would go on to the Super Bowl on Jan. 22, 1989.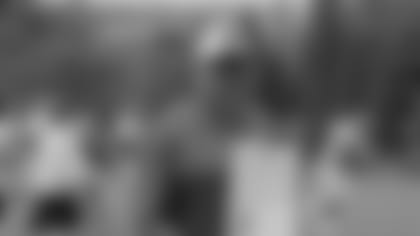 FIRST 50 VISITS: Two First 50 players stopped by practice Wednesday, Williams and '68 original tight end Bob Trumpy, who overlapped in the 1976 and 1977 seasons. Trumpy lives in town and Williams took a break from driving from his Sarasota, Fla., home to his hometown of Flint, Mich., to visit his ill father.
Williams arrived for practice bearing that 1988 proclamation so he could show Bengals president Mike Brown as they start the celebration of the 30th anniversary of those AFC champs. Williams showed it to Lewis on the sidelines and the head coach promptly invited him to Wednesday night's team meeting. How often would his team get the chance to hear from a Super Bowl linebacker who called it in a resolution he introduced as a sitting city councilman?
"It's a great honor," Williams said of the meeting. "The last time I went to one of those was on Christmas Eve in Minnesota."
That was the night before his last game, the Christmas Monday Night special in 1989 they needed to win to make the playoffs and it didn't happen. He remembered that and a training camp fight he had with Trumpy in his second season and Trumpy's last. Trumpy couldn't recall, but laughed, patted him on the shoulder and said, "See Reggie, a second-year guy isn't supposed to start a fight with any veteran. It doesn't matter."
Williams plans to return for the Sept. 13 celebration of the '88 team at halftime of the Thursday night home opener against the Ravens.
SLANTS AND SCREENS: That was a heck of a play on the Geno Game by Glenn because Atkins, his fellow Georgia product, lived in the backfield all day Wednesday like a first ballot Hall-of-Famer should.
"I just tried to stay on his inside and just held on and hoped Andy got rid of the ball," Glenn said. "Geno is just so good." …
Boyd says he's not the only receiver having a good camp.
"John Ross and Josh Malone. Both of those guys. Those guys are playing unbelievable," Boyd said. "Josh came in late last year and started to show what he can do. And Ross is starting to flash all over the film. He's starting to pop. And not just those guys. Alex (Erickson), Cody (Core), all those other guys are making huge plays as well. So I think all of us are getting better just by studying each other and watching what all of us are doing." …
Nagging injuries (but not major ones to major players) are piling up. Wide receiver Josh Malone (hamstring) missed his third straight day … Cornerback Sojourn Shelton has a cast on his wrist, joining cornerback Tony McRae with a sprained ankle that might take a month to heal … Nose Tackle Josh Tupou (knee) is on crutches with what they hope is a sprain after getting tied up with another D-Lineman … Rookie wide receiver Auden Tate, already battling a tender ankle, left early when he took a hard fall in 1-on-1s and his ailment is unknown …
Tight end Tyler Eifert had an encouraging play in the red zone. He caught a ball over the middle and took a surprise pop from safety George Iloka as Iloka tried to pull back. But Iloka banged into him accidently and Eifert, protecting a brittle back, got right back up after making the catch …