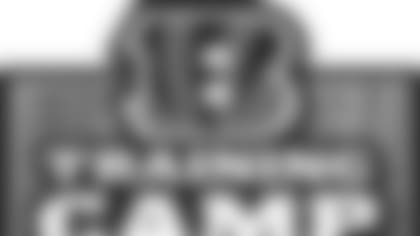 NFL Network is live at PBS for Monday's 3 p.m. workout on the practice fields and so is head coach Marvin Lewis's first practice of the year. It is full pads and that usually means the Oklahoma Drill, where individual players fight through blockers to make a tackle.
Two prized rookies are going to be on display that play positions that live and die on pads. Right guard Kevin Zeitler, a first-rounder, and Vontaze Burfict, a free agent, get their first shots after they warmed up Sunday in shoulder pads.
"I've been waiting to hit somebody," Burfict said after Sunday's practice. "Today there was a screen and there was an offensive lineman out there and it was just me, him and the ball, so I just went through the O-lineman. It felt good to finally hit somebody."
Linebackers coach Paul Guenther has been waiting for this day, too, and he's been coaching Burfict through it. Burfict, of course, became as well known for his personal fouls as his athleticism at Arizona State.
"I'm the same player, just smarter," Burfict said. "Knowing when to stop at the whistle. Just play my heart out. Coach G. has helped me tremendously, letting me know, 'OK, play stops right now. Get ready for the next whistle.' Just being a smarter football player."
Zeitler was surprised when he arrived for the OTAs that there were no pads, but looking back on it he says, "It was nice to learn how to practice without them."
But he's ready now. And he got a taste Sunday in the shoulder pads. It marked the first time in five years that he wore them without knee braces, which he says are mandatory at Wisconsin. With a nice breeze moving in Sunday night to cut down the 85 degrees, Zeitler said, "I felt like I could run forever tonight."
It's going to heat up in Oklahoma.
"I'll be there," Burfict said.
BINNS CARTING: On Friday, Bengals wide receiver Armon Binns made an outstanding catch that didn't count and on Saturday he dropped one that did.
Binns managed to make a nice yards after golf cart catch on the sidelines on a play that rookie cornerback Chris Lewis-Harris (no relation to Marvin Lewis or Clark Harris) ran into the contraption. Looking for playing time in the crowded field opposite Pro Bowler A.J. Green, Binns knows people are watching whether it was out of bounds or not.
"If you have an opportunity to catch a ball you want to catch it. I think stuff like that doesn't go unnoticed," Binns said. "If that was inbounds it would have been a great play. I just try to catch the ball if it is in the air."
And he knows he'll have to take the good with the bad. Binns has made his mark in practice as a physical and reliable possession receiver, so that ball he dropped Saturday on a perfect crossing route from quarterback Andy Dalton can't be dropped. Particularly with middle linebacker Rey Maualuga covering him. That's his kind of play.
Although Binns and Brandon Tate are the first two guys rotating at that No. 2 receiver spot, the guy Binns may really be battling is his training camp roommate, third-rounder Mohamed Sanu. They are similar in speed and frame and rely on savvy rather than separation.
"The thing I try to focus on the most is being the same me every day and making improvements when I get a coaching point," he said, "and when I don't do something right avoid making the same mistakes and just staying consistent out there."
Binns's biggest fans while he was on the Bengals practice squad last year were his teammates on both offense and defense. He earned a rep for a good work ethic while putting in extra time with practice squad quarterback Zac Robinson and wide receivers coach James Urban.
"It makes me feel good about my abilities and the work I put in," Binns said. "I've always known what I can do, but just to know the coaching staff sees it and they are pulling for me is a good thing."
It turns out one of his closest friends on the team is Tate. They often worked together during the offseason at Ignition Sports and Binns says it hasn't been at all awkward.
"I was on the practice squad so he's kind of brought me up as the older head in the receiver group," Binns said. "I don't really think of it like that. I think of it as we are both just out there trying to play. We know we both are going to get opportunities so whoever is in there we just have to make plays."
Tate wasn't out there Sunday night after his hamstring tightened early in Saturday's practice.
Binns wasn't the only guy who should have made a catch Saturday. Rookie Marvin Jones got great separation on a long ball and was in the clear for an easy touchdown catch when he short-armed it, appearing to go right through his hands. But then, maybe this is why you keep Jones around as the sixth receiver and develop him. He can run.
Don't be surprised if cornerback Leon Hall isn't out there for Sunday's first work in shoulder pads. It looks like the Bengals are going to rest his Achilles every third day or so.
The Bengals hit their capacity of 1,600 for Sunday night's practice for the first time in their third workout on the Paul Brown Stadium practice fields. The PBS North ticket window is open from 10 a.m.-noon Monday for passes to the 3 p.m. practice.