The man who just may be the steal of the NFL Draft stole a few moments during the draft process the past few Fridays with a few friends.
In another universe, star-crossed Oklahoma running back Rodney Anderson would have spent April on a whirlwind tour of the NFL as a first-round draft pick. Big at 6-3, 224 pounds. Fast with 4.55 seconds in the 40-yard dash. Accomplished with 201 yards in the Rose Bowl against the baying junkyard Dogs of Georgia and their sixth-ranked defense.
Instead, in our universe, in the month the Bengals took him with the 211th pick and not the 11th, he visited a group of sixth-graders that could use a little help. Not bad kids, mind you. Just kids needing a little direction like any 11-year-old in Norman Okla., who would love to hear from a Boomer Sooner. So on Fridays he drove over to Longfellow Middle School to shoot hoops and the breeze.
"I gave some advice here and there," Anderson says. "An older guy to look up to. I just wanted to hang out with them, talk about things that were on their mind. Shoot some hoops. Whatever they wanted to do. They just needed a friend."
Anderson is used to making friends. One of them, the man he replaced at OU, Bengals running back Joe Mixon, lit up Twitter with his excitement at the reunion. He's also got slew of friends in Norman and his hometown of Katy, Tex., where he belongs to the Fellowship of Christian Athletes and speaks to schoolchildren of all ages so he can "share my story."
Who better to tell it? This is what he tells the kids:
"My story is one of perseverance. Just let them know the struggles that I've been through. And let them know it may suck right now, but God has got you on a path that you're not supposed to know, so you just have to trust him and if you do that you'll come out on the other side victorious. They're going through a bunch of things. First experiences can seem like the end of the world. But it's not. You just have to hear it."
No bitterness here. No chip on the shoulder. You hear the draft nicks bellowing about kids being a young 21? Here's something refreshing. How about an old 22? He's a throwback. Throwing back a wrench into the hype machine. Nothing huge at his parents' home in Katy on the weekend of the draft. The same group of 15 or so family and friends that were there when he broke his leg and his neck before tearing his ACL. No tweet saying how he was going to exact vengeance on anything, animal or mineral, that ignored him in the previous 210 picks.
"I hardly ever use it," Anderson says of Twitter. "I knew I wasn't going to go as high if I wasn't hurt. I just wanted the opportunity. That's all I was hoping for. It came in the sixth round. I'm not upset about it. I'm just thankful for the opportunity."
He had four seasons at Norman. Three ended by virtually Labor Day. The lowest point, he says, was that ungodly stretch that wiped out the first two years. One with a broken leg and torn tendon that required ankle surgery. The next a freak broken neck in the last summer scrimmage when a knee got inside his helmet and broke the C-5 vertebrae. No surgery was required, but the neck brace he wore for three months (including showers) was miserable. He had never not played football for that long. Nearly two years. Then in the second game of last year he went to cut up the field and tore his ACL before anyone touched him.
"That's life," he says. "It makes no sense to get down about it. It's not going to help.
"I turned to the things I knew wouldn't fail me. Like my faith, my family, my close friends. They all supported me and got me to look at the bright side. I'm blessed to have them and they got me through the tough times."
This is how good he was in that one healthy season. That 2017 schedule is why he just may end up being the running back version of Tom Brady in the 2019 draft at No. 211. With Mixon graduating to the Bengals in the second round, Anderson damn near mimeographed his stat line with 6.2 yards per and 13 touchdowns in 13 games on his 188 carries. He helped quarterback Baker Mayfield win the Heisman with a YouTube reel of 17 catches, five for touchdowns while averaging a receiver-like 16.5 yards per catch.
How good on the field? The Bengals know he probably won't be ready until training camp, but they called him. How good in the locker room? He still went to every practice, every meeting, every home game and remained a glue guy even though he was hurt.
"I would say versatile," Anderson says of his style. "I do a lot out of the backfield, line up in the slot, run outside zone, inside zone, gap schemes. It really doesn't matter to me. I'm just trying to get on the field and help the team."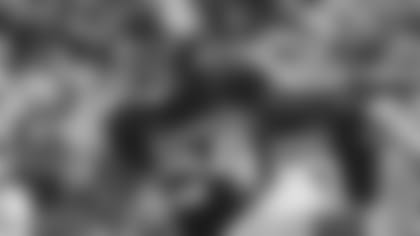 Here's Mixon on his main man:
"Hard worker. Runs really hard. Explosive. He's one play away. I played with Rod for two years. It's great having him in the building. He definitely brings energy and fire and he's a physical runner. Great combination with him, me, Gio (Bernard) and the other young buck out of A&M (another sixth-rounder pick, Texas A&M running back Trayveon Williams). I can't wait to get him in here."
Mixon's energy and fire saved the day on offense last season, so if anyone knows energy and fire, it's Mixon. And Anderson says he knows he can turn to Mixon and his defending AFC rushing title for mentorship. "It's great to be in the same room with him again." And it's kind of nice the two NFL backs Anderson enjoys watching are Mixon and the Rams' Todd Gurley. Given that the Bengals figure to be running a lot of the Rams' scheme, that should come in handy.
"At the same time I'm not trying to copy another back," Anderson says. "I feel like each back is supposed to have his own style."
Stephanie Williams, the first-year principal at Longfellow, liked his style so much with students that she called him up this semester and asked for his help with some sixth-grade boys. Anderson had been recommended to her by her husband, a fellow member of the fraternity Omega Psi Phi, and she was impressed last year when he came to her high school.
"He's one of these guys I can reach out to when I have a need," Williams says. "I like to (show) our kids role models outside of the building, people who don't work here, that they don't see all the time. He's a great role model for sixth grade boys. They need someone like that, that they could connect with better. They tend to just listen. He's amazing with the kids … The thing I appreciate about Rodney is it's great they talk about playing football or basketball, but he wants to see them do as well in the classroom."
Anderson went home for the draft, but some sixth-grade boys went with him in a video. The handful sat in a classroom each offering a line of best wishes:
"Hey, we just wanted to make a good luck video in the draft."
"We appreciate you coming to see us every Friday."
"Thank you for all the stuff that you helped us with."
"Hope you get on the team you wanted."
"You're a big inspiration."
"You made me change my way I was thinking about school."
"You were really nice to us."
"On three, say "Good luck Rodney."
If you want to know how Anderson survived the heartbreak and ended up here, a Bengal, it's because of friends like that.