For the third straight preseason Bengals WILL linebacker Vontaze Burfict is getting ready for a regular season he won't be able to play at least the first three games because of a suspension. This time he's missing the first four games because of violating NFL policy on performance-enhancing substances. Head coach Marvin Lewis has approached it two different ways. In 2016 he hardly practiced him and didn't play Burfict in the preseason. Last year he did. At Tuesday's training camp media luncheon Lewis wouldn't say how he'll do it, but he indicated he'll play him.
"You want to keep the rhythm with the other players. And there's some rhythm to what he does," Lewis said. "I think that's important. But we also have to have the other guys assume the leadership, the communication, everything that way. He's such a dominant personality that we have to almost stifle him in order to do that.
 "The only benefit is just football conditioning and just playing football. If you take that away totally, now you've gone how many months without really playing football. The one thing to his credit, he's been able to come back into playing football as though he's been playing football, for whatever snaps we give him when he comes back."
Does it matter? In Burfict's first game back last season he played 52 snaps, had six tackles and helped to nearly blank the Browns in a 31-7 win. The next week he had a season-high 13 tackles in the win over Buffalo. Back in '16 when Lewis iced him in August, Burfict returned to play 34 snaps and had three tackles and a pass defensed in a win in which Cincinnati blanked the Dolphins in the final 50 minutes.
"If we say it's going to be 20, then he ends up playing 40. If we say it's going to be 30, he plays 50 because he won't come out once he's in there," Lewis said. "And then all he'll do is afterward tell (the media) how he was so winded and we made him play too much. But he's the one who won't come off the field. But he has done a good job of getting himself in condition and being read to make the transition back into playing."
What has become increasingly clear is that the newest acquisition on defense, former Bills middle linebacker Preston Brown is emerging as a bright light with Burfict scheduled to miss his
29th, 30th, 31st and 32nd games in the past five seasons.
"These guys, Preston and so forth, they've got become the identity of the football team. That's so important for Preston to go ahead and ascend and to continue to grow," Lewis said. "He's given Vontaze his space but now he's going to have to go and take over."
Watching Brown in the spring drills reminded director of player personnel Duke Tobin why they jumped on him so quickly in free agency. As they thought, he hasn't blinked at leading.
"We know exactly what he is. He's played every snap when he lined up in Buffalo," Tobin said. "We can feel very confident about what he's going to be as an NFL player. He's been a great leader for us and fits right in."
EIFERT REMAINS?: It sounds like the status of erstwhile Pro Bowl tight end Tyler Eifert (back) is as up in the air as it was six weeks ago. He wasn't practicing then and it would be a surprise if he's practicing when camp opens Thursday.
Director of player personnel Duke Tobin probably summed it up best Tuesday.
"Hopefully Tyler Eifert can come back and be a factor for us," Tobin said. "I can't predict the future on that one, but I can testify to the fact that he made a difference when he was up and running for us. We know what he can do if he can get back to that level. I know his full intent is to get back to that level. We'll see if he can.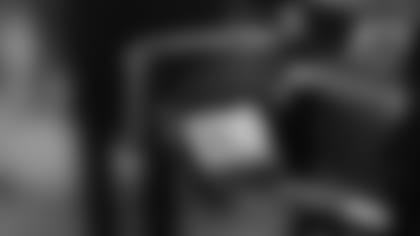 POLI SCI: Bengals president Mike Brown made it known Tuesday he wishes the NFL would rid itself of political distractions in order to win back a fan base seeking more screens than smoke screens. On cue, he promptly had to take a bunch of political questions and let his coaches talk football. But because it is politics he couldn't say all that much.
In the wake of the Dolphins putting fines and suspensions on the table for violating the new anthem policy, the league and the union are looking to come up with a solution.
"I'm not going to dive into that. Yes, I have thoughts on it," said Brown, asked if he considered a Dolphins-like policy. "Yes, we had ways of handling it. I'm not so sure that wasn't pretty good, at least compared to others. But that's as much as I'm going to say about this, and let's get on to something else.
"The league and the union are talking on this and we're instructed to stand down while that's going. I'm not going to sit here and stir the pot. They don't want to hear from me right now. Let's see how this bubbles up and I hope they can come up with some kind of answer that is acceptable to not just the club and the players but more the public. And let's not forget the president!"
Brown also wouldn't comment on his early April meeting with free agent safety Eric Reid, a prominent figure in the players' efforts to be allowed to protest during the anthem. After Reid, who is suing the league for collusion because he went unsigned, left a visit with the Bengals, claims surfaced almost immediately that Brown wanted a commitment from Reid not to protest during the anthem and when Reid didn't give one the Bengals didn't offer a deal. Brown admitted he was surprised how quickly that story hit the street, but that's all he wanted to say.
"I think it's tomorrow I have a sit down with the lawyers on our side of that issue," Brown said. "Do I regret stepping into it the way that I apparently did? I think you know the answer to that. It has become a grievance, a lawsuit. I don't want to get into that matter here. I think my counsel would appreciate my silence on the matter here and suggest I say what I have to say to him. "
Brown also handled a political football on the status of a music venue. The Cincinnati Symphony has proposed Lot 27, which is now a parking lot between Paul Brown Stadium and Smale Riverfront Park. The Bengals feel the venue works better on Lot 24, which is across Race Street.
"My job is to protect the interest of our football team. My job is to help our fans have what they want. For our fans it is better for them if they have this area for tailgating," Brown said. "I happen to think the other option is a better option. If you put it on Lot 24, which is just up south of the Freedom Center, that puts the facility on the same level as the businesses in that area. The restaurants, bars, people that would service the fans of the music venue.
"It's closer to them. It's on the same level. I think it's a better bet. I feel that way. But my overriding issue and I don't apologize for it, I am obligated to try to defend the interest of the football team and its fans. I don't think what I am pushing for is harmful. I actually think it is better for the project, better for the community."
Bengals President Mike Brown, Dir. of Player Personnel Duke Tobin, Head Coach Marvin Lewis, Defensive Coordinator Teryl Austin, Offensive Coordinator Bill Lazor, and Special Teams Coordinator Darrin Simmons meet with the media before the start of 2018's Training Camp.