Friday was Joe Mixon's NFL debut.
Joe Mixon had Trey Hopkins with the chocolate covered pretzels.
Mixon, the Bengals rookie running back, got a birthday care package from his mother on the first day of training camp last month and immediately handed some over to his roommate, the four-year veteran guard, with the offer, "Here you go, Big Dog."
"He's a great guy to get to know. Great roommate," said Hopkins Friday night after both figured rather prominently in the Bengals' 23-12 win over the Bucs in their pre-season opener. "He's a very energetic guy … a very energetic player and he spreads that through the huddle."
Both guys left the room Friday under the microscope. Mixon is used to it since he's been scrutinized ever since he was suspended at Oklahoma for his freshman year after an ugly off-field incident even though he's been called a model teammate ever since.
And it was Hopkins' first start since the 2014 pre-season opener in Kansas City at left guard when he was an undrafted rookie out of Texas and won the job to start in place of the rehabbing Clint Boling.  A broken leg, two stints on the practice squad, and a load of position moves later, and it looks like Hopkins is the leading candidate at right guard after he got the nod Friday night over Andre Smith.
Like Hopkins said, "There's been so many question marks  about the offensive line, but also questions about myself  … It's like I've been battling myself with being on injured reserve and then staying around on the practice squad … It's been a whirlwind, but it's a progression I look back on and see how it's led up to this moment. I was excited to get the opportunity to play with the starters."
These two are a good match. There is Mixon, the bouncy, enthusiastic 21-year-old. There is Hopkins, the serious 25-year-old who almost went to med school.
"We've been going over a couple of things in the room with runs and protections," Mixon said. "When I need help with something, he helps me out. When he asks me how I'm reading a run, when he asks me about that, I just tell him I try to press the line of scrimmage a little bit more and then usually I cut off you or bounce outside depending how the defense is playing. I appreciate him taking me in as his roommate."
Hopkins said Thursday night was a little different. They still watched a little TV but, "normally there were more phone calls, but hit the playbook pretty hard."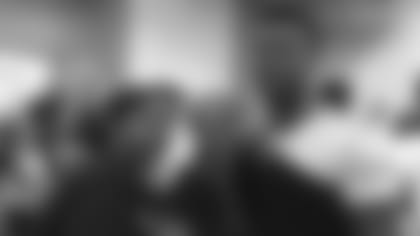 Mixon had a couple of surprise visitors at the game.
And both had plenty to talk about after they got back in the room. Mixon ran and caught the ball as advertised as the crowd of 44,495 adopted him with each what-will-he-do touch and Hopkins was part of a line that didn't allow quarterbacks Andy Dalton or Andy Dalton to get sacked and averaged four yards per carry for 13 carries combined by Mixon and starter Jeremy Hill in the first half.
"I felt like we meshed well. I felt like we were all confident with each other," Hopkins said. "We've had these techniques just drilled into us over and over since OTAs. I think everyone has bought into it. And everyone knows there is a question mark there, but we know we have a point to prove and we know we can prove it. We're confident in what we know and confident in each other and I think that's what showed today."
Don't look now, but maybe the Bengals have figured out the best way to protect their untried offensive line is to run the ball. With the help of third-string quarterback Jeff Driskel's five runs for 34 yards, they ran it 36 times and threw it 22 in racking up nearly four yards per rush.  So maybe that's an aberration but, still, the top three backs for Friday night ran it at least seven times with Mixon's 31 yards on six carries and Tra Carson's 32 on eight carries leading the way and Hill's 26 yards on seven carries including some punishing short and long runs  that accounted for first downs.
"The speed was pretty cool. It wasn't outrageous. Once I got that first carry, then I was like 'OK.' I was settled in," Mixon said. "After the first carry, I settled in. Everything was all good after that. Once I got (first contact) I was able to get moving."
And he moved like few 230-pound backs have moved around here. His first carry, gliding behind left guard Clint Boling and left tackle Cedric Ogbuehi, went for five yards and a first down. His catch-and-run for 11 yards that made a linebacker and DB miss in space late in the first half on a check-down pass from McCarron had his teammates and crowd raving.
"We've seen him make plays like that all camp," Dalton said. "It's good to see him like that in action."
The fans agreed and have put themselves firmly in his corner.
As soon as I ran out on the field everybody was cheering. That meant a lot to me and I appreciate that," Mixon said. "I'm going to keep trying to be the best teammate and best person around here. I appreciate it."
He was also appreciative of two particular fans that showed up, much to his surprise. His mother Alisa delivered more than a care package when she and Mixon's sister Shalonda showed up out of nowhere in the stands. Alisa, a day-care provider in Oakley, Calif., had been planning for two weeks to visit the youngest of five.
"Your Mom comes to see you for your first NFL game, that meant a lot," Mixon said.
Alisa and Shalonda also felt the support.
"It was positive. Everything was positive," Alisa said, wearing his No. 28 jersey. "I didn't hear anything negative. Nothing. We were all in the mall and they were all, 'Oh, Joe.' Seeing the jerseys and everything. I'm feeling good."
On Friday night, Bengaldom was with her.
Cincinnati Bengals host Tampa Bay Buccaneers at Paul Brown Stadium in week 1 of the preseason 8/11/2017