The starters for the Bengals and the Vikings played a lot more against each other during Wednesday's joint practice before a crowd of 1,950 than they will in Friday night's pre-season opener (7:30-Cincinnati's Channel 12) and here are some hot takes from the hottest practice of training camp that ended in 90-degree weather just before 5 p.m.
-The defending NFC North champion Vikings are a heck of a lot better than the 2015 New York Giants.
The Giants didn't have half the good players head coach Mike Zimmer has and that's a major reason why future Hall-of-Famer Tom Coughlin was here Wednesday in his new role as a member of the NFL office instead of still the Giants head coach.
The Bengals dominated the Giants last season in their two-day session, but it was much more even this year with the Minnesota defense stifling the Bengals' long ball early before Andy Dalton and company made hay in the red zone. The Bengals defense looked slow early in 11-on-11 passing, but flexed its muscles against the league's best running back and came up stingy in the red zone.
  "I think Friday is a good thing, but this is an experience that I think down the road for certain players is invaluable as far as experience and reaction," said Bengals head coach Marvin Lewis before the festivities. "It's also valuable to our football team when it comes to that 46-man roster down the road, because these situations will come up throughout the season. I think how a guy handles those situations or whatever it may be, will help a guy push forward."
_Rookie defensive tackle Andrew Billings looked to be Wednesday's lone casualty when he went down during one-on-one pass rush. He injured his knee when he got his feet tangled on what appeared to be an end tackle twist and underwent an MRI Wednesday night.
The Bengals defense gummed up many Minnesota runs.
-Early in practice, Zimmer's cornerbacks played like Zimmer cornerbacks and blanketed people while giving hardly anything downfield.
And that was with Terence Newman back in Minnesota and 2015 first-round pick Trae Waynes lost a third of the way through, according to the St. Paul Pioneer Press that also reported Waynes was ailing on an extremely hot day, and was replaced on the first team by Jabari Price for the rest of the way.
"I felt like as the practice went on we started hitting some things," Dalton said. "The red zone period was good for us. Obviously it's scripted so in certain situations you're not going through the normal phase of the game, but it's good work."
Whatever it was, it failed to please offensive coordinator Ken Zampese. Zampese told a couple of reporters as he walked off the field at the end of practice it wasn't the offense's finest moment for both players and coaches.
_But as soon as you began to wonder if the only wide receivers that can get open other than A.J. Green are in Detroit (Marvin Jones) and Atlanta (Mohamed Sanu), Brandon LaFell re-appeared again.
LaFell, one of Bill Belichick's transplants, caught back-to-back touchdown passes in the red zone on those across-the-middle routes he's supposed to cash as foes blanket Green. After a slow first week, LaFell continues to make more and more plays as camp goes on.
_But no one is having the camp No. 3 tight end C.J. Uzomah is having with Tyler Eifert (ankle) and Tyler Kroft (knee) iced with injuries. Uzomah made another diving, juggling catch Wednesday in 11-on-11 and when told Uzomah just may be the "Player of Camp," Dalton said that could be so.
"He's one of the only tight ends left," he said.
_While the offense struggled early, you only had to look at the adjacent field to see the metaphor. The Bengals have time to get things straightened out with their new receivers because the defense is still salty, experienced and intact.
The defense isn't supposed take runners to the ground, so Burfict and Maualuga had to be content with shoving around the great Adrian Peterson, most of the time at the line of scrimmage.
"We came off the ball well. We were coming downhill in the run game and that was good to see,' said nose tackle Domata Peko, who pointed to the play of linebackers Vontaze Burfict and Rey Maualuga.  "The linebackers were really flying around."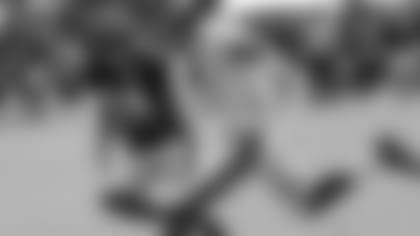 Bengals Pro Bowl cornerback Adam Jones was on most of the day.
-The pass defense was a little more complicated. Maybe it was the specter of Vikings backup quarterback Shaun Hill working behind Teddy Bridgewater. It will be recalled Hill won his first NFL start against the Bengals in his sixth season back in 2007 for the 49ers. He's won just 15 since, but on Wednesday Hill and Bridgewater had success finding No. 1 pick Laquon Treadwell and fellow wide receivers Stefon Diggs and Charles Johnson running free underneath, causing defensive coordinator Paul Guenther and secondary coach Kevin Coyle to remind frequently, "Finish."
Diggs pulled off a rarity and got behind Bengals Pro Bowl cornerback Adam Jones down the sideline for an estimated 20-yarder. But Jones, who talked about how the Bengals DBs dominated the Giants receivers last season in the joint practice, also led good coverage in the red zone in a drill they clamped down on Bridgewater's accuracy with solid coverage and a good rush.    
"It took us a little while to get going. Their tempo was a lot different. It was a good day to build on," Jones said. "We played a lot man. There was a lot of (rub routes) and stuff like that. They're different than the Giants … The only long one they caught me was off me for about 15, 20 yards … I was in the wrong leverage … Everything was underneath … They're more dink-and-dunk … We didn't look at the offense at all. We just came out and practiced."
_The Bengals are backing down from nobody. During the first 11-on-11, when Treadwell came over the middle, cornerback Chris Lewis-Harris knocked him down. It appeared when wide receiver Adam Thielen tried to get a block on the other Adam, Jones' counter move knocked off Thielen's helmet. Which means it took Jones and Zimmer, who had their moments when Zimmer was here, about a half-an-hour to start jawing again. But after the period, Jones, Zimmer, and Lewis-Harris were laughing and smiling.
"(Zimmer) was talking to me because I knocked the dude's helmet off," Jones said. "He should have had his stuff buckled up. It's not like I was trying to hurt anybody. I went to the kid and talked to him. I'm not out here trying to be the bad guy. I'm just trying to play the game the way I play it always. Just compete."
Jones recounted the conversation with Zimmer thusly:
Zimmer: Come on Adam, we're friends.
Jones: That has nothing to do with me trying to do my job.
If you'd been listening to Jones before practice, you knew it was business as usual.
"You can't go out there thinking about that," said Jones, when asked if he has to back off in such a setting. "You've got to go out and play the game like you play the game. Whatever happens is going to happen anyway, so you don't go out and think it's a fine line. You practice the way you normally practice, get to the ball, tag off and play how you play. If you're thinking about stuff and what can happen, then something's going to happen. I don't think nobody's got the mindset of that in here, or you won't be here for long."
-There's a lot of admiration still for Zimmer on this defense. They can still tell what he taught them. Starting with Jones.
"He's a big technique guy. He taught me a lot while he was here," Jones said. "(Zimmer taught) just to give it 110 percent in whatever I do, and make sure you study, and technique is the key. Technique can get you a long way."
There is left end Carlos Dunlap, who beat old friend right tackle Andre Smith a few times. Zimmer vowed to ride Dunlap and his inconsistent motor.
"I had a lot of success as a young player under him," Dunlap said. "To this day I remember Zim telling me I've got to play the run better. That was one of my deficiencies as a young player under him. When I got there I was a natural pass rusher.
"That's what he did," said Dunlap of Zimmer riding him. "I had a lot of success as a young player under him and to be able to take a person and develop into something better … He stayed on me and made sure I got better every day. That made it a habit for me … To this day this is why I try to find a way to get better.
And there is safety George Iloka.
 "He did a lot of coaching when you were a rookie. He fixed my stance. I think he fixed all the rookies,'" Iloka said. "He was very particular… "