This is a Mount Adams and Mount Lookout rookie minicamp for the Bengals' new, mountainous guard, the grandson of a former Cincinnati fire fighter. This is a Montgomery Inn- Bengals vs. Browns-Reds Business Day Special-Flying Pig Marathon weekend for a prodigal son. This is an Archie Griffin-Dot-The-I-Brutus Big Chill reunion for Ohio State offensive lineman Michael Jordan in a stadium named for one of the greatest Buckeyes of all.
But this isn't the first time Michael Jordan has been in Paul Brown Stadium. The Kid (he's now the youngest Bengal born in January of 1998 and if you want to feel old the first born after Boomer Esiason announced his retirement) just hopes it's more memorable and less traumatic. The last time he was here was for a game the Bengals were dressed in orange and other than that the only other thing he remembers is going home without his Superman action figure.
"I was a big fan of Superman when I was a little kid and my little brother wanted to bring it into the game. We told him to leave it in the car," Jordan says of a guy he figures couldn't have been more than three. "But I think he lost it somewhere in the stadium. I remember leaving there sad."
But he's more than delighted to be back after a decade away. His father's work took them to South Carolina when Michael was 12 and then to Michigan two years later. And although the Bengals don't expect him to leap tall buildings in a single bound (bending linebackers with his bare hands is more like it), they certainly expect him to be a big-time contributor as soon as he's able after he became just the sixth draft pick in Bengals history to arrive via a trade up.
When they saw Jordan's 6-6, 318 pounds of starting potential still blanketing the board late in the fourth round, they packaged their fifth-rounder and a sixth and shipped it to Dallas to get him at No. 136, marking the first time the Bengals have ever traded back up into a round.
It had to be for Michael Donovan Jordan, right? After all, he was born at Mercy Hospital in the Cincinnati suburb of Fairfield Ohio just as the John Elway-Brett Favre Super Bowl was starting between Denver and Green Bay.
"I mean, 6:25 p.m. Right at the kickoff," says his father. "The doctor came in and asked if we wanted to turn on the game. I wasn't going to ask. He was born just as the game started. So we had an idea right away he was going to be a football player."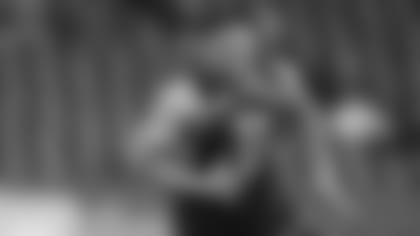 What's in a name? Forget the obvious. His family calls him "Donovan," but everyone else calls him "Mike." His father, a Roger Bacon High School grad, is Kevin Michael Jordan, but goes by Michael. How Cincinnati is this? Both his parents are CPAs who met taking a review course at the Cincy YWCA. How Cincinnati is it? Wayne Box Miller, the versatile pre-game and post-game host of the Bengals Radio Network, is a family friend.
How Cincinnati? When he was eight years old playing in the Boone County pee wees in Northern Kentucky and just mad about Chad Johnson, he declared he would one day play for the Bengals.
"I liked the celebrations and how he would tell (the defense) what the play was and then run it," Michael says.
And you know he's telling the truth. His father's specialties are internal audits and fraud investigation.
"He knew I could always tell when he was lying," Dad says. "So when he has about ten, he stopped."
Bengals center Billy Price, who has already spent a season next to Jordan auditing their Columbus days, knows he's the real deal. It starts with size and grows from there.
"Oh. He's huge. Just wait until you meet him. He's like Cordy (Glenn) big," Price says of the Bengals' gigantic left tackle. "He's massive … It's a really good fit. Mike is going to be a really good pro and a really good Bengal."
That's basically what Price told new offensive line coach Jim Turner when Turner, a stickler for size, had Jordan in his sights leading up to the draft. Good guy to ask, since Jordan refers to Price as "like my big brother." If Price is his big brother, then Bengals defensive lineman Sam Hubbard is Jordan's college guidance counselor checking in on his student.
With the Buckeyes needing to get something out of Jordan right away as the first true freshman to start for the Buckeyes in the two decades since Pro Football Hall of Fame left tackle Orlando Pace, strength guru Mickey Marotti paired him in the weight room and on the conditioning field with one of those guys that always does it the right way.
Jordan Face Timed Price five minutes after the pick, knowing he'd also face Hubbard again in the weight room. Hubbard, coming off a Bengals Rookie of the Yearish season when he arrived here in the third round last year two rounds after Price, did his job.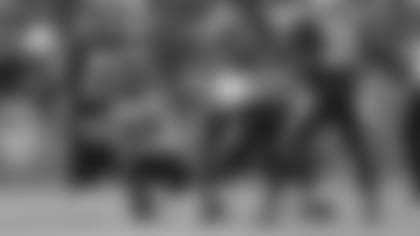 "Sam was one of those guys when I first got to Ohio State he put me through the wringer," Jordan says. "He taught me a lot about pushing past my limits as a young guy getting to the top. He'd get on me. Coach Mick always partnered me with Sam or (left tackle) Jamarko Jones every single day. It helped me."
Both of those guys are in the league and Jordan even got drafted higher than Jones went last year (fifth round) to Seattle. And then there's Price, his snap-by-snap mentor, He was so good at it, it was Jordan himself who replaced Price.
Hubbard enjoyed the assignment. "Never, never," did he complain or get mad. Even during the sprints in the heat of summer camp, when Hubbard would finish his own set and then run back and get in Jordan's ear encouraging him to finish. Always finish.
"On a couple of team runs he was struggling a little bit because he's such a big guy. He has to work a lot harder than a lot of people," Hubbard says. "He always fought his way through everything. … He wanted to be pushed … All he wants to do is get better. He wants to be coached. He wants to be told the right way to do it. I've got nothing but good things to say."
"He's always had a level head. He's not somebody about himself," Price says. "His evolution as a young man is what me or anybody else goes through at 17, 18 years old … He's awesome. You're not worried about what he's doing at 2 in the morning. You know he's in bed. You know he's keeping up on his film. He's taken care of his body.
"He's not a guy who wants to highlight, but you know what?" Price asks. "He's the guy that's going to go get that pancake block and enjoy himself and have a lot of energy."
Maybe the best part of the whole thing is Michael is going to be so near his grandfather, Ben Jordan, the fire fighter from Engine 9 in Bond Hill and Taft High class of 1961.
"Every time he sees me, he tells me how proud he is that I'm his grandson," Michael says. "And I tell him how proud I am of him."
He'll have plenty of elders around. Especially at PBS, where Hubbard says he and Price are going to stay on him "and help him do whatever he as to do to become successful." And Jordan would like to become an elder as quickly as he did in Columbus. Hubbard is still impressed what he did without the benefit of a red-shirt season.
"We needed him," Hubbard says, "and he grew up fast."
What's in a name? Come to think of it, Hubbard says, there was really only one name they called him.