That's what we're seeking in the Bengals.com Mega Media Mock Draft that takes us to Cincinnati's second-round pick and the 42nd selection.
We're not swinging for the fences. We're not hoping a guy's strong workout overcomes his poor game tape. We're not wishing a guy's skill set projects to a position he's rarely, if ever, played. We're not reaching past the grades to fill a depth chart slot.
And this wasn't exactly batting practice. We'd like to thank the relentless band of scribes grinding away that took time to help a fellow scribe this week. All would have been in their rights to block the SOS from 513. Guys like the indefatigable John Clayton, "The Professor," our man in the NFC and AFC West who made a total of five picks. To all of them, we're grateful.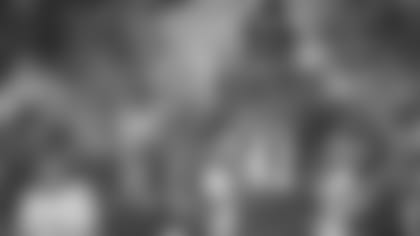 1.CARDINALS: DT Quinnen Williams, Alabama; Kent Somers, Arizona Republic
Somers, the long-time Cards reporter now a columnist, picked Williams for us a few weeks ago while he was out of the country. He came back and still isn't buying Oklahoma quarterback Kyler Murray.
He thinks the Cards are going to hang with Josh Rosen and beef up a defensive front that already has Terrell Suggs and Chandler Jones on the edges. It's been years since they had an elite interior player and Williams just may be the best guy in the draft.
2. 49ERS: DE Nick Bosa, Ohio State; Matt Maiocco, NBC Sports Bay Area
Maiocco and Steph Curry have something in common. They're the most consistent shooters in the Bay Area. He hasn't budged off an edge rusher at any point in the offseason. For his efforts he gets the best one.
3. JETS: DT Ed Oliver, Houston; Rich Cimini, ESPN.com
Cimini is all set to come out ripping if they do it. They don't have a rush linebacker and Kentucky's Josh Allen is sitting right there. But Cimini's sense is new defensive coordinator Gregg Williams is drawn to one-gap penetrators and Oliver has been compared to one of the best in Aaron Donald.
4. RAIDERS: OLB Josh Allen, Kentucky; John Clayton, 710 ESPN Seattle and Washington Post
The word is the Raiders are nuts if they don't grab an edge rusher here so they can properly exorcise the ghost of Khalil Mack.
5. BUCCANEERS: MLB Devin White, LSU; Rick Stroud, Tampa Bay Times
White has been projected here for the last month or so, pretty much ever since Kwon Alexander exited stage right in free agency. Stroud stands by it, but if a couple of QBs push a guy like Quinnen Williams down their way, Stroud could see them picking him.
6. GIANTS: DT Christian Wilkins, Clemson; Mike Eisen, Giants.com
With the top edge guys gone, Esien sees the Giants sticking to fix a broken defense by tinkering up front. In Wilkins they get an extremely productive four-year starter in the middle that is a plug-and-play guy.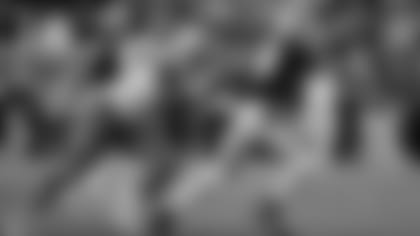 7.JAGUARS: TE TJ Hockenson, Iowa; Gene Frenette, The Florida Times-Union
Frenette covered Tom Coughlin before he even had players for the expansion Jaguars, never mind before the NFL yelled at him about voluntary workouts for kids whose dads could have played for him. He says the Jags have never had a truly dynamic tight end except for one highlight season each from Kyle Brady and Marcedes Lewis. He says Hockenson gives Nick Foles a Zach Ertz-like weapon.
8.LIONS: DE Montez Sweat, Mississippi State; Mike O'Hara, DetroitLions.com
You remember O'Hara, the estimable former Detroit News scribe whose first season on the Lions beat in 1977 featured Detroit's 25-year-old receivers coach Bill Belichick. Well, he's still appalled at what's left on this board. No Devin White again, much to his chagrin. He thinks this could go a variety of ways ( he picked Hockenson last time), but he just doesn't know how they can ignore this caliber of pass rusher at this juncture. What a nice bookend for Super Bowl pickup Trey Flowers at end.
9.BILLS: OT Jonah Williams, Alabama; Mark Gaughan, The Buffalo News
There's some thinking the Bills are looking to bail and trade out to a team looking for that quarterback. They binged on offense with 11 players in free agency, among them former Bengals tackle-now-tight end Jake Fisher. Also included are four offensive linemen and with edge rushers gone, they'll add another one and attack the tackle vacuum that's been there since the last draft and the trade of left tackle Cordy Glenn to the Bengals.
Gaughan figures it could be any of the top three tackles (Williams, Jawaan Taylor, Andre Dillard), but theorizes Williams because while he's the smallest (6-4, 302 pounds), he has the highest ceiling.
10. BRONCOS: QB Dwayne Haskins, Ohio State; Mike Klis, Denver's 9News
Broncos boss John Elway, the quarterback of the past, can't pass up a top ten opportunity to get his future quarterback two years in a row.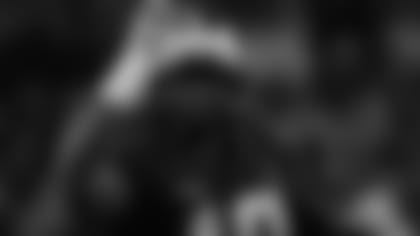 11.BENGALS: LB Devin Bush, Michigan
Yes, he's only 5-11. Yes, he's only 234 pounds. If you saw him in the gym you'd swear he was a safety or, dare we say it, a running back. But he runs like a dream and where has this defense been carved the last three years? They've been sliced and diced in the middle of the field and this kid with sideline-to-sideline energy and speed can stop it.
His size may not make Bush a stand-up double. But the need is so great and his intangibles are so good, his slide easily beats the tag.
It makes you appreciate the great Brian Simmons from back in the day even more. He couldn't run like Bush, but his 4.5 40 was ridiculous at 6-3, 240 pounds. If Bush can make big plays like Simmons did during his nine seasons here, it's a hell of a pick.
12.PACKERS: TE Noah Fant, Iowa; Jim Owczarski, Milwaukee Journal-Sentinel
Relentless Jimmy O, the former Cincinnati Enquirer scribe that blanketed the Bengals in recent years, has gone home to the upper Midwest to do the same in Green Bay. With the top end of the board gone and the Pack in search of athleticism in the middle of the field, they can't pass on Fant.
13.DOLPHINS: RT Jawaan Taylor, Florida; Armando Salguero, Miami Herald
They need a right tackle and Taylor is nasty and ready on Day One.
14.FALCONS: CB Greedy Williams, LSU; D. Orlando Ledbetter, The Atlanta-Journal Constitution
Don't forget Greedy. He played quality man-to-man in the SEC. With cornerbacks Robert Alford in Arizona and Brian Poole with the Jets, he'll have to do it in Atlanta.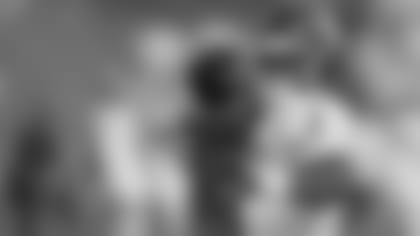 15.WASHINGTON: QB Kyler Murray, Oklahoma; Les Carpenter, The Washington Post
Carpenter has mercifully bailed us out of the Murray conundrum. In the real world, Murray is long gone and they're going after a pass rusher. Brian Burns probably goes. But if Murray is there, they can't pass him up with Alex Smith laid up, Colt McCoy brittle and Case Keenum next man up. You'd think they'd be trading up, but Carpenter doesn't buy it. That won't stop the Bengals' Duke of the Draft, director of player personnel Duke Tobin, hoping to get a call from old friend Jay Gruden if Haskins and friends fall. 
16.PANTHERS: OLB Brian Burns, Florida State; Joe Person, The Athletic
They need an explosive edge rusher to replace Hall-of-Fame exhibit Julius Peppers. Burns can do that as well as play in space if needed as head coach Ron Rivera switches to a multiple defense.
17.GIANTS: QB Drew Lock, Missouri; Eisen
Why not? The kid may be the smartest QB in this draft as a four-year starter and three-year captain. And he can sit for a year behind Eli.
18.VIKINGS: LT Andre Dillard, Washington State; Mark Craig, Minneapolis Star Tribune
If they think Dillard is a polished enough left tackle, they can move Riley Reiff to guard.
19.TITANS: DT Jeffrey Simmons, Mississippi State; Paul Kuharsky, paulkuharsky.com
It's a hard wait, but worth the wait. He's not the true nose tackle the Titans seek to pair with Jurrell Casey, but with these two in the middle they'll be tough.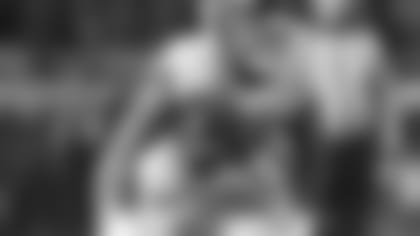 20.STEELERS: CB Byron Murphy, Washington; Gerry Dulac, Pittsburgh Post-Gazette
The Steelers are looking to upgrade their sub packages. They can't get their successor to linebacker Ryan Shazier here, but in Murphy they get a 5-10 disruptive man corner.
21.SEAHAWKS: DE Jaylon Ferguson, Louisiana Tech, Clayton
Clayton knows this is too high for Ferguson, but he believes Seattle trades back to get a pass rusher now that Frank Clark has been sacrificed at the altar of Russell Wilson's contract. He says GM John Schneider likes 8-10 picks and he's only got a handful.
22.RAVENS: DE Clelin Ferrell, Clemson, Jeff Zrebiec, The Athletic
With Terrell Suggs, their all-time sacker, in Arizona, and Za'Darius Smith jumping for Green Bay, this may be as thin as they've ever been for edge pressure since Marvin Lewis began building the defense in the late '90s.
23.TEXANS: OG-T Cody Ford, Oklahoma; John McClain, The Houston Chronicle
They lost their right tackle in free agency and the guy behind him has three starts in three years. Ford is definitely a starting guard, but the jury is still out on tackle.
24.RAIDERS: CB Deandre Baker, Georgia; Clayton
The Paulie G. Draft continues with defense, defense and more defense.
25.EAGLES: DE Rashan Gary, Michigan; Zach Berman, Philadelphia.com
With Derek Barnett missing most of last year with injury and guys liked Brandon Graham and Vinny Curry suddenly 31 and 30, respectively, they can't pass up a rusher like Gary even though this is quite a fall.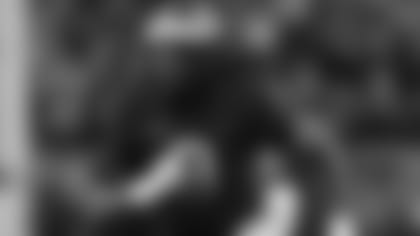 26.COLTS: DT Jerry Tillery, Notre Dame; Stephen Holder, The Athletic
Remember the first two rounds last year when they got two terrific offensive linemen in left guard Quenton Nelson and right tackle Braden Smith? That's what they're trying to do on the defensive front now.
27.RAIDERS: G Chris Lindstrom, Boston College; Clayton
The Kelechi Osemele trade has them looking for a left guard and Clayton says they may also look at shedding right guard Gabe Jackson's big deal.
28.CHARGERS: DT Dexter Lawrence, Clemson; Jeff Miller, The Los Angeles Times
The sense here is they're looking for the best lineman, offense or defense. They had one of the healthiest O-lines in the league and Lawrence is probably the highest-rated lineman on most boards here.
29.SEAHAWKS: WR N'Keal Harry, Arizona State; Clayton
Doug Baldwin is 31, expensive and banged up and they need a physical No. 1 for Tyler Lockett to continue to burn people with speed. At 6-2, 228 pounds, Harry is that guy. The run on receivers starts here.
30.PACKERS: FS Nasir Adderley, Delaware; Jimmy O
They need a ball-hawker and coverage guy opposite Adrian Amos, a division steal from the Bears in free agency.
31.RAMS: FS Taylor Rapp, Washington; Sam Farmer, The Los Angeles Times
With Lamarcus Joyner in Oakland, they need to fill out the back of their defense with a heavy-hitting playmaker.
32.PATRIOTS: TE Irv Smith Jr.; Alabama; Karen Guregian, The Boston Herald
The post- Rob Gronkowski Era begins with a Bill Belichick-Nick Saban tie.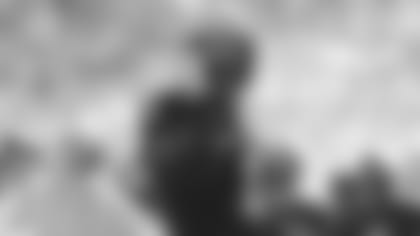 33.CARDINALS: WR Marquise Brown, Oklahoma; Somers
Larry Fitzgerald looks to be in his last run before Canton and there's little behind him but a Hall of Fame speech. If it is Kyler Murray, he'll need a target for the next four years.
34.COLTS: SS Johnathan Abram, Mississippi State; Holder
They've got a top player in Malik Hooker at free and two guys with one-year deals opposite him. Abram solidifies it.
35.RAIDERS: RB Josh Jacobs, Alabama; Clayton
Without Marshawn Lynch (20 games injured in three years) and Doug Martin, the cupboard is bare.
36.49ERS: WR Deebo Samuel, South Carolina, Maiocco
They need another starting caliber wide receiver and Samuel had an impressive Senior Bowl. Not a burner, but he's got the short area quickness befitting a good route runner and he'd give them a red zone threat.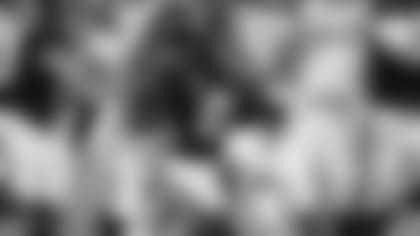 37.GIANTS: T Kaleb McGary, Washington; Eisen
Since Bobby Hart joined the Bengals, the Giants have been looking to find answers at both tackles.
38.JAGUARS: CB Rock Ya-Sin, Temple; Alex Marvez, Sirius NFL Radio
Marvez, otherwise known as "The Sheik," will command the draft stage for some key hours this weekend in Nashville on the radio. Although the Jags return their top three corners, he notes the mercurial Jalen Ramsey is a free agent after the season.
39.BUCCANEERS: G Dalton Risner, Kansas State; Stroud
They're struggling looking for answers anywhere on their right side. This guy is one.
40.BILLS: WR DK Metcalf, Mississippi; Gaughan
They'd love an edge rusher, but at this point they'd feel they'd be reaching. They did sign Baltimore speedster John Brown and a CFL all-star in Duke Williams, but Metcalf may be the best player available here.
41.BRONCOS: C Garrett Bradbury, North Carolina State; Klis
The interior of the offensive line got picked clean in free agency, plus starting guard Ron Leary is returning from Achilles' problems.
42.BENGALS: CB Julian Love, Notre Dame
Here's the big caveat, of course. We've got no idea how the Bengals have ranked these guys and that's a big deal because it's all about value. The values we're using here are on the Ourlads Scouting Services big board and with the universe left in the Mega Mock, Love is the ultimate doubles pick.
People will scream they already have three returning vet corners, they just picked up William Jackson's fifth-year option, they're already paying Dre Kirkpatrick big money and they signed up slot cornerback Darqueze Dennard for a year.
They also screamed when they drafted Andrew Whitworth in the second round the same year they extended left tackle Levi Jones. Or the next year when they drafted cornerback Leon Hall No. 1 a year after taking cornerback Johnathan Joseph No. 1. Even more recent rumblings were heard in '16 when Jackson got picked No. 1 two years after they took Dennard in the same spot. Or in '13 when they took tight end Tyler Eifert No. 1 even though Jermaine Gresham had two years left on his deal.
They call it stacking. Others call it building a team with the best players, hopefully at the premium positions.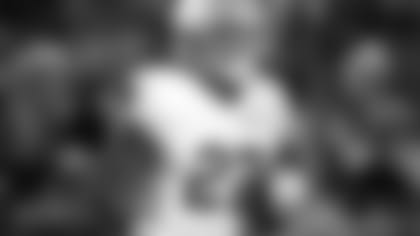 The common denominator on those picks is they went strictly by the grades as well as the value of the position and didn't reach for a need. They didn't try to hit a homer. They put their bat on the ball even though the need wasn't glaring.
And look at those picks. Hall and Whitworth were staples of multiple division titles. Eifert went to a Pro Bowl in his one healthy year and Jackson looks headed that way. The Board Always Rewards.
It's a cliché, but it's a cliché because it's true. You can never have enough corners, tackles and pass rushers and it's never been truer in a rush-and-cover league.
Let's look at the universe where Love resides.
The best player on this board is Mississippi wide receiver A.J. Brown, a position they presumably won't take that high. Two quarterbacks are grouped in here with North Carolina State's Ryan Finley and Duke's Daniel Jones, but they also don't seem interested in taking a quarterback this high, either.
There's a running back, Alabama's Damien Harris, but they'll probably wait until Saturday to get one to back up Joe Mixon and Giovani Bernard. There is a strong safety, Virginia's Juan Thornhill, and a free safety, Alabama's Deionte Thompson, but they don't have a need.
Premium positions up here, right? The edge rushers seem to have petered out after Gary. The tackles are big but dangerously slow.
Corner. This is where the 5-11ish, 195-pound Love goes. He's a three-year starter and Ourlads says, "Top end speed or the next level is questionable, but he has solid cover skills. Should be solid in zone and press at the next level." The report also says "outstanding ball skills to break up or intercept," which would be a nice addition for a group that didn't have a pick last season.