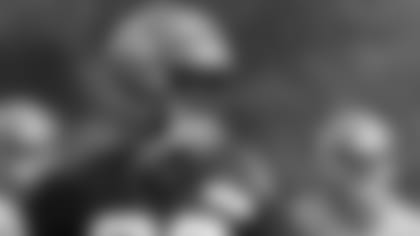 Tyler Eifert vows he'll be ready for the Sept. 9 opener in Indianapolis. But beyond that, he or the Bengals don't know much. They don't know when he'll return to practice or if and when he'll play in the pre-season games. Which is what happens when you're in this predicament because you tweaked your back picking up a football.
That's what happened back in May when Eifert disappeared from the spring drills at Paul Brown Stadium after undergoing another back surgery that limited him to just two games last season. Bengaldom reeled in horror Thursday before the first practice of training camp when the Bengals put Efiert on the physically unable to perform list. But he cautioned that's been the plan all along.
"Being smart. This is the plan. A long-range plan," said Eifert, who ran on the side Wednesday and Thursday. "It's gotten better. It feels good."
He can return at any point. But no one knows when that is. Eifert said he and the coaches haven't even talked about or thought about when he'll return. Not how many days into training camp or which pre-season game he'll be ready. After missing 22 of the last 32 games since he went to the 2015 Pro Bowl (a game he left injured to start it all), Eifert realizes he needs to get some kind of action in the pre-season games.
"I definitely need to get out there and get the reps. It's been awhile," Eifert said. "I just move forward, whatever is best for the team and for myself. We'll figure it out."
There is the frustration factor.
 "There's no timeline. When it feels right I guess," Eifert said. "I've dealt with this for a while. I'm doing everything I can to keep a strong core and flexibility and do the extra things to help myself. You just have to stay positive and move forward. Part of the league and part of the job. I'll everything I can to stay on the field."
He is sure of one thing. Indianapolis. Sept. 9.
"I'll be there," Eifert said.
Like Eifert, six other players can return at any time despite not practicing Thursday after being put on various lists following Wednesday's conditioning test with what are believed to be minor issues that aren't expected to sideline them long. Most notable is WILL linebacker Vontaze Burfict, assigned to the non-football injury list with what is believed to be a tight hamstring. He joined Eifert running on the side Wednesday and Thursday. Also on NFI is tight end Ryan Hewitt.
Joining Eifert on PUP is rookie cornerback Davontae Harris, a fifth-round pick, and rookie wide receiver Devonte Boyd, a college free agent. Veteran guard Christian Westerman, in the hunt to start at right guard, is sidelined with a virus and joined rookie safety Tyrice Beverette on the non-football illness list.
The Bengals also signed rookie wide receiver Jared Murphy of Miami of Ohio while putting tackle Javarius Leamon on the did not report list.
Eifert, who has missed 22 of 32 games since he made the 2015 Pro Bowl with 13 touchdowns, figures to be used sparingly this camp as the Bengals try to deal with the impact of his multiple back surgeries.
JAX ATTACKS: Cornerback William Jackson, the prince of profootballfocus.com, opened training camp Thursday with a prediction. He's going to the Pro Bowl.
"Put it in the book," Jackson says. "We're going."
In just his first year of NFL action last season, Jackson shot to the top of the charts even as Dre Kirkpatrick and Darqueze Dennard had more snaps on the corner. Jackson became an off-season social media sensation as PFF combed through his season that the web site rated as the best by a cornerback in coverage. Even as Jackson prepared for his first practice of the season Thursday the site featured him, proclaiming they were truly historic numbers in a piece penned by Mark Chichester.
Chichester says Jackson's catch rate allowed per the times he was targeted is the best ever in 12 years of PFF grading. The 34.9 percent (15 catches in 43 targets) easily beat Darrelle Revis' 36.9 percent of 2009. The site also comes up with "perfect games," games in which a corner is targeted and doesn't allow a catch. Chichester says Jackson is one of 10 cornerbacks to have five perfect games in a season.
All of which hasn't impressed Jackson yet, but he appreciates the love even though it doesn't sound like he's a PFF subscriber.
"I try not to (look at PFF), but a lot of fans send it to me," Jackson says of the raves. "It's a great thing to get noticed. A lot of players probably don't get noticed here for whatever reason it is. It's good to get noticed around the league."
Even though Jackson is in a much different place than he was 365 days ago, he says he's got the same mindset. "If it's not broke, don't fix it," he says. Another reason he'll get noticed could be that he loves the aggressive style of new defensive coordinator Teryl Austin.
"Most definitely," Jackson says when asked if it's more get-after-it than last season. "He wants to go get the ball. You can't want more out of a coach that really wants you to go get the ball."
As far as the Pro Bowl, Jackson says, "It's definitely a goal. Just go out there and perfect the plays that come my way and I'll be all right."