Bengals new middle linebacker Preston Brown has been waiting all 11 days of training camp to be paired with his new tag-team partner and when Vontaze Burfict made his first appearance of summer in Monday's padded practice it was worth the wait.
"He was flying around. It's always good to have Tez back with that energy," Brown said. "He was trash talking, hitting people. It was fun."
Asked if there were any memorable one-liners, Brown laughed and said, "It's all X-rated. No PG-13 coming out of Tez."
And they can be downright filthy for an offense to deal with on first and second down. Brown, the NFL's defending tackles champion, gives Burfict what he hasn't had in a few years with a big, reliable and veteran presence in the middle.
"Preston actually picked me up today," said Burfict after a practice he told his mates he wasn't going to be his usual "Energizer Bunny," self. "There's days like that when it's somebody's first day or under the weather or something like that and somebody else has to pick them up. That's why I said we're a tight unit and Preston helped me out today. That's why I'm excited to play with him this year."
Burfict, 27, sees Brown, 25, as a long-term solution.
"I will help Preston and Preston will help me. And I'll help SAM backer) Nick (Vigil). Nick will help....you know, it's just going to be back and forth," Burfict said. "Like I said, we're both 250. Nick's the fast guy of the group. We all can scheme off of each other and guide enough plays and talk to each other and understand what's coming before it comes."
Burfict, the straw that stirs the drink of a Bengals defense he runs from WILL linebacker, was cleared Monday morning after he brought a hamstring issue into the July 26 opening of training camp.
It's unlikely he'll play in Thursday's pre-season opener against the Bears at Paul Brown Stadium (7 p.m.-Cincinnati's Channel 12), although he passed the initial gaze of his coaches. Linebackers coach Jim Haslett says Burfict needs to get into football shape, but also said he's only two pounds off his playing weight and it hasn't been discussed when or how much he'll play in the preseason as he heads into a regular season he misses the first four games because of a PEDs suspension.
"There are not too many guys that have been around that don't need a lot of reps. He's one of them," Haslett said. "He looked like Tez. He's not ready to play a game. He's seeing things and reacting. He's a good player. All that is still there. He's in better (shape) than you would think. This guy is a good player. He'll get his reps."
And Burfict wants them before Oct. 7.
"I would say it's important just to be out there with my teammates. But even when I'm not out there I'm going to be on the sideline being a coach for some of the young guys," he said. "But it is important for me to play, but I'm pretty sure the Bengals and Mr. (Mike) Brown will make sure I'm ready to go before I get out there and not hurt anything."
By the time he returns to play Pittsburgh in week five he would have played in just 28 of the 68 Bengals games since he made the 2013 Pro Bowl leading the NFL in tackles. There have been three suspensions and many injuries in that stretch, but he's thinking more about how aggressive new defensive coordinator Teryl Austin seems and he likes how the players fit.
"This is probably the best group that I've been around from vets to the rookies," Burfict said. "Everybody's paying attention, from Junior (Joseph) to Chris (Worley, from me to Nick Vigil to Preston, we're all helping each other and we're all making sure that everybody understands and we're all in there as a unit, and all love each other.
"I feel like this year a lot of guys are really get along. Everyone is talking. There are not different groups that don't hang out with each other. Everybody is honestly in the same circle and we're close this year. That will help us in the long run this year being close to each other. It won't hinder us from doing finger-pointing when somebody messes up it will be more like, 'Come on let's get it right next time.' "
Burfict doesn't call what Austin has done to the Mike Zimmer-Paul Guenther playbook a major overhaul. There are still plenty of vestiges around from the only NFL playbook he's ever known.
"He's pretty aggressive. Especially with some of the play calls he calls. I kind of like it," Burfict said. "If it's third and long he might blitz. You never know. I like him. He's aggressive and he doesn't hold nothing back.
"It's similar but different. Different terminology, different words we're using, different steps we're using, different little techniques that we're using that I think is going to benefit us in the long run. The defense is still similar and I'm kind of good breaking down a playbook once I see it. I kind of understand it. It's a scheme that we still are using and kind of the same things so I just kind of communicate what I know to the other guys and especially Preston."
Brown felt his energy Monday, but Burfict just wanted to make sure he had a feel.
"Today I didn't feel that comfortable and confident because it's my first day. I didn't want to have too many mental errors. I didn't have any today," Burfict said. "That was my thing. I wanted to come out and make sure I got everything correct, my line assignments correct and stuff like that. I think I did a great job of that other than just competing and running to the ball."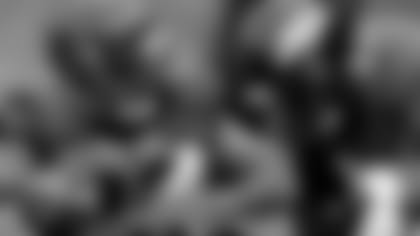 DEPTH CHART: Bengals head coach Marvin Lewis detests depth charts, but he had to put one out Monday for the pre-season opener and it featured Bobby Hart at right tackle and Trey Hopkins at right guard on the first offensive line when they kick off the preseason Thursday (7 p.m.-Cincinnati's Channel 12) against the Bears at Paul Brown Stadium. They join the already intact left side of tackle Cordy Glenn, left guard Clint Boling and rookie center Billy Price.
Slot receiver Tyler Boyd lines up opposite A.J. Green at wide receiver, ahead of John Ross and Josh Malone. Those are the two fighting to get on the field when Boyd slides into the slot. No surprises on defense. Andrew Billings is in front of Chris Baker at nose tackle, Michael Johnson ahead of Jordan Willis at right end and George Iloka ahead of rookie Jessie Bates at safety.
Hart, the former Giant with 21 NFL starts, apparently leads the derby with Cedric Ogbuehi and Jake Fisher. Hopkins, a third-year player who made his first 12 NFL starts at right guard last season, gets the nod over the second-year tandem of Alex Redmond and Christian Westerman that has two starts, both by Westerman in the last two games of last season.
Green and Boyd have clearly been the two best receivers in camp, but Boyd hasn't played outside very much and is their primary slot guy. Second-year receivers John Ross (Boyd) and Josh Malone (Green) are slated to back them up and it figures one of them is going to come off the bench when Boyd moves into the slot on passing downs. Between the two of them last season they had six catches and a TD, all by Malone.
As expected, second-year man Jordan Evans is penciled in to start in place of Vontaze Burfict Opening Day in Indy as the backup WILL linebacker.