The Bengals reported for training camp Wednesday with the routine intact. Check-in. Lunch. President Mike Brown's introductory meeting. Head coach Marvin Lewis' meeting. Positon meetings. Conditioning test. Dinner. Meetings.
But it's not all that routine. Not with two new coordinators. And a veteran in seven-year cornerback Dre Kirkpatrick welcomes the change. "I definitely feel like we need some young blood around here. People get accustomed to … same old, same old."
After getting to know defensive coordinator Teryl Austin and new secondary coach Daronte Jones in the spring, Kirkpatrick has embraced the new regime, particularly with what the 53-year-old Austin brings in his second NFL coordinator stint.
"I'm feeling the guy. I love the things he's bringing to the table right now," Kirkpatrick said. "His personality, how he approaches the game, how he handles us as players. He handles us as men. That's what it is supposed to be."
Austin coached NFL DBs for a decade before he became a coordinator four years ago, so maybe Kirkpatrick is feeling a vibe. He certainly likes the freedom Austin is giving the corners to go make a play.
"Just his swag. His aggression. I feel like we'll blitz a lot this year," Kirkpatrick said. "I feel like he's going to use a lot of calls. His personality stands out to me. The confidence he has. I'm behind him 100 percent."
Austin has been preaching to the DBs not to be afraid of making a play if jumping a route is what is dictated. But he wants them to do it in practice and not suddenly try it in a game.
"That's what I like to hear," Kirkpatrick said. "I don't like to be robots. I like to be able to play the way I play. Just free. With a little swag. But I'm not a robot. I'm going to make mistakes … the game is about instincts and what you see."
Kirkpatrick has already lost one DC to a head coaching job with Mike Zimmer heading into his fifth season in Minnesota. When he heard Austin has interviewed for a handful of them, he offered, "I hope he gets the job done here before he leaves. We definitely need that. We've got to get him in position."
Speaking of 100 percent, Kirkpatrick says he is and he can't remember the last time he was heading into a camp. Last year he arrived with a broken hand from the spring.
"Finally going into a camp not having a nick or an injury lingering over me, I'm able to go out there and just show my talent," Kirkpatrick said. "I'm heavier than I've ever been (194 pounds), feel better than I've ever been. I'm totally 100 percent healthy."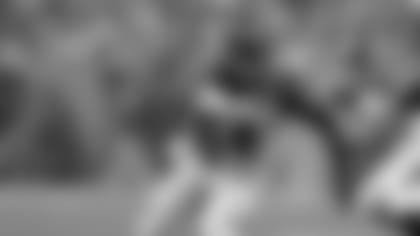 CAPTAIN CARL: One of the training camp question marks certainly isn't if right end Carl Lawson is going to be in shape. Lawson, who just missed tying Carlos Dunlap's Bengals rookie record when he had 8.5 sacks last season, is the son of a personal trainer, recovered from some serious injuries at Auburn and  has a body that looks like a statue uncovered in some Greek ruins. He arrived Wednesday clearly jacked at 266 pounds, about 10 pounds more than last camp, but about what he was last month when he said, "I felt like I had a really good spring … I still feel faster and more fluid." But his upper body looks bigger.
"That's what my dad said," Lawson said.
After playing 16 NFL games for the first time, he changed up his regimen. Last offseason he focused on being fluid and didn't worry too much about strength.
"I was in the weight room a lot more," Lawson said. "I make sure I do legs twice a week and some explosive movement. I cut out the long distance running … (I did) change of direction. Explosion. Short area quickness. You really don't need that stuff for football. You may need a little bit of it, but I cut out a lot of it. I feel I'm a better athlete. More powerful, quicker and bigger."
It looks like you can forget about the collateral buzz about Lawson playing some linebacker. He hasn't done it here since the last training camp and it sounds like that's where Lawson would like to keep it.
"I'll do what they want me to do. I just want to get on the field more and impose my will," Lawson said. "I'm a defensive end. In the base, nickel or whatever sub package. I feel like I'm an effective defensive end in a 4-3 on the edge."
SLANTS AND SCREENS: Sophomore wide receiver John Ross dropped the names of two way-back Bengals receiving legends Wednesday. T.J. Houshmandzadeh, the club's No. 3 receiver all-time, and all-time leader Chad Johnson. He was reminded of Johnson's advice to kids who found themselves getting beat often. "It builds character," which is what he was telling the kids at his camp that wanted to race the 40-yard maven. When Ross started up the drills and he was beating them, he says the kids stopped asking for a race.
Ross began working out with Houshmandzadeh in April and he resumed the workouts for 3.5 weeks three times a week in Long Beach or Downey, Calif.
"T.J. is good for the mind, body and soul," Ross said. "I hope it carries over. We worked on everything for a wide receiver. The big thing he told me is just be confident and play the game the way you know how to play it."
Which is how Ross thinks he looked in the spring for the first time as a pro. He shakes his head when he looks back to where he was a year ago. He was just getting over his shoulder surgery and was still ten days away from getting on the field for the first time.
"Relax and play the game I'm used to playing," he said. "Mentally that was the biggest challenge for me last year. I was hurt physically. When one thing went wrong, six things went wrong. There was so much more than just making a mistake on the field, there were so many other things going on it beat me up mentally." …
Strength and conditioning coach Chip Morton tries to walk a line when he puts them through the first drill of the summer in the conditioning test that decides who is fit to practice. He builds it like a 10-play drive creating speeds they'll experience in practice.
"But it can't be a death march where it takes them out of practice the next day or two," Morton says …