The Bengals open head coach Marvin Lewis' 16th training camp Thursday (3-5 p.m.) on the Paul Brown Stadium practice fields and here are the five positions to keep an eye on during the dozen public practices that end Aug. 11. No surprise that the two leading positions are on an offensive line that struggled during the team's dead-last finish in NFL offense during a season the Bengals suffered through their worst rushing season in history.
RIGHT TACKLE: With new offensive line coach Frank Pollack calling the shots, the Bengals' top two picks from 2015 try to reverse their fortunes in front of a new set of eyes. Drafted as a left tackle, first-rounder Cedric Ogbuehi tries the right side for the second time in Cincinnati and during the spring under Pollack he looks to be having a better result than his 2016 benching after 11 games. Second-rounder Jake Fisher is also in the mix after last season's irregular heartbeat sidelined him for the second half of the season and former Giant Bobby Hart's 21 NFL starts have them both beat for experience.
The spot hasn't been settled since they opted to let Andre Smith go after the 2015 season and the closest they came is when Smith returned last season and played the second half of the year after Fisher's diagnosis. Fisher had a procedure in November and was cleared for spring ball but a shoulder injury limited him. While Hart spent the spring adjusting, Ogbuehi seemed to undergo a revival under Pollack even after the Bengals supplanted him at left tackle with the Cordy Glenn trade.
"He's gifted athletically. He's got great length and he took to the teaching of the technique," Pollack said last month on the final day of the spring workouts. "He was working hard and he's really talented with his athletic ability and we have to play to that. He's got to get on guys quicker and play longer and have more confidence in himself and what we're teaching him. He gradually got that. He's got a good platform to build on for training camp. He looks very comfortable (at both left and right). If you're not a solidified starter, you have to play the multiple spots no matter how uncomfortable it is."
It looks like anyone's spot right now.
RIGHT GUARD: Incumbent Trey Hopkins, rated 48 out of 80 NFL guards by profootballfocus.com, faces a formidable challenge from youngsters Alex Redmond and Christian Westerman, camp roommates and prospects that have been rated highly internally since 2016 when they drafted Westerman in the fifth round out of Arizona State and a few hours later signed Redmond out of UCLA.
Westerman started the last two games last season at left guard in his first NFL appearances when Clint Boling had to play tackle, but rotated with Redmond in his fourth and fifth NFL games. Both showed their strengths. Westerman knows what to do and is powerful, while Redmond has a terrific nasty and tenacious temperament and throws people around while not backing down.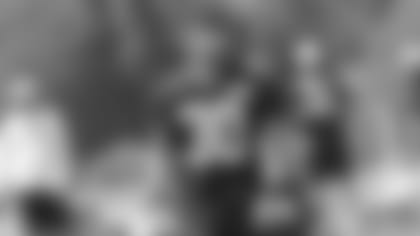 SAFETY: One of the first things new defensive coordinator Teryl Austin did when he arrived is interview veteran free-agent center-fielders in an effort to reverse a trend that saw the Bengals finish with the second fewest turnovers in the NFL and second fewest interceptions under Lewis. So it was hard to be surprised when the Bengals took Wake Forest safety Jessie Bates in the second round, regarded by some as the draft's best center-fielder.
During the spring when starter Shawn Williams rested his nagging hamstring injury, Bates showed what he showed in college. Athletic, fast and picks it up quickly. The questions now are if he's going to be physical enough with the pads on and if he is if they're going to give him enough snaps to make a run at a starting spot.
No. 2 WIDE RECEIVER: They love what nine-year veteran Brandon LaFell brings to the room and to the team and you've got to feel they'll have him back. But at age 31 and with the head coach prioritizing the deep passing game, in what role? As the No. 2 receiver as he's been for the past two seasons? Or does third-year slot receiver Tyler Boyd, coming off an excellent spring, push for those snaps on the outside? And isn't it time for two 2017 draft picks with speed to burn, first-rounder John Ross and fourth-rounder Josh Malone, to become big-play factors?
The derby opposite A.J. Green has a little bit of everything with the fallen Ross trying to show his 4.2 worth, the hardscrabble Boyd trying to show he's more than a third-down weapon, the fleet (4.4), tall (6-2) Malone trying to build off last season's one TD in six catches, and the professional LaFell trying to fend them all off.
NOSE TACKLE: The second season of the post-Peko era finds the Bengals still grappling for a man in the middle. No wonder Austin makes the rush defense his top priority for improvement. In the 11 games after the bye they gave up at least 149 yards on the ground five times and at least 118 eight times. Some of that gets into the Bengals' inability to make a first down, but that first and second down problem next to Geno Atkins needs to get fixed.
Pat Sims is gone, replaced by another veteran Chris Baker, 30, looking to revive his career that was taking off in Washington when Jim Haslett was his defensive coordinator and Jacob Burney was his line coach. Even when they left, it was only in 2016 Baker was rated the sixth best 3-4 end in the game by PFF. It imploded last season when he got a big free-agent deal in Tampa (he fell to 65th in PFF's rankings for 4-3 tackles) but he is now reunited with Burney, in the same job here, and with Haslett, the Bengals linebackers coach.
Baker is in the classic training camp vet-kid duel with 2016 fourth-rounder Andrew Billings, struggling since he burst on the scene with a great spring as a rookie. But Billings hasn't been right since a knee injury in the second week of that camp wiped out his rookie year. Last year he was fighting weight more than gaps and he was rated 10 rungs lower than Baker in PFF's rankings, 75 out of 79 D-Tackles in a 4-3.
There's also an intriguing third candidate in Josh Tupou, a monstrous 350-pounder undrafted last year out of Colorado who showed flashes of real man strength last preseason. He made his debut in Tennessee midway through the season, but they never played him again after he took 19 snaps in a game the Titans rushed for 180 yards. But that was also a game the defense was on the field for 40 minutes.
Fifth-rounder Andrew Brown had an impressive spring and looks like he'll make a run at a roster spot. But at 6-3, 300 pounds, he's not ideal for the middle, but keep an eye on him anyway.