Carl Lawson is showing his intensity.
PLAYER OF THE DAY: Bengals head coach Marvin Lewis called it Thursday a few hours before practice. Carl Lawson, the Bengals' explosive rookie pass rusher who has been as exciting on defense as rookie running back Joe Mixon on offense, is going to be unleashed.
And unleashed Lawson was Thursday as the up-tempo-all-the-time Auburn product got into two dustups with an offensive line frustrated with dealing with his all-out intensity and full-pad Sunday speed in a shoulder pad practice. He threw a punch at towering first-year guard Alex Redmond and later he and veteran center Russell Bodine ripped off the other's helmet.
Head coach Marvin Lewis screamed at him both times about not fighting. But, believe it. No one at Paul Brown Stadium is down on Lawson after a day he proved he's got the stuff in his neck to match his talent.
"I need not to slow down. I just have to know when to let up," Lawson said. "One time it was their fault. The second time was my fault. Show the veterans a little more respect. I shouldn't be fighting. Coach Lewis said there's no need to fight."
But here's why Lawson is scrapping like a street free agent. He counts 20 pass rushers drafted ahead of him in April before the Bengals took him in the fourth round. Injuries limited him to 20 starts, but he's still furious.
"I felt like I got totally disrespected in the draft," Lawson said. "I watch everyone else. I know how  good I was. Even as better as I've gotten, there's still no reason I feel … a player … should have got drafted over me. My whole career and time God blesses with me I'm going to go out there and try to prove it. About 20 people drafted ahead of me were pass rushers. You've got to feel disrespected. If you don't then that means you don't really have pride as a football player."
Lewis thinks he's all player. He thinks so much of him he thinks he can also play linebacker as well as rush off the edg. Even before practice he was talking about Lawson toning it down.
 "The difficult thing about Carl is that he's a million miles an hour. He needs to understand how we have to continually practice here. He's going to get unleashed. That's what I told him again in the team meeting," Lewis said. "It's a hard thing. He's trying to be impressive. Well, he's impressed me enough."
 He loves the way Lawson and third-rounder Jordan Willis, the relentless defensive end from Kansas State taken in the third round, go after the game and try to stick to the rules of the defense.  Lewis  joked he'd like them to incorporate some of the free-wheeling elements of Pro Bowl left end Carlos Dunlap's game.
  "He's doing a great job. It's funny, he and Jordan Willis are conscientious in the same way. They don't ever want to be wrong," Lewis said. "I keep telling them, 'Give me a little of Dunlap. A little Carlos. Just a pinch, and you'll be fine.' Because you have to be reckless to play this game on defense effectively. You have to have a little bit of that, because on defense, if you think you're going to coach this game based on numbers, you're going to get your butt beat."
PLAY OF THE DAY:  Bengals quarterback Andy Dalton didn't have the greatest of days in team passing from all over the field in a camp he's usually been deadly accurate. Instead Thursday, he was streaky. Hoarding the numbers from the Voice of the Bengals Dan Hoard, Dalton was just 14 of 22 and at one point late in practice missed six of seven.
But tight  and  Tyler Eifert made a great catch off of one of Dalton's red-zone throws. As Eifert ran to the corner against the first defense, Dalton threw one just a bit too high and wide of Eifert running flag route to the corner of the end zone. Eifert leaped and with one hand tapped it back to himself and he cradled it in as he landed on the ground.
QUOTE OF THE DAY: Carl Lawson on his draft status: "About 20 people drafted ahead of me were pass rushers. You've got to feel disrespected. If you don't then that means you don't really have pride as a football player."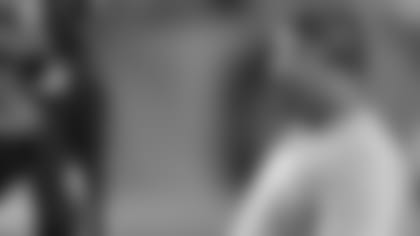 Paul Alexander: looking for a combo.
SLANTS AND SCREENS: Mixon left Thursday's practice with a bruised heel, but said he could have returned.
"I was going to go back in but they told me to shut it down," said Mixon, who is the top rookie crowd pleaser of this camp. "I'm OK, though." ….
Right guard-tackle Andre Smith returned Thursday after leaving Tuesday's practice with an elbow issue … Right end Michael Johnson (foot) returned for the first time since the first day … Center-guard T.J. Johnson (groin) was on the sidelines for the second straight day …
Offensive line coach Paul Alexander continues to play musical chairs up front when he re-shuffled his first unit a few times Thursday.
"Until we get five guys that establish themselves," said Alexander of when he'll settle on five. "See what we got.
"I prefer five guys when five guys earn a spot."
But he's actually very pleased with how the line has played.
 "We've actually done pretty well," Alexander said. "Today we ran team pass they got the quarterback maybe one time. It was great. Short yardage (and) goal line yesterday was good.
"It's a competitive camp. I love it. Everyone is fighting for jobs. It's great. The way football should be … They're building the right attitude."
 With a crew of NFL officials working the practice (one was Buddy Horton who made one of the key calls at the end of the '15 Wild Card Game), kickers Randy Bullock and Jake Elliott each hit their two field goals from 38 yards as the Bengals worked on hurrying the field goal team on the field as the play clock wound down.
Cincinnati Bengals host Training Camp at Paul Brown Stadium Practice Fields 8/3/2017