Go Go Gio right out of the gate on the first day of training camp.
The Bengals opened training camp in a Friday afternoon practice before an estimated crowd of 1,300 that became the Giovani Bernard Show from the moment head strength coach Chip Morton asked him to break the huddle to start the first workout.
"Probably didn't seem like that much of a thing, but for me to be able to come back and do that meant the world to me," said Bernard after practice, a vow completed and an immaculate rehab accomplished  just eight months after he underwent reconstructive surgery on his left knee to repair a torn ACL.
ACL? What ACL? Without a brace and jump-cutting like he never left, Bernard joked, "I've got two bionic knees now," referring to the right knee that underwent the same procedure while he was in college at North Carolina.
The always classy Bernard couldn't resist a good-natured swipe at a media member that had guessed back in the spring that his first game back might be the third week in Green Bay. He and Nick Cosgray, the Bengals director of rehab, had the final say.
"Third game, huh?" Bernard said with a smile.
"This is my second go-around. But I understood the process, I understood you just kind of stay the course and trust the training staff," Bernard said. "Nick Cosgray did an amazing job. Me and him every single day going back and forth. We obviously got sick and tired of each other but it was one of those things he always had the best interest for me and always did the extra thing and just really helped me through this entire process. "
"Everyone always asks me, 'How did it feel?' and I say, 'How did it look?' That was just my thing, if I look good, then it was good," Bernard said.
On his third carry in 11-on-11, a classic Gio juke through the middle, the defense on the sideline burst out in unison, "He's ba---aaack. He's baa-aack." Count running back coach Kyle Caskey as one of the fired up who thought it looked good.
"He's really been way ahead of his rehab schedule," Caskey said. "The stuff that we've seen him do since we've been back since April has been far beyond what I personally expected and what a lot of us expected … "If anybody can do it it's going to be him. I think anybody's that watched our program had no doubt."
Caskey used him Thursday more than he wanted with three backs (Cedric Peerman, Boom Williams, and Jarveon Williams) down with injury
"You always have to pump the brakes a little bit with Gio. He's one of the most competitive, fierce people on this team," Caskey said. "He doesn't want to lose out to anybody. He knows what his role is, but he also knows that he can be a major playmaker in this league and he wants to be that. I don't think having these other guys around really made that much of a difference, but there was some tapping the break a little bit to say, 'Hey, it's the first day let's do what we got to do and get yourself ready.' He did a good job of that."
PLAYER OF THE DAY: Bernard, of course. He was superb running and catching and was a demon in the drills. And the reaction of his teammates and coaches tell you exactly how much they think of him.
PLAY OF THE DAY: On third-and-three cornerback William Jackson flashed his ability to break on the ball when he sat on an out route and stepped in front of an Andy Dalton pass for a pick-six. Not bad for a guy also making a comeback from an injury. It was Jackson's first practice in a year and while he admitted he was rusty ("A little," _ he missed two other picks), he was all over that one. The defensive backs could only play one coverage Thursday (off man) since press wasn't allowed.
 "It's just normal football. Third and three, I'm pretty sure they're not going deep every time," Jackson said. "I just kind of sat on it a little, read my key, and made the play. It's great to actually be competing and catch a pick rather than working out and catching it."
It was a good comeback. Earlier in the practice he got beat deep down the middle by wide receiver Jake Kumerow, used his great recovery speed to catch up, and turned the play into a jump ball that Kumerow made a very nice catch.
"It was one of those things where I didn't get out of my backpedal fast enough. I underestimated his speed," Jackson said. "I did not know how fast he was. I caught  up to him at the end, but he made a play ... I thought I had it. He just made a great play on it.
QUOTE OF THE DAY: Bernard on politely declining interviews during his rehab: "I think a lot of guys, during their whole entire rehab; it's almost as if they felt lost because of media or whatever. I just completely shut it out. And just for me, it's not about, I don't want to talk to you guys or I don't want to do this or I don't want anybody to know, I was just so focused on getting back on the field. Now I'm back here and I just wanted to be a guy that was on the field doing interviews, not a guy that was hurt doing interviews."
SLANTS AND SCREENS: After making that superb leaping catch against Jackson, Kumerow left a few plays later on a cart with ice on his ankle ... Boom Williams cramped up early in practice and couldn't go ... Peerman and Jarveon Williams figure to miss a few more days ... The Bengals didn't start their kicking competition Friday ...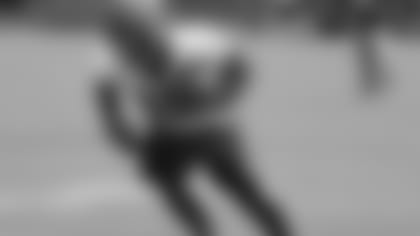 John Ross, who has yet to be cleared for contact, made his debut Friday.
ROSS HEARS IT:  First-round pick John Ross has been cleared for non-contact work, which made Friday his Bengals debut running against air in individuals and catching punts. Ross, who underwent shoulder surgery in the offseason, not only couldn't practice but he couldn't attend spring ball until after his June 10 graduation from the University of Washington. Which meant he was only around for the three days of rookie minicamp and the three days of the mandatory minicamp. He stayed around for a week after the mandatory and came into town last week to get settled with the non-football stuff.
But rust is rust. He dropped a slant, dropped a punt, and let a punt go over his head.
"I wouldn't say rusty, but I definitely have to get my feet back under me," Ross said. "It's going to take some time for me to get back into football shape. It won't be long. It feels great to be back first day."
At this point you need a crusty old sportswriter to put down his bourbon, curl his lips, and bark, "Welcome to the big time, kid."  After he dropped the pass a fan got on him pretty good.
"No excuses and it was kind of funny to hear it. It's unacceptable (to drop it), but I'll get it right," Ross said. "I'm used to that, not so much dropping a ball and hearing it, but just hearing the fans, because we'd have open days at camp (at Washington). I've heard it before, but to hear it day one I've never heard it before, but it was funny. "
Ross, author of the NFL scouting combine's fastest 40-yard dash ever, said those golden legs made it through the first one.
"Yeah, that surprised me," Ross said. "All the walkthroughs and jogthroughs, my legs feel good. I don't know if it's because it's day one. Ask me tomorrow. My legs don't feel heavy. I thought I'd have heavy legs and feel worse, but I actually feel really good."
One thing you have to say about Ross is that he's been very mature about this. He knows that he and Andy Dalton aren't going to click right away and look like say, well, A.J. Green and Andy Dalton.
"This is day one. I've got to know him before, which is good. I think it's a process," Ross said. "It's not going to be today. It's not going to be tomorrow. It's going to be over time. Even down the line in the season it could be week 10 and we could still be figuring things out. I think it's a process."
So Ross stayed true to the process in his first practice and didn't overdo it despite the adrenaline.
"I was told in college you want to be ready for week one and not day one. You don't want to win training camp," he said.
Cincinnati Bengals host Training Camp at Paul Brown stadium Practice Fields 7/28/2017