Takeo Spikes, one of the best linebackers the Bengals ever had, is glad Vontaze Burfict did what he couldn't. Wear a Bengals helmet at the Pro Bowl.
Has it been that long since linebacker Takeo Spikes came back to Paul Brown Stadium and returned an interception 62 yards for a touchdown in the Bills' 33-17 victory over the Bengals in December of 2004?
Spikes, 37, a full-fledged media member as Sirius Radio analyst, returned for Thursday's practice to get the lowdown on his old team as he heads into his second year of retirement.
He came in already impressed with three guys, his Pro Bowl linebacker descendant Vontaze Burfict and new coaches Hue Jackson and Vance Joseph.
Spikes made the Pro Bowl twice in his 15-year career that began when the Bengals took him with the 13th pick in the 1998 draft. How long ago? Bengals SAM linebacker Emmanuel Lamur was eight and when he was introduced to Spikes Thursday he said, "I know him. I looked up to him. You and Derrick Brooks."
But Spikes  didn't make the Pro Bowl until the two seasons after he left Cincinnati as a free agent in 2003, the year head coach Marvin Lewis arrived.
"Let's be honest. Cincinnati is not like a real big media market," Spikes said before practice. "It was the same way when I was here. People who knew football knew I was one of the top linebackers in the game. But because we never won …. But because they're winning now, that 's the reason he got his Pro Bowl berth last year."
Spikes says it was well deserved, calling Burfict a top five to seven linebacker.
"What's impressive to me is I didn't know he was that big. He's explosive, he's powerful.  He's kind of Johnny On The Spot. He's always around the ball," Spikes said. He's a stat-sheet stuffer. He's going to field everything in and I like that about him."
Spikes says Joseph, the Bengals cornerbacks coach, is going to be a coordinator in the nexthree years. They hooked up when Spikes was in san Franciso for three years. "Book it. Attention to detail. The guy's a teacher," Spikes said. "His philosophy is I'm going to tell you why.' As players, even as kids, you can tell your kids what do to but they walk away always thinking: Why? Why can't I do that?'
That's the reason they probably end up doing it anyway because they don't know why. Vance takes the approach: I'm going to teach you why and teach you the process of elimination and when you do that as a coach, the player responds in a big way.'
He's also a big fan of offensive coordinator Hue Jackson. Spikes went against Jackson's mind plenty and he came away impressed with how Jackson would keep him off-balanced running the same plays out of different formations.
Spikes says Jackson is so innovative and aggressive the offense is going to mirror the defensive side of the ball.
"I see the entire mentality change in what they do and I think that comes with Hue Jackson as the leader, his mentality," Spikes said. "I had the opportunity to play against him several years. Very innovative. I look forward to seeing what he's going to do. I tried to get it out of him, but he wouldn't tell me.
"But it's OK, I remember what I played against. I expect to see a lot of uptempo, accountability. He does not care who you are, he's going to call you out _ not in a bad way but constructive criticism to where he's going to get everybody right. I think that's what separates coaches from being teachers."
Spikes always had a great feel for a locker room where ever he was and he quickly showed how that's going to help him in his new field. He was here but two hours and picked up the theme of camp.
"To me a lot of the guys are pissed the way that last year ended and I haven't even been digging into them. That's the feel that I get just from being around. And they're out to prove a point," Spikes said. "It just felt like it was unfinished business. I'll have something better for you at the end of it, because I'm going to dig into that more. That's what I feel. They're out to do it."
He says he's excited and that's when you know.
"Yeah, I've always been a Bengal at heart. Always," he said. "It's a part of me. It's what started it out."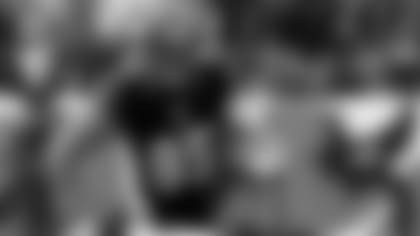 PLAYER OF THE DAY:  Tight end Tyler Eifert thought for a second, then agreed. Thursday's practice did feel a little bit like those days at Notre Dame two years ago when he was the most feared tight end in the country. Quarterback Andy Dalton, virtually seamless in the last two 11-on-11 drills at the Paul Brown Stadium practice fields, found him a total of four times deep down the seam.
One came in the one-minute drill when he fried the linebacker level and the other three in those final two crisp team drills as Dalton finished 16 of 19 passing on the day before about 1,100 fans, according to Dan "Elias," Hoard in his daily training camp report.
Eifert, who caught 39 balls and two touchdowns, last year as a rookie, admits this camp has been a blast. But not because he's getting the snaps belonging to starter Jermaine Gresham, out with a back issue.
"We're looking forward to Jermaine coming back," Eifert said. "They were kind of moving people around and it's hard for the defense to match up. Camp has been a lot of fun. We're spreading the ball around doing a little bit of everything. I'm having fun with it."
With Eifert putting his enormous skills on display, the Bengals showed how dangerous they can be. Working mainly out of a regular two-receiver set in the final team stuff, Eifert was as good as a third receiver deep as the first-team defense struggled to match up.
"We got good looks and we were taking advantage," Dalton said. "He's got a lot of talent. He's one of our many playmakers.  They were covering other guys. People have to make decisions that they're going to cover."
PLAY OF THE DAY: With head coach Marvin Lewis apparently gearing up for some live action Friday on the PBS practice fields in a 6 p.m. practice, much of the day was devoted to special teams coordinator Darrin Simmons. And for Simmons it was more playbook work than physical stuff. It was noted that $10.5 million man A.J. Green was on the hands team for an on-side kick.
 "That's the play to win the game. It's critical," Simmons said. "You make that play, you win the game. If you don't make that play, you might lose the game."
QUOTE OF THE DAY:  Simmons indicated the Bengals may have some live periods Friday in all three phases. Special teams won't be taking returners or blockers to the ground but they will be running. Simmons is pumping up Friday to his players, the last live work before Thursday's pre-season opener in Kansas City (6 p.m.-Cincinnati's Channel 12), and this is why he says practice has to be weighed along with the preseason games:
"I've got guys stacked on top of guys on top of guys on top of guys at every position. I've got 90 guys potentially to deal with. For me to put them in a game, I have to feel comfortable. They have to show it in practice. I'd guess if they can't do it in practice, what makes you think they can do it in a game? We have too much to risk.  I have a punter, I have a kicker, I have returners back there. I'm not going to risk them. If you didn't trust a left tackle, are you going to put him there when Dalton's in the game? Hell no."
KEEP AN EYE ON: Rookie free agent fullback/tight end Ryan Hewitt is starting to make some noise. On Wednesday he held on to a ball over the middle despite having his mouthpiece knocked out by WILL linebacker Vontaze Burfict. Then on Wednesday and Thursday he took some snaps at fullback with the first team. Rookie fullback Nikita Whitlock looks to have a dinged-up foot.
Also on Thursday Simmons said Hewitt is one of the guys whom have been impressive, not only from a physical standpoint but from the playbook part of special teams. You can put rookie wide receiver James Wright and fourth-year cornerback R.J. Stanford in that category on teams, too.
TEZ TIME: If the Bengals are hitting anywhere, anytime, keep an eye on Pro Bowl linebacker Vontaze Burfict Friday. It's always a treat.  
Burfict said Marvin Lewis said something to him about his hit on Hewitt, but there was no backing down.
"If he comes around the middle, it's not going to be easy," Burfict said.
He also had some advice for wide receiver A.J. Green after Green tried to break up a fight Wednesday and got punched by Lamur.
"I just told A.J., don't break it up too early," Burfict said. "Let the fight go down for a little bit, then come break it up."
He literally can feel Jackson's get-physical mantra making an impact on the offense.
"They're more physical. I'm a little sorer now this year," Burfict said. "Hue gives them a lot confidence. Hue has a little mouth to him. He even has Andy talking a little bit now. Hue is rubbing off on them. He's a great coach and he's building a great offense."
ESPN reported Thursday that Burfict's contract talks with the Bengals have reached "an impasse."  That's surprising since two months ago Fox reported significant progress, indicating the Bengals have some significant money on the table. Burfict, a Pro Bowler and the NFL's leading tackler, is slated to make the minimum for the third straight year. If they don't get a deal, he becomes a restricted free agent after this season, when the Bengals figure to give him a first-round tender. But the Bengals are hoping to wrap up something long term.
MORE SPIKES:  Spikes was also raving about how well the Bengals have drafted lately and indicated their poor drafts when he was with them for five years at the turn of the century is a reason he wanted to leave even though it's believed that Bengals president Mike Brown wanted to match the Bills' offer sheet.
"I just knew Mike Brown, and I felt like Mike was going run it, which he still has. What I did not know was that to in order to relinquish some control, he had to have a trust factor. And I give Marvin a lot of credit for that because he came in and built that trust factor up with Mike," Spikes said. "And now you start to see – not just now, but even back in '05, he gave a little control and more and more and more. So when I look at the roster, the roster's built not with what Mel Kiper says, not with what Mike Mayock says. It's built with football players that I've seen on tape. That's what I like about this roster. There's a bunch of players on this that are impressive."
SLANTS AND SCREENS:  Cornerback Dre Kirkpatrick (hamstring) was back while cornerback Leon Hall (Achilles) had a rest day…
With the first two left guards resting their knees Thursday (Clint Boling and Mike Pollak), rookie college free agent Trey Hopkins became Dalton's third left guard of camp. If there is any semblance to Thursday's line next Thursday in Kansas City, Dalton may play just one series. There were two rookies (Hopkins and center Russell Bodine) and two backup tackles (Marshall Newhouse on the left, Will Svitek playing right) with starting right guard Kevin Zeitler.
Right tackle Andre Smith is in the concussion protocol and left tackle Andrew Whitworth is resting a strained calf from the conditioning test. But Smith, Boling and Pollak figure to be able to go against the Chiefs…..