PLAYER OF THE DAY: Wide receiver Alex Erickson
After Saturday's practice we are standing next to Erickson at the jugs machine and at the behest of the men manning the machine, equipment managers Sam Staley and Mitch Bischoff, they shoot balls to Erickson while he conducts an interview with a reporter. Easy pickings. In a 30-catch interview session, he doesn't drop one as Staley fires it from 10 yards away. Turn to the left. Tick. Turn to the right. Tack. Thwack. No thumps and thuds with soft hands.
No drops and that's been the early theme of this camp. The young receivers that have to step up in order for this team to advance have done that. On the first day it was Tyler Boyd and John Ross showing their wares. Friday it was rookie Auden Tate and sophomore speedster Josh Malone catching everything that moved. On Saturday, in front of the biggest crowd of camp at an estimated 1,500, third-year man Alex Erickson showed why he's such a tough cut. Not only is he their top returner for both kicks and punts, but he's another guy that doesn't let a pin drop. He caught a long one as well as several over the middle working out of the slot. Nothing glitzy. Just catches.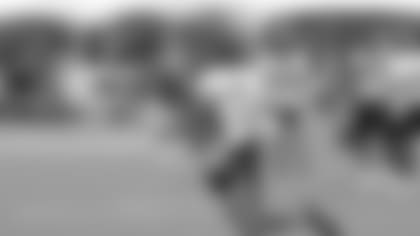 (Tate had his daily obligatory wow catch Saturday. With cornerback Dre Kirkpatrick draped on him in one-on-one, the 6-5, 228-pound Tate just muscled it away from with his humongous hands. Kirkpatrick then high-fived him with one of those hands.)
"We know the talent we have in the room," said Erickson, in between ticks and tacks. "It's one thing to be talented on paper. It's up to us to go out and do it. We try to be tone setters and set the tone for every practice."
That's what Erickson did early on in Saturday's practice when he attacked quarters coverage as backup quarterback Matt Barkley aired out a bomb. Erickson knifed in the air between a pair of rookies in safety Jessie Bates and cornerback Darius Phillips and hung on as he came down through the maze.
As first-year receivers coach Bob Bicknell searches for depth on the outside behind A.J. Green and Brandon LaFell, he's got two sophomores in Ross and Malone that have combined for six NFL catches. A veteran of a decade of NFL coaching, Bicknell thinks it's the deepest group he's had. But …
"It's one of the youngest," Bicknell said. "I think it takes three years for a receiver and we've got one guy (Boyd) right here and then after that two, three, four, five, six aren't there yet. Great group. A lot of talent and they want to do well. Have to keep going."
The 6-3, 208-pound Malone, one of the three fourth-rounders from 2017, has opened eyes with that length and 4.4 speed. Bicknell is impressed by what he's done since camp started after missing some time in the spring with nagging nicks and says Malone has made the biggest improvement of his group.
"He's really flashed in the first three days," Bicknell said. "He's got really good speed. He's got good hands. He needs some confidence some times. He's learning to be more physical and working off defenders better and I think that will help him. He's a guy that can really run and he knows how to get open and make plays. He just has to be more consistent and keep learning the playbook."
These guys were well-coached by James Urban last season before moved on to Baltimore as the quarterbacks coach. But so far the receivers have clicked with Bicknell, a guy that brings a different look as a salty New Englander. Ross likes the energy he brings.
"He's big on the release part of it," Erickson said. "Being active on the release off the line. That's a big component for him. Getting the DB's hands off you so can get speed downfield."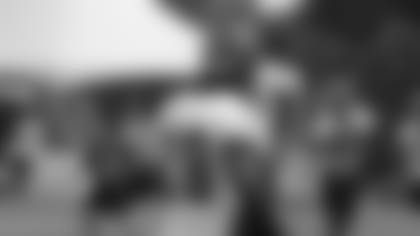 Bicknell thinks having A.J. Green is a huge factor as the leader because the habits of a seven-time Pro Bowler get noticed by the rest.
"I've never seen anyone like him. Not to downgrade guys I've had. But he's special," Bicknell said. "The guy does everything right, everything well and the other guys see a guy as talented and as accomplished as that doing it right."
PLAY OF THE DAY: Don't let it get lost. Quarterback Andy Dalton's swing pass in the flat was basically only a check-down and the defense screwed it up so badly that that the nearest people to running back Joe Mixon were the Bengals radio broadcast team of Dan Hoard and Dave Lapham. But as Mixon wooshed by at a rather rapid rate for a man 218 pounds, Hoard duly noted that can cause problems for a defense. And Lapham pointed to Mixon's final season at Oklahoma he caught 37 balls for 537 yards and had five touchdowns. Translation: keep watching the flat for Mixon.
QUOTE OF THE DAY: "I'm not going to be the most hyped guy. I'm not going to be the most talked about guy. I'm just trying to be consistent every single day. Be a guy that I can be counted on, relied on. Bring that intensity every single day of practice and just keep doing it over and over again." _ Bengals wide receiver Alex Erickson on being Alex Erickson.
SLANTS AND SCREENS: Cornerback Tony McRae, making a serious roster run, surfaced in a boot. That looks like a sprained ankle that takes him out about three to four weeks ... Rookie guard Rod Taylor suffered an ACL tear on the first day ... He would have competed for the starting spot at right guard. One of the guys that is, Christian Westerman, returned Saturday after missing the first two days with a virus ...
Offensive line coach Frank Pollack continues to rotate guys even between drills as he seeks to find that right guard and right tackle. In one team drill quarterback Andy Dalton was working with Trey Hopkins at right guard and Bobby Hart at right tackle. Then in the next team drill he had Alex Redmond at right guard and Jake Fisher at right tackle ...
Rookie center Billy Price is doing it trial by fire. On Saturday he had one play where everybody moved, but he didn't snap it. Redmond also had a false start. But most everyone feels the line is reacting well to Pollack's new techniques and looks a lot different than last year ...
Rookie wide receiver Jared Murphy of Miami of Ohio was mowing lawns and working out a week ago. The Bengals had tried him out early last week, but he didn't get the call until Thursday morning when he was back home in Fort Wayne, Ind. But he did learn from when the Bengals called him late for a May rookie minicamp tryout to keep a packed bag of clothes in his car ...
The first day of pads yielded some hitting in the half-line drill. Yes, defensive tackle Geno Atkins is really good. He moved two guys on one snap ... Rookie defensive tackle Andrew Brown shows some pop ... With his 20-plus NFL starts, Hart looks to be using his experience to show well in the right tackle competition. He's got smooth feet and he knows how to use those long arms ...
When Green dropped a rare pass over the middle, press box wag Hoard observed that happens once an eclipse. But when he dropped another easy one in the bread basket over the middle within the half hour, the wags had to change it to Halley's Comet. Naturally, Green rebounded with what may have been the two best catches of the day. One was a jump ball in a crowd the DBs wanted offensive pass interference. The other was a lovely back-shoulder throw from Dalton where Green left two safeties stranded before doing his vintage toe tap to stay in ...