Wide receiver James Wright got back into it Monday after 20 months on the shelf.
PLAYER OF THE DAY: OLB Marquis Flowers
The public couldn't see the Bengals' first day in full pads Monday because after a storm blew through downtown Cincinnati head coach Marvin Lewis opted not to tear up the grass practice fields and moved the workout to the Paul Brown Stadium synthetic game field.
There wasn't a lot of action as Lewis eased his men into the full gear. They did hold a seven-minute half-line drill that was live, pitting three offensive linemen against three defensive linemen backed up by two linebackers chasing a running play.
Third-year linebacker Marquis Flowers, who missed all last season with a shoulder injury, flexed his muscles by coming downhill into the fray during the half-line. The 6-3, 250-pound Flowers, who played in every game after the Bengals took him in the sixth round of the 2014 draft out of Arizona, is here because of his speed and athleticism, and he flashed them Monday.
He showed good coverage against the running backs in one-on-one coverage drills (he didn't let the slippery Rex Burkhead get away from him on one snap) and picked off a ball late in practice when he dropped into his zone in the middle of the field, read the eyes of rookie quarterback  Joe Licata, stepped in front of tight end John Peters and took it the other way.
But, as Flowers says, "there's nothing wrong with being physical and athletic … I'd like to be known for being physical, too."
He was in the half-line, where he filled aggressively and even though tackling running backs is prohibited, Flowers filled and shed his block fast enough to run into rookie running back Tra Carson and drop him in his tracks.
Defensive coordinator Paul Guenther is hoping Monday gets Flowers going on a string of solid play. He got on Flowers pretty good after one snap he let his receiver get open late in an Andy Dalton scramble.
"His big thing is being consistent," Guenther said. "Not having two good plays and one bad, and his sense of  urgency.
"We got Andy sacked. He scrambled out of the pocket and hits (Flowers') guy. He just has to do the little things better. It might have been a sack in the game, but we still need more sense of urgency."
Linebackers is as competitive as any spot on the team. The suspended Vontaze Burfict won't be on the roster for the 53-man cut down, but veterans Rey Maualuga, Vincent Rey, Karlos Dansby and P.J. Dawson, as well as rookie Nick Vigil, will be. The Bengals could keep seven linebackers and with guys like Trevor Roach  and Jayson DiManche in the mix, guys who, like Flowers have played in post-season games for the Bengals, it's going to come down to the little things.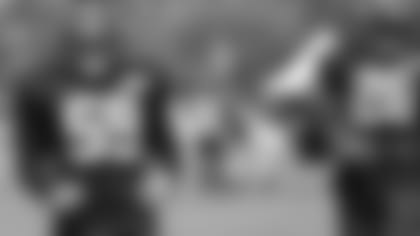 Third-rounder Nick Vigil had a good day in coverage on Monday.
PLAY OF THE DAY: CB-S Josh Shaw
It was fitting the Play of the Day came courtesy of the rain that drove them into PBS. Rookie wide receiver Tyler Boyd slipped on the turf in 11-on-11 and Shaw was where he was supposed to be. In the post. He took a few steps into the vacancy left by the fallen Boyd, dove, and plucked the ball off the green. Mark it down as Shaw's first pick since Guenther told him he wanted him to be their swing guy in the secondary that can play  corner as well as safety.
It's a move that Shaw didn't discover until after the draft and came about the time Reggie Nelson became convinced the Bengals weren't going to give him big money to return and signed with Oakland.
The Bengals already had turned to their draft for Nelson's replacement in Shawn Williams, their 2013 third-rounder. They also turned to the draft to beef up the safety spot, tapping the versatile Shaw, their fourth-rounder from last year who played in all 16 games as a rookie at cornerback and made his only NFL start against the Steelers on Dec. 13.
Guenther agreed after Monday's practice that at the moment Shaw is the fourth cornerback backing up Darqueze Dennard in the slot and the third safety behind the starters Williams and George Iloka.
But it was Nelson's name that was invoked Monday. After all, in his six Bengals seasons he had 23 interceptions, sixth most in team history and that included an NFL-leading eight last year.
"He played with a lot of depth and he was able to always break down hill on the ball. That's why he made so many plays on the ball,"  said Shaw, the last line of defense on that play, a role Nelson mastered.
"He was good at it," Shaw said. "When you watch the film and press play, no one was ever behind him. And he always seemed to be breaking downhill."
The value of the 6-1, 201-pound Shaw is his ability to play a small, cover linebacker in the nickel package, primarily working on tight ends, a role that Williams can do as well as the newly-signed safety Jimmy Wilson.
Shaw says he barely played safety at USC,  only enough to have an idea about the position. But one of the reasons they drafted him is that he's a bright guy that was a captain for the Trojans and has the team-first hallmark the Bengals seek.
"Whatever they ask me to do, I'll do it," Shaw said. "That's my job. To be the best pro I can be."
He says safety is starting to grow on him.
"It's fun. You get to do a lot," Shaw said. "On one play you may be blitzing. The next play you may be in the post or the half. Sometimes it's hard for a quarterback to predict what you're doing.  You can be disguised a lot more than you can as a corner. You're tied to a string with the other safety in that way so it's fun."
Shaw's pick shows he's getting into it. Safety is not only a more physical position when it comes to run force, but more cerebral in the sense they have to know what the rest of the defense is doing. He admiringly says of Nelson that he talked on the field twice as much as anyone as he perfected the art of communicating.    
On Monday's pick, Shaw was the single-high safety.
"I was in the post," Shaw said. "I was able to break down hill on it when his hand released from the ball. If (Boyd)  didn't slip, I would have broken it up or in a real game it would have got messy. Yeah, I was in the right spot."
That's where they need him to be.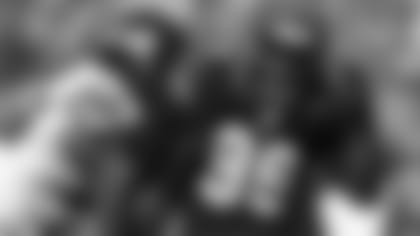 Takeo Spikes loves Carlos Dunlap's defensive line.
QUOTE OF THE DAY: Former Bengals defensive captain Takeo Spikes, with Sirius NFL Radio, on his old team: "They're not a secret any more to anybody. When people talk about Cincinnati, they're bullies. That's the word. They're bullies. They're going to hit you in the mouth. … Their roster is good enough to win it all."
Spikes, working with the best NFL analyst in the game today, former Bengals safety Solomon Wilcots, enjoyed his reunion Monday with former Bengals Pro Bowl right tackle Willie Anderson. With Anderson in camp helping the offensive line, Spikes did his homework on the 2016 Bengals.
"What's stopping this team is just mental," Spikes said. "Nobody wants to talk about it. But in this line of work I have to talk about it. It's the elephant in the room. If they got past Pittsburgh last year, they would have made a lot of noise. But if they keep everybody healthy, this is a very dangerous team."
Spikes thinks their defense is again going to be their focal point.
"They've got quality depth. They've always had it in the secondary. Now they've got it at linebacker," Spikes said. "Up front I love Mike Johnson, Geno (Atkins). I love Carlos (Dunlap). I think this is still going to be the strength of the team. They just have to play together and play smart."
SLANTS AND SCREENS: One of the reasons Lewis abolished the Oklahoma Drill is that the half-line drills allows eight players to work on technique on the same snap. While the linemen work on their hands and pad positioning, the linebackers can work on shedding blockers . . .
Some young guys really showed up not only in half-line, but in one-on-one pass-protecting drills. Rookie defensive lineman Jack Gangwish of Nebraska was active and fourth-rounder Andrew Billings, the D-tackle from Baylor proved hard to move  . . .
Jeff Luc, the former University of Cincinnati linebacker making the switch to fullback in his second Bengals camp, drilled Iloka in a blitz pick-up drill . . .
Monday marked wide receiver James Wright's first practice in nearly two years after microfracture knee surgery. He wore a knee brace and looked pretty nimble reaching to make some catches . . .
Right tackle Cedric Ogbuehi looked like a young painter with Andrew Wyeth on one side and Picasso on the other with Anderson and left tackle Andrew Whitworth working with him. Dunlap had his way with Ogbuehi on two inside rushes in one-on-one.
"It's just little stuff. Like having your eyes in the right place," Whitworth said. "You can't do what you're used to doing in college because these guys are too good. But this guy is so uber-talented. It's not going to take him long to pick it up."
 Veteran linebacker Karlos Dansby got a veteran's day off Monday while linebacker Trevor Roach (unknown) sat out again … Cornerbacks Darqueze Dennard and William Jackson left early with what appeared to be foot problems that Guenther said weren't serious …
Cincinnati Bengals host Training Camp practice inside Paul Brown Stadium 8/1/2016