Rookie center Billy Price says he's going to be OK and so do his guards.
"I think he's doing just fine," said Trey Hopkins, getting the call again at right guard after making his first 12 NFL starts last year. "It was tough for me getting the new system coming in from the other offense learning new calls. We have a lot more detailed calls and I feel they were hard for me to learn. He came in very quickly and was kind of on it. My hats off to him just for that."
"He's doing fine and he's going to be fine," said Clint Boling, the eighth-year guard and elder statesman of the line. "He's got the personality and the smarts to work through issues and solve problems. He's a rookie in his first week of camp. This is what camp is for."
As Price gets ready to make his NFL debut in Thursday's pre-season opener against the Bears (7 p.m.-Cincinnati's Channel 12) at Paul Brown Stadium, he's confident he's quelled Snapamania that has dogged his training camp, culminating with last Saturday's four miscues during the Mock Game. Not everyone has been his fault, but when you're the first-round pick that's how it works.
"I think we've moved past from it," Price said after Tuesday's practice. "I think that's something again it's a chance to showcase to everybody and to handle what I can do and just move forward and grow from it. We've made our adjustments. We've gotten better. And we're going to be OK. Rain, shine, snow, hail, tornado, hurricane, earthquake, whatever you like, we're OK."
On Tuesday it was a thunder shower downpour that chased the Bengals from their practice fields into the locker room an hour into practice and after a 30-minute delay head coach Marvin Lewis chose to start over again on Paul Brown Stadium's new turf field. It wasn't a pretty finish because it kept raining pretty hard and Lewis went ballistic after what looked to be another false start he directed his wrath to the defense.
Meanwhile, Price plugged away. Hopkins, the back-up center, gets it.
"I've been there," Hopkins said. "Billy hasn't had the only issues. We have a different scheme so you're turning and running a little bit more than moving kind of square. That kind of stuff can get away from you when you're not focusing on it. So we've been focusing on it now the last couple of days."
After Saturday they've spent extra time working on the quarterback-center exchanges in the past two practices and that seems to have helped. But Price feels like he's been in a progression since he got drafted and his shoulder surgery limited him to individual drills until camp started two weeks ago.
"It's come a very, very long way, actually. From OTAs all the way up until now, my knowledge of the playbook and understanding of what the playbook is really asking me to do, it's been night and day," Price said. "Being able to show the coaches out there and just maintain poise. That's another thing. You're starting to see the game speed is so fast in the beginning, and now it's starting to slow down for me. I'm starting to understand what our defensive linemen do, what other defensive linemen like to do. That's continuing to mature in this game and I'm looking forward to showcasing it Thursday and as we go on throughout the rest of training camp."
With everyone pressing the panic button on each wayward snap (no matter who's at fault), people forget Price set an Ohio State record of 55 straight starts, so he's used to solving things.
"There's going to be nerves without a doubt. I think you're silly if you don't think there's going to be any nerves," Price said. "This is your first NFL pre-season start. But it's going to be fun. You've got to make sure you control what you can control and go out there and have some fun."
Hopkins, immersed in a battle with Alex Redmond and Christian Westerman, feels like everyone is ready.
"I'm excited to get to play next to Bill," Hopkins said. "He's worked hard. I have no doubt he knows what to do. Now we'll see it in a game situation instead of practice where run and pass is split up."
PLAYERS OF THE DAY: Thunder and lightning.
Offensive line coach Frank Pollack brought the thunder when he stood before the huddle after one snap to upbraid his guys for lacking focus and reminding them they're graded on every play. The lightning came moments later.
"I like the intensity he brings to the room," Hopkins said. "He brings it even when we're not feeling that. You can lie and say you expect to have it for 10 straight practices. But he brings the same intensity every day and you feed off it and it really helps."
PLAY OF THE DAY: Intensity seemed to be at a premium. For both coaches and players. Cornerback Darqueze Dennard, frustrated at not being able to take advantage of a potential turnover, grabbed the ball and kicked it back to the offense. Lewis immediately came charging in from the secondary and yelled at him for the flash of anger.
QUOTE OF THE DAY: "That's why I came back. So I can see practice. So I can see little things. Their stance. How close they are to the ball. How they come out of their body lean. I'm a fanatic in being well-schooled. How well you can really do something. I had great technique. Great technique can overcome a lot of other things." _ Former Bengals nose tackle and defensive line coach Tim Krumrie. Krumrie, who just moved back to Cincinnati from Steamboat Springs, Colo., stayed by the first-down marker as he visited training camp for the first time this summer. Other former Bengals on hand were Anthony Munoz and Louis Breeden. Munoz is preparing for Thursday's broadcast.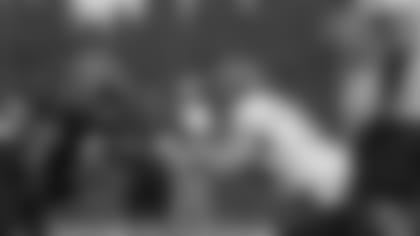 BILLINGS ON THE MOVE: Andrew Billings is graduating in more ways than one. After he starts at nose tackle Thursday, he'll go home and attend graduation ceremonies at Baylor for his major in communications and minor in business and he'll walk in front of a group of about eight family members that includes his grandfather. He's thinking about the trucking business after his playing days, but right now he's trucking on the field.
Every day they're in pads he makes a play that makes you notice. He's been saying since camp started that his knee feels more like it did before it got hurt in the first week of his rookie camp two years ago and wiped out that first season. Last week after he made a goal-line stop he talked about the strength he had to finish. One Bengals defensive coach says he's looking like he did before the injury, which was impressive, and on Tuesday Lewis spoke highly of him after making him the No. 1 nose tackle.
"He's had a good camp," Lewis said. "He's another guy that came on the latter part of last season as he recovered from the knee surgery the year previous. This is good and he feels good about himself. It's important for him to play well this preseason … In Andrew's case you have a young player who never really got to play and got hurt and missed time. The injury he had affects the ability to push on big people as big people push back on you. You need the leg strength and balance. The only way to gain that again is by doing it … It's good he perked up through the end of last year and he's come here into camp and done it … "