Ohio State's smart-player-good-guy-reliable-center Billy Price arrived as advertised as the 10-year pro that he is.
For the first time as said pro Thursday, the rookie Price snapped the ball in live team drills that just happened to come on the first day of training camp. And, for the most part, he helped quarterback Andy Dalton negotiate a new playbook to a pretty solid first day that included a few bombs for an offense desperately needing some fireworks down the field.
Then Price topped it all off by signing more autographs than the U.S. treasurer, or at least breaking the Bengals rookie record set by Rey Maualuga nine years ago because he stayed as long the fans did as the 85-degree day died a slow death on the Paul Brown Stadium practice fields.
Oh yeah, there were those three snaps that were put on the ground, but Dalton absolved him.
"Obviously you never want to put the ball on the ground, but for the first time in a while he had a guy in front of him while taking a snap under center," Dalton said. "I think for him he just has to get used to the cadence and used to how we're doing things. It's the first day for him. He's got a lot that he's thinking about right now. The easiest thing is getting the snap. You don't want to over coach that because he knows what he's doing."
But then there's this, too. Price didn't work in team drills during the spring as he rehabbed from shoulder surgery, so Thursday marked the first time ever in his life live in 11-on-11 that he delivered a snap with the quarterback at center. At Ohio State it was all shot gun all the time. Except for two snaps against USC.
"A couple of things we've got to change, like snapping when the ball is supposed to be snapped. Don't tail it when we're running right on my right butt cheek and keep it on the contact point at all times," Price said. "Yeah, you're not used to that speed. I haven't played football since Dec. 29 and the last guys I played against were college guys. Playing against professional athletes, we've got some talented, quick guys over there and I wasn't expecting it. I guess I undervalued their quickness. It was my first day, so I will get that corrected. It was my fault."
Price said it over and over. Blame me. But, really, it was a pretty good day. Considering there were some welcome to the NFL moments. Hey kid, meet Geno Atkins, six-time Pro Bowler, first-ballot Hall-of-Famer and usually resident nightmare for rookies. Geno has been known to eat rookies for all three Sunday meals, but Price didn't let it get away from him.
"Kind of got on my first introduction. Carl Lawson got me on a twist and lit me up pretty good," Price said of the right end. "Geno is every bit as advertised … First day, I've got to fix some things. Obviously the under center snap isn't something we did at Ohio State. You've got to learn by fire."
But with help from the dean of the line, seven-year left guard Clint Boling, Price was able to do enough smoothly not to look out of place despite it being his first practice. And things were moving not only in front of him, but next to him, where Alex Redmond and Trey Hopkins were both taking snaps with the first team at right guard, as well as Cedric Ogbuehi and Jake Fisher at right tackle.
"That's the thing I'm leaning on Clint (for) a lot for things right now," Price said. "It was my job over the summer time to study and make sure I was prepared coming in day one, day two, day three, day four. Kind of establish a tone and an attitude on that line and that room. If you've got the center on the right page and the tackles on the right page, then nine times out of 10 things will go well."
It might not be a snap, but it looks headed that way.
PLAYER OF THE DAY: Wide receiver Tyler Boyd
Boyd and Dalton picked up right where they left off, that 49-yard touchdown pass with 44 seconds left to knock the Ravens out of the postseason in the season finale in Baltimore. Boyd smoothly caught five of Dalton's 10 completions in 11-on-11 (out of 12 attempts), all in the middle of a field he owned operating primarily out of the slot. The most impressive play may have been a Dalton dart thrown through a tight window of safeties Josh Shaw and Brandon Wilson and Boyd tracked it and caught it before yanking it out of traffic.
Boyd was probably the second best receiver of the spring behind A.J. Green, but some wonder if the traits that make him so effective in the slot translate to the outside.  
"He's quick. He gets separation pretty quickly and his sudden movements can get him open," Dalton said. "That's big for a slot player. We're expecting a little more production out of the slot. He's perfect for it."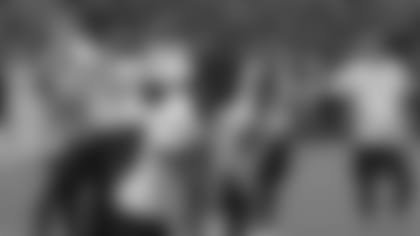 PLAY OF THE DAY: Dalton to wide receiver John Ross deep.
This one drew the biggest cheer of the day from the estimated crowd of 950 and why not? It's the kind of play they've expected from Ross since the Bengals took him with the ninth pick in the 2017 draft. Not the 17 snaps and no catches in three games that they got.
Ross, who ran the scouting combine's fastest time ever at 4.2 seconds, showed a little bit of that kick on a go ball in team drills as he worked on starting cornerback Dre Kirkpatrick. Ross looked to be trailing Kirkpatrick on his route down the sideline as Dalton launched it. Then with the ball in the air, Ross kicked into another gear, sped past Kirkpatrick with one final hand on his side in the chicken fight and tracked the ball as he disengaged from the defender.
Ross seemed quite relieved. He had a good spring, but he didn't make many contested catches. This was a big one.
"It definitely felt good. It's long overdue," Ross said. "For me to be able to be out here and feeling this good and finally catch a clean one from Andy, it just feels really, really good."
Of those contested moments, Ross said, "That's the big thing. It's something I want to work on and continue to get better at. It will take some time, but its day one. Just have to stay consistent from here."
QUOTE OF THE DAY: Rookie center Billy Price on if he's ever faced a guy like six-time Pro Bowl tackle Geno Atkins:
"No... He's a Pro Bowler for a reason. I'm happy to be going against him every day. He gave me a quick stunt today and the first time you burn your hand on the iron, the next time you don't. He smoked me twice and the next time I said, 'Ok, I'm going to change it, because I've got him over top of me.' I'm glad he's on my side, but there are other guys in this league who are close to being as talented and as quick as Geno is."
INJURY UPDATE: The Bengals feared the worst when rookie guard Rod Taylor went down in the first 11-on-11 drill of camp as they went through a run session. It appeared that Taylor, a seventh-round pick out of Ole Miss, may have torn his ACL on a non-contact injury as he pulled. Combined with Christian Westerman sitting out with a virus, they were suddenly low on guards and turned to tackle Kent Perkins to take some snaps inside.
Back on the field after missing much of the spring were two starters, tight end Tyler Kroft (hip/groin) and safety Shawn Williams (hamstring).