PLAYER OF THE DAY: QB Andy Dalton
Although the Bengals were in full pads for their only night practice of training camp Friday,  there was hardly any hitting with the premium on special teams and the hurry-up offense in clock situations before 1,600 fans on the Paul Brown Stadium practice fields.
And with the offense down to two tight ends (Ryan Hewitt and Matt Lengel sat out with minor injuries), there were a lot of nickel packages and a lot of play in space.
Dalton seamlessly navigated through the revised, short-handed offense on 16 of 20 passing in 11-on-11 snaps, according to the Bengals' meticulous play-by-play man Dan Hoard. Defenders are coached not to break up passes in close to avoid collisions, but Dalton deftly handled the speed sets and got the ball to the right people.
During one hurry-up sequence, Dalton was 5-for-7 when he hit five different receivers. No surprise that tight end C.J. Uzomah figured prominently since he and John Peters were the only ones playing the position. Dalton hit Uzomah for about 20 yards to start the sequence on a ball Uzomah needed all 6-foot-6 of him to haul in over the middle.
"I felt like there was good communication. Guys were in the right spots," Dalton said.  "C.J. got a lot of good snaps. He's got a good understanding of what we're doing and it's good to see his growth."
PLAY OF THE DAY: RB Giovani Bernard
When CBS analyst and NFL Network reporter Solomon Wilcots came in here earlier this week, he talked about how much the Steelers covet and fear speedy running back  Giovani Bernard and his abilities to produce nightmares in space when it comes to matchups.
Late in a practice that began in sticky and hazy 88-degree temperatures, Bernard and Dalton supplied the hot read as the No. 1s on both sides of the ball moved into the red zone.  The defense loaded up an all-out blitz with what looked to be nine men and Dalton flipped it out of there as quickly as he got the snap and found Bernard scalding past SAM backer Karlos Dansby. With no one near him, Bernard was able to get in the end zone as cornerback Adam Jones tried to come from across the field but couldn't put a hand on him before he got there.
"We had a little discussion in the backfield before it happened," Dalton said. "It worked out exactly how we thought it was going to go. Getting Gio into space like that is one of his biggest assets."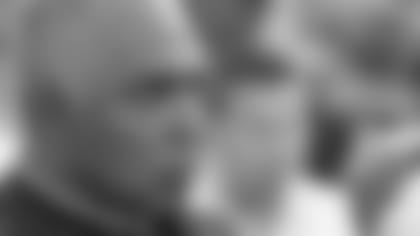 Marvin Lewis has been invited to Saturday night's Pro Football Hall of Fame ceremony.
QUOTE OF THE DAY:  Bengals head coach Marvin Lewis on if he's taking a private plane to Canton, Ohio for Saturday night's Pro Football Hall of Fame induction of Kevin Greene after Saturday's Family Day practice:  "Yeah. Plus I have to be back on Sunday."
Lewis coached Greene during his first NFL assignment, linebackers coach for the Steelers from 1992-95 and got the invite. It's not the first time. Darrell Green in 2008, Rod Woodson in 2009,  and Bill Polian last year all invited him but coaching duties are hard let go of for a day in camp.
But with the induction set for 7 p.m. and the practice scheduled to be over at 2:30 p.m., Lewis thought this would be a good one to be his first induction.
"Just being with Kevin all the time and just his struggle to get in and how much it meant to him to get in," Lewis said, So I'm really excited to be able to go."
SLANTS AND SCREEENS:  Lewis, who has been trying to wipe last January's Wild Card Game from the annals, couldn't have been very happy when players and coaches viewed the NFL's annual officiating video they send to all teams.
The 10-minute tape went over ten rules changes and six points of emphasis passed by the NFL Competition Committee earlier this year. The first point of emphasis showed Steelers linebacker Ryan Shazier using his helmet to drill Bernard in the head with sickening accuracy back on Jan. 10.
It knocked out Bernard,  drove him out of the game with a  concussion and caused a lost fumble as the Bengals drove into the red zone in a game they lost, 18-16. Although one competition committee member not Lewis said back in March the play shouldn't have stood because it was an illegal helmet-to-helmet hit, line judge Carl Johnson told the Cincinnati media before Friday's practice the play was legal.
It was legal last year, Johnson said, because "There were three components," to an illegal hit.
"He had to line him up and hit him with the crown of the helmet," Johnson said. "Lower the head and hit him in a straight line … Now they're taking alignment out of it."
What has some nooks and crannies of PBS still upset is that even the league's own video seems to show Shazier hitting Bernard in a straight line since his helmet hits Bernard in the chin.
"No," said Johnson, when asked if Shazier lined him up. '(Bernard) caught the ball and turned and he got hit (from an angle).
But now, as Johnson said, "they're taking alignment out of it … any punishing blow with the crown of the helmet is a foul."  Now, it doesn't matter what path the defender takes. Angle or Straight on. So now that play is illegal …
Another point of emphasis is making sure the center doesn't adjust the ball after the line is set. During one of the special teams periods Friday night, offensive line coach Paul Alexander called over Johnson and asked him to rule on how center Russell Bodine was doing it. Alexander made sure he took a video on his phone of the ref watching Bodine and whether or not he threw a flag …
Cornerback Chris Lewis-Harris wasn't at practice for personal reasons … Safety Derron Smith walked off with an ankle injury that doesn't appear to be a long-term problem ...
Cornerback Dre Kirkpatrick almost had the play of the day and he wasn't even on the field. Kirkpatrick  was in the back of the end zone watching the 2s work in the red zone when linebacker Marquis Flowers tipped pass toward the back line. Kirkpatrick scooped it before it hit the ground with a one-handed grab …
Back on the field, left end Margus Hunt nearly deflated a ball when he knocked down Andy Dalton's pass ...
No surprises who special teams coach Darrin Simmons is lining up for kick and punt returns: Adam Jones, Brandon Tate, Giovani Bernard, Tyler Boyd, Mario Alford, and Alex Erickson. No one appeared to drop one of Kevin Huber's punts ... 
Cincinnati Bengals host Training Camp at Paul Brown Stadium Practice Fields 8/5/2016