PLAYER OF THE DAY: RB Jeremy Hill.
And on the fifth day of training camp, the Bengals went live.
They always go live on the goal line, the only true time in training camp, really. It's pretty much the only time the defense can tackle the running back, but on Tuesday before 1,150 fans on the practice fields adjacent to Paul Brown Stadium they didn't tackle Hill in time on two of the three-run snaps from the 3 against the backup defense.
Hill, who has scored the most rushing touchdowns in the league the last two seasons with 20, showed why. On the first snap he made rookie free-agent defensive tackle David Dean miss at the line of scrimmage as he made a good cut in the hole.
Then on the third snap, with the offense flanking its left with extra tackle Jake Fisher and tight end C.J. Uzomah in motion, Hill could have walked in. But he chose to launch into the air over the left side holding the ball in both hands before tumbling into the end zone.
"We probably won't get a chance to do that again for a while," Hill said. "If it comes up in a game, I have some experience doing it."
The best thing about The Launch is he used both hands and held on. With nine fumbles in his two seasons, including the nightmarish drop that turned playoff ecstasy into playoff angst last season, that's not a minor detail.
"Always two hands. Always two hands. Two hands. Two hands at all times,' said Hill, admonishing an observer that thought he jammed it over with one arm. "That's been the biggest point for me since the play-off game and I plan to carry that on throughout the season.
"Definitely not one-handed."
The mantra for Hill has been simple since the Stumble in the Jungle. For the first time since Jan. 10 he took contact, but he's been reviewing the mechanics ever since.
"It's really a mentality if anything," Hill said. "Just continue to keep the ball high and tight and not let anybody get it. Just not try and over think anything.  Go and play my game. Take care of the ball. It's fun to go live at the goal line."
PLAY OF THE DAY: LB Nick Vigil.
This is why the Bengals haven't been able to get enough of Nick Vigil since they took him in the third round out of Utah State back in April.
Late in practice Vigil dropped into the flat in zone coverage to cover rookie running back Bronson Hill running a route for quarterback A.J. McCarron. Vigil came up with as athletic of an interception as you'll ever see.
He leaped in the air and plucked it with his left hand. Vontaze Burfict calls him "Luke," because his style of play reminds him of Pro Bowl Panthers middle linebacker Luke Kuechly. But maybe they should be calling him "Karlos," since the veteran backer Dansby heads into his 13th season looking for his 20th career interception.
"I should have got up and run in case I wasn't touched. I kind of made a mistake there," Vigil said. "Right place, right time. Good call by the coordinator. When you get a chance to get an interception, you try to pick it. Sometimes I guess you get a little lucky."
The Bengals love Vigil's ability to move in space and cover. They envision at some point this season Burfict and Vigil blanketing the middle on third down.
And it shows you how good Bengals running back Giovani Bernard is out of the backfield, because whether it was one-on-ones or 11-on-11 Tuesday, Vigil was having a hard time keeping up with him.
"He's extremely quick, extremely fast," Vigil said. "Smart. He uses good angles when he's running routes. Very quick feet. He's a hard guy to cover. If you can cover him, that means you're doing pretty well."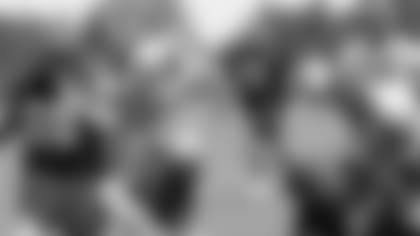 QUOTE OF THE DAY: Bengals head coach Marvin Lewis on the Ryan Hewitt contract extension: "He's not a real finesse guy. Playing at Stanford and the offense that he's played in and how he's put together is great for us. He's really good for our football team in every way."
If you notice, Lewis doesn't like "finesse," guys. What was it that former Bengals linebacker Takeo Spikes called the Bengals on Monday? "Bullies." Because, he said, teams know they're going to hit you in the mouth and Hewitt is the personification of that personality trait.
His three-year extension through 2019 at what is believed to be $2.5 million per year also shows you where they're coming from.
According to spotrac.com, that would make Hewitt the second highest-paid fullback in the league per average, behind the Raiders' Marcel Reese at $3.7 million per. Quite a raise for a CFA that got $3,300 to sign as a rookie and was set to make $600,000 this season.
 The deal came the same day of the news that pass rush specialist Dwight Freeney is going to Atlanta, a 36-year-old future Hall-of-Famer who had hoped to join Cincinnati's star-studded line. But the Bengals, virtually over the cap, weren't enamored of paying more than the minimum for a guy that might play 25 percent of the snaps. Plus, they were more concerned about locking up a guy that is just 25 and is a big part of their offense.
The Hewitt extension may also indicate they're not quite ready to re-sign Leon Hall yet despite the spate of injuries at cornerback. First-round pick and backup William Jackson could be out for the year with a torn pectoral muscle and No. 1 slot corner Darqueze Dennard has a sprained ankle, according to Lewis.
Indications are they're interested in re-signing Marshall undrafted rookie Cory Tindall, cut a few weeks ago after getting robbed in a bizarre incident in West Virginia.
But Lewis didn't rule out Hall on Tuesday. But Hall may be the kind of veteran they go for after Opening Day if there are more injuries like the one to Jackson. Jackson had been slated to play little from scrimmage.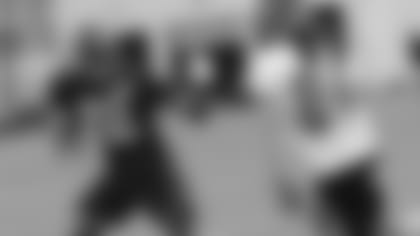 Both William Jackson (22) and Jake Kumerow are sidelined.
SLANTS AND SCREENS: Doesn't it always seem that injuries hit position groups? The corners are getting whacked and so are tight ends. With Tyler Eifert (ankle) already in jeopardy for the opener, his backup, Tyler Kroft, jammed his knee and had to be carted off. But indications were its not serious.
Linebacker Marquis Flowers also left early with an unknown ailment.
It looks like wide receiver Jake Kumerow (hamstring) is going to be out at least a couple of weeks and linebacker Trevor Roach (hamstring) has already missed three days …
In his second day back, wide receiver James Wright (knee) showed pretty good quicks, but he's rusty. In seven-on-seven he separated from cornerback Chris Lewis-Harris down the sideline but couldn't hang on …
The wide receivers are looking for a guy besides Green and rookie Tyler Boyd to step up consistently. Brandon LaFell, the veteran starting opposite Green, has looked very good at times. On Tuesday he caught a pump fake from Andy Dalton for a red zone TD in one-on-ones. But in a team passing drill on the three-yard line, he also had an end-zone drop after separating from cornerback Dre Kirkpatrick, unable to get his hands up in time on a good play by Kirkpatrick.
Mario Alford has had a pretty good couple of days, but the guy who doesn't drop anything is Wisconsin free-agent rookie Alex Erickson. He slithered for a touchdown on a tight slant in the red zone, but the play was overshadowed because Kroft got hurt …
On the one ball Hill didn't carry on the goal-line drill, Dalton ran in a keeper after bumping defensive line coach Jacob Burney in the backfield after the fake handoff.
"Get out of the way," yelled Dalton …
When it comes to the trenches, the one undrafted rookie offensive lineman who looks to be making a serious run at a roster spot is UCLA center-guard Alex Redmond. He's played well even though he missed most of the May and June voluntary camps because UCLA's late graduation date kept him on the sidelines …
Nose tackle Domata Peko had a vet day off . . . Kenny Lofton, the Indians' great center-fielder during their heyday in the 1990s, was a guest of Lewis on Tuesday. They golfed together in a celebrity tournament in Lake Tahoe a few weeks back and Lewis gave him the invite. Lofton is living in Los Angeles these days and working in the film industry.
Cincinnati Bengals host Training Camp at Paul Brown Stadium Practice Fields 8/2/2016