Darqueze Dennard (21) was a busy man Monday.
PLAYER OF THE DAY: Remember Darqueze Dennard? He reminded everyone Monday in a practice in front of 1,050 when he forced a fumble, knocked away a pass, and on the last drill of the day intercepted a ball in the end zone when fellow cornerback Adam Jones tipped it.
Remember? The Bengals' first pick in the 2014 draft?
"Go back and watch his Jim Thorpe speech," said secondary coach Robert Livingston of the night Dennard was named the best defensive back in the country for 2013. "He was a great college player. He's had some trials and tribulations like some people do. To his credit he's been here working hard and getting better."
In his fourth season Dennard is giving them what they wanted from him with steady and reliable play at spots, in the slot and on the outside.
Dennard never left. Just various body parts wandered away. Now they've come home.
"First and foremost I'm healthy," Dennard said. "I haven't been this far in a training camp since my rookie year. I'm having fun, my body is holding up. I'm feeling really good."
And so are the Bengals about their alert crew of corners that have, at times, dominated this camp, like they did in some spots Monday. With safety George Iloka (knee) still out Monday, Dennard continued to do what he's done for the week Iloka has been resting a hyperextension and that's getting the monster portions of slot play while Josh Shaw plays more safety than corner.
It shows as Dennard gets more reps. But if he wasn't the Player of the Day, another corner, William Jackson could have been. He was plastered to receivers all day, even when they caught the ball. He nearly had one pick but wide receiver Alonzo Russell played DB and knocked it away from him. He also hung with speedy wide receiver Cody Core down the middle deep long enough to leap and break it up.
And not only that, Dennard and Jones were in on the play of the day (see below).
Which is interesting because Dennard and Jackson are battling to see who starts in place of Jones in the Sept. 10 regular-season opener against Baltimore at PBS.
"It's a competitive group and (Dennard has) responded," Livingston said. "The rallying cry of the group is, 'Make everyone better.'" It's always good to feel pushed in any profession. You feel somebody breathing on you and you're going to say, 'Not me.'"
Asked about Dennard's play, Jones nodded his approval.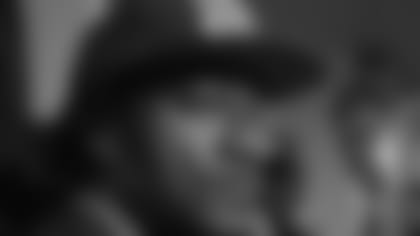 Adam Jones used his savy to earn Play of the Day.
PLAY OF THE DAY: Adam Jones, the wily veteran, the oldest man on the team, the sage, struck late in practice, when the offense was trying to put it in from the 6-yard line. The offense had been rolling a bit when the ball was at the 15, when quarterback Andy Dalton on back-to-back throws victimized cornerback KeiVrae Russell covering wide receiver Brandon LaFell. On the first one LaFell leaped over Russell and on the second he bodied him up. Two great throws.
But as the ball got closer, it got harder. This was almost the play of the day: nose tackle Andrew Billings beat his man in penetration and WILL linebacker Vontaze Burfict took on fullback Ryan Hewitt and they ran running back Jeremy Hill into nothing on the sideline.
But this was the play: Dalton saw Jones and Dennard conspiring together as LaFell lined on the left. They even offered a fake hand signal to lull Dalton into thinking they were in one defense when Jones suddenly broke on the ball as Dalton threw it. Jones and the ball arrived at the same time and it boomeranged high into the air and into Dennard's arms in the end zone.
As Dalton and Jones good-naturedly jawed, Dennard could have gone 102 yards.
"I had the easy part," Dennard said.
QUOTE OF THE DAY: Former Bengals linebacker Takeo Spikes on these Bengals: "Some teams come into training camp wishing and hoping they find a couple of more pieces. This is not (that) team. This team has every tool in the toolbox."
SLANTS AND SCREENS; Kickers Randy Bullock and Jake Elliott each went three-for-three on kicks … Backup tight end C.J. Uzomah left on a cart with what appeared to be a foot injury …
Cincinnati Bengals host Training Camp at Paul Brown Stadium Practice Fields 8/7/2017