PLAYER OF THE DAY: WR Brandon LaFell
A crowd of 1,325 watched the Bengals return to work Monday and those that were wondering why they haven't been hearing LaFell's name that much during training camp got a treat on the Paul Brown Stadium practice fields.
Even though he had two more drops, LaFell had probably his best camp practice with one long bomb catch down the middle of the field after separating from cornerback Chris Lewis-Harris and three other grabs that came as the result of getting open over the middle and on the sideline.
Lewis-Harris had just returned from missing a few days of practice for personal reasons and found himself playing with the ones when Dre Kirkpatrick was out with an unknown ailment that won't appear to take him out of Friday night's pre-season opener (7:30-Cincinnati's Channel 12) against the Vikings at PBS.
LaFell, a key free-agent signing because the Bengals lack experience behind Pro Bowler A.J. Green, brought his seven NFL seasons on Monday.  He has struggled at times during camp with drops and getting open as he copes with a new system and third different quarterback in four seasons (Cam Newton, Tom Brady, Andy Dalton), but he's been flashing more and more each practice lately
 Veteran cornerback Chykie Brown can tell you how good one of LaFell's catches was since Brown touched it first before LaFell made what looked to be a 12-yard catch on the sideline.
"It went off these two fingers," said Brown, pointing to his index and middle fingers. "He did a good job focusing on the ball. I touched it and he still caught it."
PLAY OF THE DAY: CB Chykie Brown
But Brown did manage to get both hands on a ball for an interception in team drills. It came courtesy of a tipped pass by ubiquitous rookie linebacker Nick Vigil.
This is why the Bengals have loved Vigil ever since they scouted the tape at Utah State. He's very alert and athletic and on Monday the third-round pick did what he did last week when he made a leaping one-handed interception. Vigil dropped into zone coverage and got his hand on the ball.
And Brown showed why he's hung around for 54 NFL games when he tracked the tip and hauled in the interception. With three corners out Monday (William Jackson for a few months, Darqueze Dennard for a few weeks, Kirkpatrick for maybe a day), Brown got a lot of play and his experience and professionalism have been noticed. With Jackson out, Brown looks to have a leg up on the rookies for the last cornerback spot.
"This is my sixth training camp and this is my time to know I can't get a day back," Brown said. "This isn't the first training where I've been and a lot of corners have gone down.  Just take advantage of the opportunities."
Take the 2014 camp in Baltimore. The Ravens' top three cornerbacks barely practiced and Brown drew one of his six NFL starts on Opening Day against the Bengals. It will be recalled that less than a minute after Baltimore's Steve Smith ran past the Bengals' best cornerback, Adam Jones, for an 80-yard touchdown that gave the Ravens the lead, Green won the game with 4:58 left when he slipped past Brown for a 77-yarder.
"It happens to the best of us," Brown said of those 45 seconds that proved just that. "Everybody gets beat. That's a play you can't get back. I just try to make sure it doesn't happen again."
It's just that kind of humble veteran experience the Bengals love to sprinkle throughout their roster.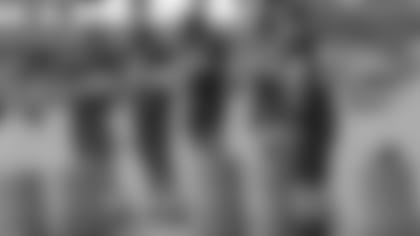 Kevin Greene (gray shirt) schools the Bengals' D-Ends.
QUOTE OF THE DAY: Bengals defensive lineman Margus Hunt on working with newly-minted Hall-of-Famer Kevin Greene: "I'm incorporating the way he rushed from an outside linebacker stance. Fortunately or unfortunately, I don't know, I can't be in the two-point stance. But what falls after that, it's the same principle … Getting off that line, getting a head start on the offensive tackle. Just getting them to be nervous."
Greene, less than 48 hours from his induction into the Pro Football Hall of Fame at age 54, is still making them nervous. He politely declined to talk to the media after Monday's practice, where he'll also be Tuesday and Wednesday answering anything the Bengals' pass rushers want to know from the third-leading sacker in history.
Bengals head coach Marvin Lewis returned the favor. Greene, who played under him when Lewis broke into the league as the Steelers linebackers coach in the early 1990s, invited Lewis to the induction and he took him up on it. Lewis invited him to camp like he did in 2005, when Lewis planned to hook up Greene with first-round draft David Pollack.
Greene showed, but Pollack held out and it never came off. But eleven years later, everyone is here. Including Greene's student, Hunt, having a pretty solid camp as he tries to break through as a regular in his fourth season.
During the offseason Hunt visited Greene for three days at his Destin, Fla., home; where they alternated working on his front lawn and heading inside for film work. Hunt says Greene has been a huge help, maybe more so from the mental approach.
"The very first impression you get from him you get the sense of the kind the player he was," Hunt said. "Very physical. That's the first thing he made sure I understood was, 'You need to be the aggressor in every single game from the first snap as soon as you step on the field.'"
Back in May, Greene raved about Hunt with, "I had a chance to lay my hands on him for three days. I've never seen anyone so big, so lean, so tall, so strong. If he does some of the things we talked about, I can promise you I feel confident he can make things very tough on offensive linemen."  
And Hunt says Greene's ability to simplify it has resonated. He says he's had an up-and-down camp and he has to be better on run downs, but with Greene's help he thinks he's playing as well as he did in his best camp during his second season.
"He just made it simple the way he taught what he did for so long," Hunt said of Greene. "It's not an out-of-this world trick. It's a simple rush. He just showed me how he did it back when he played and showed me my game tape and my game rushes, how I was positioned with the tackle the same way he was. I just couldn't take advantage of the situation the way he did.
"It's the simplest rush there is.  He made a living off of it. He worked off that rush.  Working that move and a counter move.  I like getting back to the power rush. The rush fits my body style."
But Hunt isn't on the outside as much as he was. He's playing often inside on passing downs, where he can't use Green's techniques at tackle.
"I can use power and bull rush,' Hunt said. "But not a lot of speed … I'm between 295 and 300 pounds so I feel like I can use that to my advantage inside … I like being able to be used in different spots. I think that's better for me. … I feel free."
As Greene got into his Bengals coaching togs Monday, he apparently joked he hoped there would be no pictures sent back to Pittsburgh because he's set to be honored by the Steelers this season as one of their all-time greats and his image in a Bengals B figures to not make Heinz Field very happy.
But, let's face it, the AFC North is intermingled. Lewis, a Pittsburgh guy, reigns in Cincinnati. Hue Jackson, the new coach in Cleveland, coached four different spots for Lewis during seven seasons in Cincinnati. Ravens head coach John Harbaugh and Steelers head coach Mike Tomlin both passed through the University of Cincinnati as coaches.
So Greene can certainly help the Bengals for three days. He took questions from any pass rusher who asked, but he was careful not to get in the way of defensive line coach Jacob Burney. As he walked off the field Monday with right end Michael Johnson, Greene was breaking down one of his last rushes.
He also re-kindled some thoughts with Hunt. They keep in touch via text and Hunt is looking forward to Greene critiquing his work against the Vikings in Wednesday's one-on-one pass rush drills. Greene, for his part, wants to make sure Hunt is staying true to the technique they worked on in Destin.
Hunt knows how big the next 23 days are.
"The pre-season games are huge," Hunt said. "I need to go against the best guys (on other teams). I've been going against these guys for four years. I know everything about them."
But with a little Hall-of-Fame help, Hunt may have some surprises for everyone.
 SLANTS AND SCREENS:  Andy Dalton came up with a sore neck Monday morning and didn't practice. He's been called day-to-day and could miss the pre-season opener Friday ... Mike Nugent went 6-for-6 on field goals from between 44 and 50 yards ... 
Cincinnati Bengals host Training Camp at Paul Brown Stadium Practice Fields 8/8/2016