On Tuesday, Tyler Eifert looked like he did in 2015.
PLAYER OF THE DAY: About half an hour after tearing up the Bengals' red-zone drills in full pads Tuesday, Bengals tight end Tyler Eifert was back in the weight room on the leg press trying to finish off another Pro Bowl comeback.
"I have to do what I have to do to make sure I keep my weight," said Eifert after more than carrying his weight. "Tomorrow's an off day so it's a good time to do it."
Eifert, who didn't play until October last season, flashed the power inside the 20 they didn't have without him when he caught three balls that may or may not have gone for TDs during Tuesday's practice before a group of season ticket-holders But he was open and available, just like in 2015 when he scored 13 touchdowns, 11 of them in the red zone, and was a big reason the Bengals won a dozen games.
"I'm trying to get back. Trying to get my legs back. That's all I'm really thinking about right now," said Eifert, sidelined by two different injuries last year that limited him to eight games. "I feel really good. I feel fine. I've gone 100 percent full go every day. I haven't taken a day off. I feel really good."
Eifert may still be trying to get his leg under him, but he showed why he puts this offense head-and-shoulders above where they were last year. He took turns beating safeties, cornerbacks, and linebackers while lining up in the slot and the outside in 11-on-11 and seven-on-seven.
PLAY OF THE DAY: Efiert and Andy Dalton looked like they walked back into 2015, before Dalton broke his thumb and Eifert went to the Pro Bowl, where he tore ankle ligaments.
While in the red zone Eifert ran a corner route and Dalton put it only where Eifert could get it. Behind safety Shawn Williams and in front of cornerback Adam Jones. But Dalton had to air mail it and Eifert climbed the ladder with an all-hands leaping catch.
"He's spinning the ball on time like he always does," Eifert said of Dalton. "He knows where the ball is supposed to go and he has complete control of the offense. We're in the red zone there, it's always a tight throw and we were able to get it."
QUOTE OF THE DAY: Eifert on his scuffle with Shawn Williams after blocking him and landing on top of him, "It's five days going against the same guys every day. We shouldn't do that. We're teammates, but sometimes we just … we'll go in the locker room and it will be settled. It was nothing serious at all. We just got tangled up. That stuff happens in camp, I guess."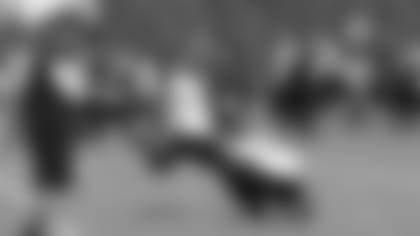 Jake Elliott hit all four tries Tuesday.
BIG SCENE: A more celebrated dustup came much earlier in the workout on the second play of a team drill that was not live at that point. Coaches and players objected to linebacker Vontaze Burfict tackling running back Giovani Bernard. Especially since Bernard is coming off ACL surgery and the hit was around the knees. But Bernard said Burfict slipped and Burfict was also contending with linemen's legs and immediately tried to help up Bernard. Running backs coach Kyle Caskey was among those jumping into the scrum, along with the offensive line, as Burfict pushed them away.
Burfict got taken out of the drill, but he was seen smiling with Bernard and Guenther during a break not long after.
"That's my man. Tez is Tez. He's going to play the way he plays. That's my buddy. That's my dude," Bernard said. "It's just early in camp getting some frustration out. That's football."
Burfict is apparently still a hot topic since his three-game suspension opened last season when the NFL said he ran afoul of player safety rules. It almost seemed that by the time the horn blew ending the period, the video was viral.  "We don't want to take the backs to the ground and get somebody hurt," said defensive coordinator Paul Guenther. "When it's a live drill we can do that. It's a different story."We can't do it on Sundays so we shouldn't do it out here in my opinion," Guenther said. "Yeah, I told him that. We're on the same team."
Bengals head coach Marvin Lewis, who talked to Burfict before the next drill, chose to keep it in-house: "We'll handle our busines."
"The offense has got to get their job done and the defense has got to get their job done as best as we can and we're trying to keep everybody on their feet as best they can," Lewis said.  "We're wasting time pushing and shoving just go back to the huddle go to the next play and do it right."
SLANTS AND SCREENS: Running backs Jeremy Hill and Joe Mixon banged it in from the 4-yard line behind the No. 1 offensive line in semi-live goal-line activity. Hill ran hard all day and Mixon behind the right side when he dove for the final two yards …
Running back Tra Carson and wide receiver Tyler Boyd, on a pass from quarterback Andy Dalton, converted for the backups. Boyd made a very nice catch and lunge into the end zone despite cornerback William Jackson stuck to his back like a post-it note …
Andre Smith, who missed most of last season with a triceps injury, began practice at right guard but left shortly with ice on his elbow and it doesn't look its related. Smith sat out Monday, so he missed three out of the first five practices as he tries to make the adjustment from right tackle to right guard for the first time in his life …
With kicker Mike Nugent signing a deal with the Giants Tuesday, the battle to succeed him continues. Veteran Randy Bullock, who replaced him in the final three games last season, missed his first try of camp when his 54-yarder went wide right. But he was the deep guy Tuesday and cashed long-distance calls from 45, 53, and 50, before the miss.
Rookie Jake Elliott converted from 27, 30, 34, and 41 to make all of his and now they've each missed one …
Cincinnati Bengals host Training Camp at Paul Brown Stadium Practice Fields 8/1/2017